It's official: Forbes Traveler recommends The Enlightened Traveller! The Stevenson Trail in France is one of the Top Ten most famous Travel Adventures. And who did Forbes seek out when they chose to feature it? Why, the experts, of course – The Enlightened Traveller.
It is not everyday that we blow our own trumpet, but when one of the world's most prestigious travel media groups calls you up congratulate you on your work, well, you cannot but feel a little celebration is in order.
Forbes Traveler recommends The Enlightened Traveller based on a survey they carried out of its own readership. The Robert Louis Stevenson Trail in France kept being mentioned along with ourselves as its outstanding hosts. As Forbes changes its website content regularly, and articles get archived away in hyberspace, we took the opportunity to save it in our own files for the long term as a treasured memory.
You can only win an award if you enter the competition. We prefer not to enter and let the public speak for themselves. A big thank you to Forbes Traveler's readership and, of course, to all our satisfied customers.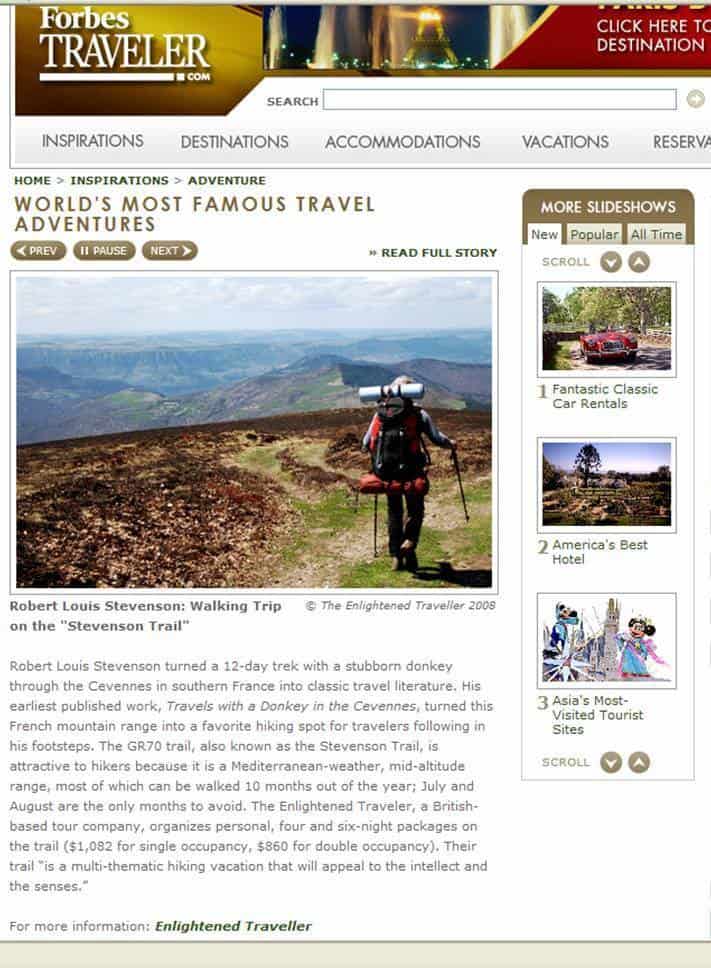 © The Enlightened Traveller 2020
Further Reading:
Other testimonials can be read at:
Click to visit The French Hiker's Guide to Holidaying in the Hexagon and France self-guided walking, trips, trails, places & themes.