Hiking the Upper Cèze Valley
Hiking the Upper Cèze Valley was a memorable trip." Carrie & Jonathan Zhi from the United States of America
iking the Upper Cèze Valley

comprises the three most challenging days of our Walking Cezarenque tour. You are thus transferred straight into the thick of things without any introductory warm-up – thus our decision to rank this short tour as moderately challenging. So the ascents and descents are simply more compressed, as you hike in the Upper Cèze Valley, not far from the source of the river itself and on the eastern flank of the Cevennes hills.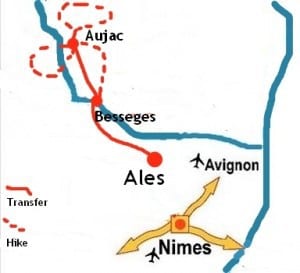 This is beautiful and pristine countryside that is very much unspoiled and under-explored. Discover the land where hippies have built alternative lifestyles as part of a wider interest in rural regeneration, alternative lifestyles and organic farming. Solar-panels are for real here and found amidst wooden eco-dwellings and the traditional stone mas and bastides. Running water is often a luxury that these homesteads must do without. Water is a precious commodity up here and the river water is some of the purest in France.
You can visit one of the few remaining working chestnut-drying houses [La Clede] in France, where apiculture is also important. By arrangement, you can also enjoy an induction to the work of an organic wine grower using the Clinton grape variety, still considered deleterious to the brain's functioning by the French State and commercially outlawed since the 1930s. Those who appreciate castles will also enjoy the chateau de Cheylard, perched high above Aujac and keeping a watchful eye over you and the surrounding countryside.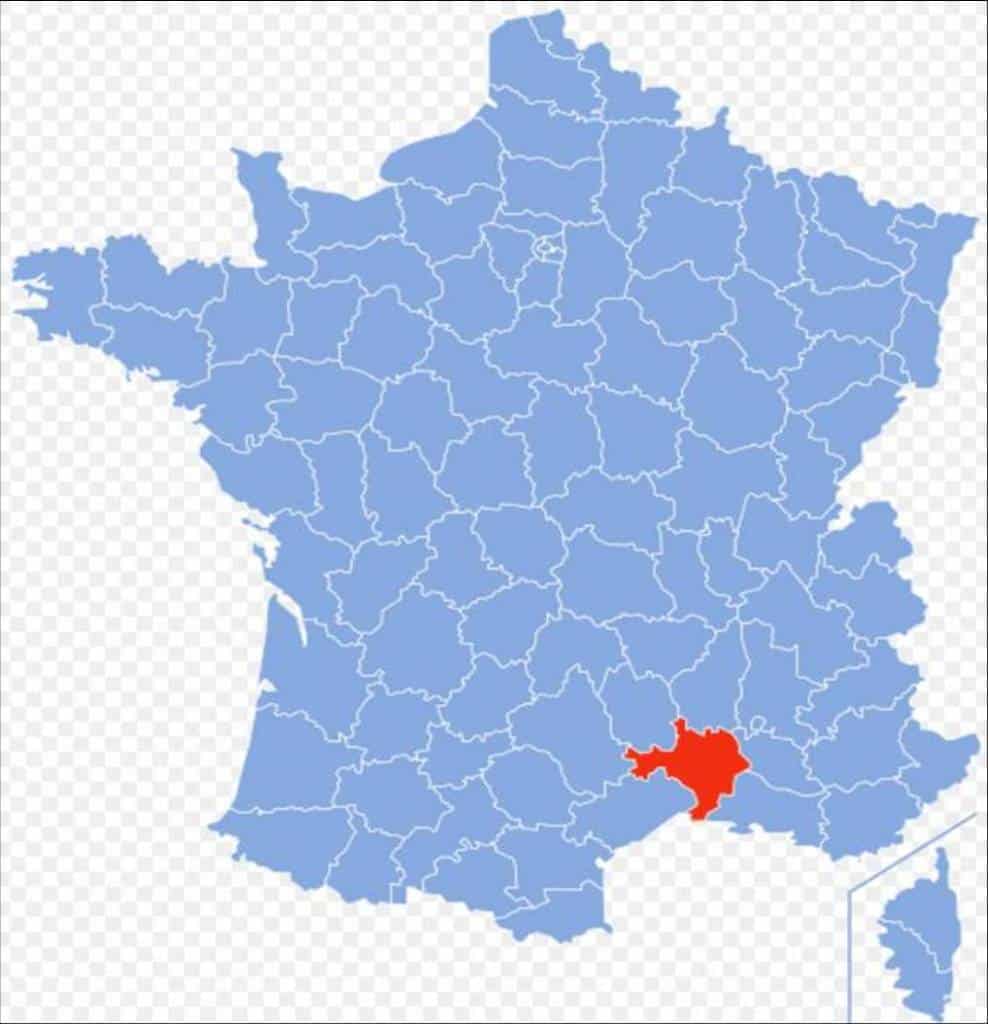 Hiking the Upper Cèze Valley commences with a short induction in Alès followed by a transfer into the heart of the Forgotten Valley to your walker's inn, where the food is as remarkable as the ancient drovers' trails you walk over the following three days. The hillcrest walk above Cheylard castle to Besseges is a spectacular finalé to a fine short hiking tour.
€655.00 Euros or £570.00 Pounds Sterling
[per person, shared double or twin-bedded room]
Note: Please contact us to check for the latest Sterling prices. Sterling prices are confirmed at the time of booking.
4-nights B&B in a welcoming walkers'inn and 3-star hotel
3 dinners and 3 picnic lunches
Luggage transfers & transport integral to tour – see itinerary for details
Maps, excellent walking notes & dossier
7/7 Telephone back-up & support.

Note: Transfer supplements apply for arrivals in Alès later than 18.00 hrs
Walk back [or forward?] in time to a land where nature is unspoiled and tradition valued
Enjoy an oasis of alternative lifestyles and organic farming, pure waters and a remarkable dam
Enjoy fine, remote and under-discovered trails and hill crests in the pristine hills and valleys of eastern Cévennes
Explore a Castle, Clede, Clinton wine producer and organic farm – optional and subject to availability
Welcoming and character accommodation and a walkers' inn renowned for its freshly-cooked and vegetarian cuisine
4-night, self-guided tour featuring two circular
hikes and one inn-to-inn walk.
Tour rated quite challenging, due to notable ascents and descents.
Commence any Thursday, Friday or Saturday from early March
to mid-November or any day in July or August.
Dual-centre tour, so you do not change hotels each night.
Tour starts and finishes in Alès, with pre and post-tour transfers
Best access: Nimes airport [Ryan Air] or SNCF
A welcoming countryside walkers' inn and a family-run and traditional town-centre hotel
We transport your luggage, you just carry a light day pack.
Best access is via Nimes airport or SNCF station [4 hrs on TGV from Paris or Lille] with 40 min. onward journey to Ales – please ask for details.
Other convenient options are via Lyon or Montpellier airports, with onward TGV to Nimes – 60 and 30 minute journeys, respectively.
Alternative access is via Clermont-Ferrand airport or SNCF station [regional rail link with Paris], with onward journey on Le Cevenol to Ales in 4.5 hours – please ask for details.
Three nights in a local-government-run walkers' inn in Aujac.
One night in a hotel in either Ales or Nimes according to your preference.
Warm, sunny and dry summers; moderate sunny winters
Undulating upland and valley topography, with fine hill crests, crystal waters and isolated hamlets
Hiking the Upper Cèze Valley – Tour Itinerary
Day 1: Arrival in Alès before 18.00 hrs – a busy market-town unreliant on tourism and a gateway to Cevennes, with onward transfer to Aujac.
Bonnevaux & back
[9 miles-13 kms, 5 hrs, +570ms/-315ms]
La Cham Bonnevaux
Morning tour briefing and 60 min. transfer to Aujac. Check-in and enjoy a fabulous ancient drovers' trail before plunging into a pine forest, descending to a lost hamlet and then to the village of Bonnevaux itself. 'La Clede' is on the way down.
Second night in Aujac.
Aujaguet
[9.5 miles-14 kms, 5 hrs, +425ms/-435ms]
Senechas Dam
A fine walk across impressive dam, over bridges, past a water mill, into the water itself (optional swim), through two contrasting villages, an organic farm and illicit Clinton-grape vines – and all under the watchful gaze of Cheylard castle.
Third night in Aujac.
Bordezac
[10 miles-16 kms, 5½ hrs, +380ms/-710ms]
Routes des Cretes
This route follows the watershed as you descend to Bordezac and onto Besseges along the Cevenol and Upper Ceze Valley Grande Route de Pays.
Collection and transfer to Ales.
Night in either Ales or Nimes.
Day 5: Departure day – Breakfast and train from Ales to Nimes, or onward journey from Nimes. Bon retour et a la prochain!
Further Reading
Read our articles on:
Other

Short and Harder

tours to consider in the same region are…
Independent testimonials about The Enlightened Traveller can be read here:
Click to see our full range of short walks in France