Walking in Cevennes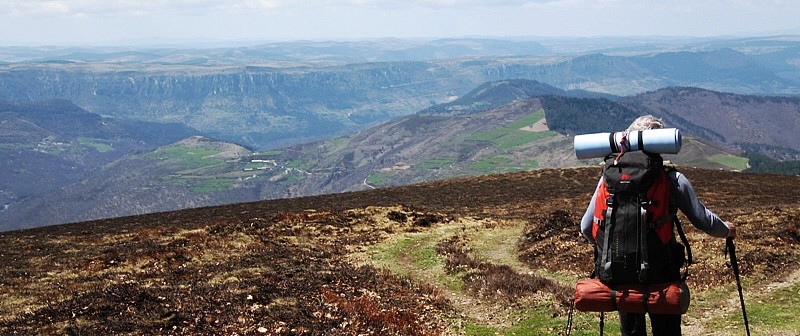 alking in Cevennes,
across the Blue Waves of France's Last Frontier, is a hill-walking experience par excellence. Located in south-central France, Cévennes does not constitute a French 'administrative region' as such. Nevertheless, to all intents and purposes it possesses a singular identity; thus the 'La Cévenne' reference in the works of its most famed writer, Jean-Pierre Chabrol. (see Quand la Cévenne se soulevait/When the Cévennes rose up).
Walking in Cevennes is the chance to experience a location renowned for its beauty and topographical variety, ranging from granite tors to deeply incised river valleys and some of Europe's most dramatic limestone gorges and caves. The latent geologist inside us all will delight in walking the granites of the Mont Lozere massif, the limestones of the Causse Mejan and Sauveterre and the metamorphic schists and slatestone around Mont Aigoual and in the Cevenol valleys.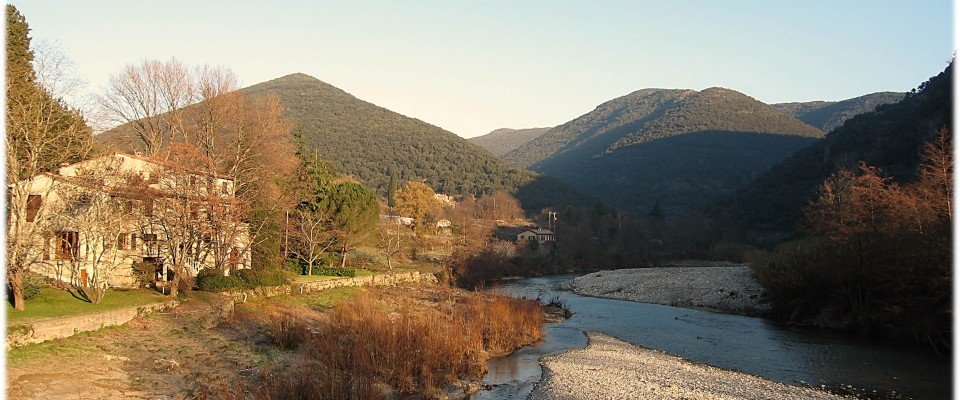 Cévennes is a range of hills, not mountains, making them much easier to climb than The Alpes or The Pyrennees. When walking in Cevennes, the ascents and descents are frequent rather than prolonged and significant. However, the area is far less trodden, and much more remote, than either The Alpes or The Pyrennees, which makes Cévennes the perfect walking get-away.
Cévennes' highest peak, Mont Lozère (1699 metres), lies on the France hiking trail affectionately referred to as Stevenson Trail- AKA the GR 70, a long-distance path perfect for those who enjoy hiking in France along a 'straight-line route. It stretches from Le Puy en Velay in Haute-Loire to St Jean du Gard in Le Gard. In his book, "Travels with a donkey in the Cévennes," a much-lauded and ground-breaking work of the travelogue genre, Robert Louis Stevenson likens hiking in Cévennes to "that undecipherable labyrinth of hills." On Mont Lozere he noted that, "in clear weather [it]commands a view over all lower Languedoc to the Mediterranean Sea."
Another peak of repute when walking in Cevennes is Mont Aigoual (elevation 1567 metres or 5141 feet), lying to the north of Le Vigan and reachable from Vallerauge by the "trek of 4000 steps". It boasts a relative height vis-à-vis the surrounding uplands of 730 metres, making it particularly prominent as a continual point of reference to hikers as they climb and descend the myriad hills en route to its eagle-nest-of-an-observatory, the last remaining inhabited weather station in France. Mont Aigoual forms part of the watershed between the Mediterranean and Atlantic, where rainfall can measure up to 2250 mm (over 7 feet), making it the wettest place in France. For those who brave the wind and the rain, the views are spectacular.
From Cévennes, the valleys of the Loire and the Allier flow out westwards towards the Atlantic Ocean, whilst the Ardèche, Chassezac and Cèze rivers flow eastwards and south-eastwards towards Provence, leaving spectacular gorges en route, cut deep into the limestone base.


Enjoy walking in Cevennes by hiking the lower section of the 'Royal Route' that traverses France from the Ile de France to Lower Languedoc. Better known locally as the Regordane Way, this major thoroughfare of the Middle Ages is still largely walkable, and at its very best between La Bastide and the River Ceze, with its source just to the south of Lake Villefort.
Cévennes is crossed by the Gardon rivers in its south-eastern section, from where they flow onwards into the Rhône, Vidourle, Hérault and Dourbie rivers en route to the Mediterranean. They are intermittently wild by nature, but thankfully only cause major flooding around once every fifty years. You will discover these Cévennes rivers in and around Alès, Mialet and St Jean du Gard; perhaps retracing the steps of the Huguenot Protestants persecuted by Louis XIV's excesses during the Camisard War of 1702. We become avid historians as we trek mountain paths in the footsteps of Camisard chiefs, or budding geologists as we search limestone grottos for the vestiges of Protestant congregations at secret prayer or imprisoned by the King's overzealous Black Dragoons. Fortunately, few remember such conflicts now and hikers enjoying our walking holidays in France nowadays will doubtlessly find the Catholic locals much more welcoming to Protestants!

Cévennes has a national park, the Parc National des Cévennes, created in 1970 and one of only two parks in France that harbours 'homo economicus.' With people both living and making their living inside the park, this UNESCO World Biosphere Reserve has strict controls on the use of chemicals in farming, resulting in a phenomenal diversity of wild flowers and insects. Thus the human endeavours of tourism and agriculture are continually juxtaposed with the pressure to conserve landscape, habitats and species.
Those interested in Human Geography whilst walking in Cevennes will walk through myriad tiny village and hamlet, most of which have seen better economic days, and lived through the boom and bust years of various cycles of capitalism since the start of the Industrial Revolution – the rise and fall of chestnut tree harvesting, silk spinning, coal mining and wine growing are writ large in the terraced slopes of this harsh countryside, which is only now coming to terms with its massive rural depopulation. Cévennes, the traditional refuge to all manner of persecuted minority, as well as late sixties 'hippies', is undergoing the slow process of re-population, albeit from a very low base. Those who hike Cevennes are never disappointed, and often amazed, by the depth of cultural experience to be found.

When walking in Cevennes you will enjoy a fascinating array of fauna of which Cevennes is rightly proud. For example, the capercaille and vultures are the fruits of recent reintroduction. You will also witness the wheeling of short-toed eagles overhead, or be able to visit captive breeding programmes for European bison and Przewalskis horses – although the latter are just as difficult to track down as the former! The only 'dangerous' wild animal you are likely to encounter is a wild boar, although they are unlikely to chase you as they scurry to safety from the orange-capped huntsmen and their beagles that stalk them during 'the season.' This is in September, but those who 'brave' the slopes whilst hiking the Cévennes can rest assured that such hunting is carefully controlled and no hiker has ever been mistaken for a boar! Reintroduced deer and red fox are the other species of note, although you are far more likely to see small lizards, Praying Mantis and noisy crickets.
Walking in Cevennes brings out the latent botanist in us all. Chestnut, green oak and pine are plentiful, although the strawberry tree is particularly noteworthy, in flower and fruit in Autumn. The heather and 'Maquis' which abound in the passes and on the open plains will bring tears to the toughest Scot's eyes, whilst chestnuts (the bread tree), figs and mushrooms (pick with caution) will have you striding to the restaurant at the end of another exhilarating day of hiking the Cévennes.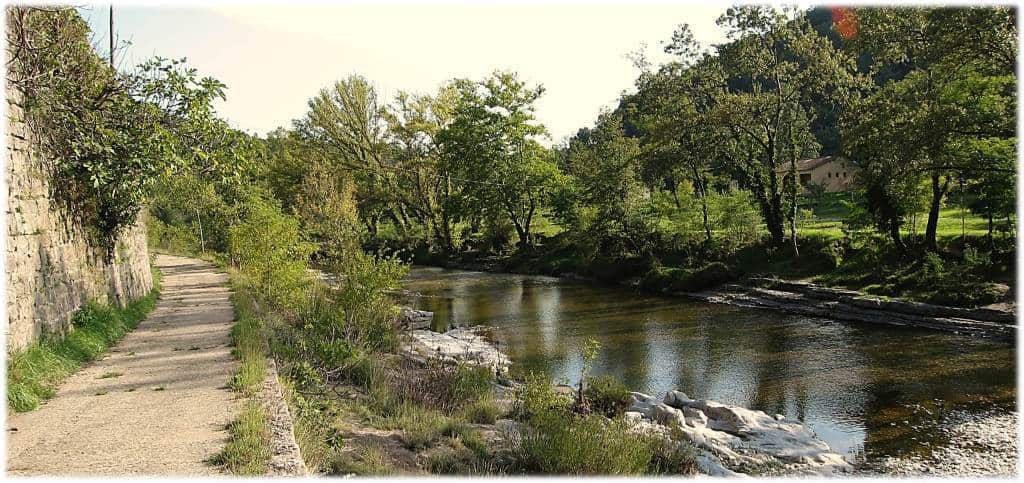 Cévennes is a master class in architecture at the level of the homestead, demonstrating how man has adapted to the riggers of nature and prevailed in a harsh environment. In hostile milieu, man learned to construct buildings out of local materials alone, and the three types of rock available in the Cévennes, limestone, schist and granite, have determined construction materials and given each geological bedrock its human characteristics.
Regarding Cévennes slate stone, it is said that buildings grow out of the hillside instead of being constructed from human design. Most homesteads or 'mas' are built halfway up a slope and, where possible, just beneath a spring. As for the surrounding architecture, it takes the form of walled dry-stone terraces (full of fertile earth by man from nearby river-bed); 'clèdes' or chestnut drying houses, plus a chestnut orchard; a higher-lying area for goat and sheep grazing; walled paths connecting farm and hamlet buildings, designed to keep livestock out of cultivated land; the characteristic knurled mulberry tree for feeding silkworms; trellis-work for the 'illegal' hybrid grapes such as the 'clinton', 'jacquet', or 'baco'; and the nearby Protestant tombs, often with a cypress tree symbolising the flame of eternity.
Walking in Cévennes is to experience life's rich tapestry in microcosm: a fascinating journey from megalithic to modern times, depicting man's enduring capacity to innovate and destroy, survive, re-build and progress.
© The Enlightened Traveller 2020
Further Reading:
These short walking tours take place in Cévennes:
These longer tours take place in Cévennes:

Why not read REBEL LAND: A Portrait of the Cévennes [Kindle Edition] by William Rees
Click to visit The French Hiker's Guide to Holidaying in the Hexagon at France self-guided trips, trails, themes…
For articles, ideas and help in choosing where to go walking in France, consult walking in France – holiday suggestions
For comprehensive information on hiking in France, incl. customs, advice, choosing tours, dangers, preparation, best practice, law & our guarantee, see hiking in France
To see our full range of walking holidays in France, visit self-guided walking tours in France