illwalking in Cevennes
exposes you to an enigmatic 'region' of extraordinary beauty and cultural diversity. Cevennes is characterised by waves of hills and narrow valleys. It is a paradise for walkers who like great scenery and the sense of isolation. Moreover, it comes without the challenging demands and storms that epitomise walking in The Pyrenees.
Hillwalking in Cevennes is an opportunity to explore a multitude of themes that have marked human life in this part of France since the middle ages:
i) Having oppressed Protestant Huguenots in the early eighteenth century, a Spirit of Freedom evolved that sought to champion The Rights of Man. The Cevennes became a refuge for those escaping oppression and seeking tolerance, be they Spanish Republican, Jew, French Resistance Fighter, Hippy and, in more recent times, Gay.
ii) The struggle for self sufficiency against ineluctable economic forces. These include the birth and decline of ways of life due to pestilence, competition and 'the idea of progress.' The traditional countryside exodus has been replaced by tentative re-settlement by those wishing to preserve ancient crafts or seeking an alternative, organic future.
Hillwalking in Cevennes is a fascinating journey from megalithic to modern times, depicting man's enduring capacity to overcome whatever obstacles are thrown in his way. At a time when we are witnessing a 'back-to-nature' movement, Cevennes is an oasis of over-looked and under-explored life for your delectation and discovery."

- The Enlightened Traveller.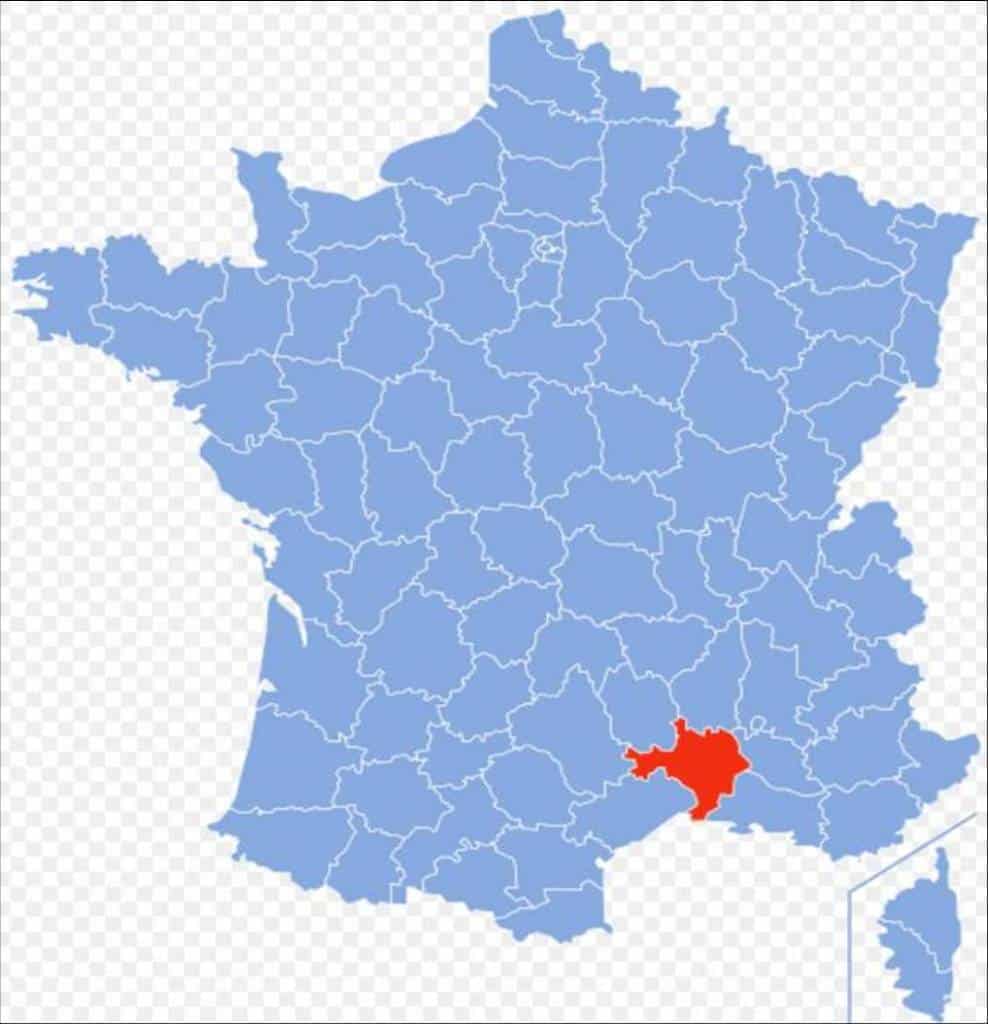 £815.00 Pounds Sterling or €895.00 Euros
[Per person, shared double or twin-bedded room]
Enjoy a fabulous walk along the mountain crest en route to St Jean du Gard.
Walk the final section of the Stevenson Trail – a taster before returning to walk it all?
Visit the Museum of the Desert in Mialet [in memory of the Protestants persecuted in Cevennes] and the Museum of Cevenol Life in St Jean*
Opportunity to enjoy a steam train ride to Anduze and back*.
Hike an infamous Cevenol trail used by Camisards to attack the King's garrison during the Huguenots Uprising.
* Costs are not included in the tour.
6-night, moderate, self-guided tour, with flexible walk options on two days
Start any day, April to mid-October.
Tour starts in Alès and finishes in St Jean du Gard.
Best access: Nimes airport or SNCF, with alternative options from either Lyon, Montpellier or Marseille.
Welcoming mix of '2-and 3-star standard' hotels, two with heated outdoor pools.
Multi-centre tour, staying 2 nights in three different locations.
We transport your luggage, you just carry a light day pack.
6 nights B & B and all hotel taxes
2 evening meals and 2 picnic lunches included – leaving you free to choose where to eat dinner in Ales and St Jean du Gard, where options are plentiful.
Luggage transfers and transport integral to the programme, incl. transfer on Day Two to the start of the trail.
Return rail tickets, Ales-Genolhac
Hiking Insight Notes™ that empower & make orientation easy
1:25,000 scale maps & themed vacation dossier.
Emergency telephone help-line service with 7/7 and 8 'till late native-English speaking backup.
Convenient from either Nimes airport or TGV railway station, with onward train to Alès taking 40 minutes.
Next-best access is via Avignon, Lyon, Marseille or Montpellier airports, with onward TGV to Nimes – 30, 60, 90 and 60 minute journeys, respectively.
Departure from St Jean du Gard is by bus [60 mins, but not on a Sunday] or taxi [45 mins costing 60 euros]. Please ask for details.
Two 3-star hotels and one 2-star hotel.
En-suite facilities.
Two hotels with outdoor heated swimming pools.
Warm summers; mild and sunny spring & autumn
Enjoy Mediterranean flora and schist valley topography.
iii) Hillwalking in Cevennes helps you visualise man's struggle to master nature – dams, irrigated terraces and aqueducts are testimony to the structuring of the environment to both protect from the ravages of water and capture it for our needs.
Causse & Cevennes has just gained the much sought-after 'poisoned chalice' of Unesco World Heritage site, so enjoy your hillwalking in Cevennes now, before the car parks and visitor centres are constructed in the name of 'tourisme verte'.
Hillwalking in Cevennes is experiencing a common heritage in microcosm and truly the best way to become acquainted with France's final frontier and 'terre de refuge'.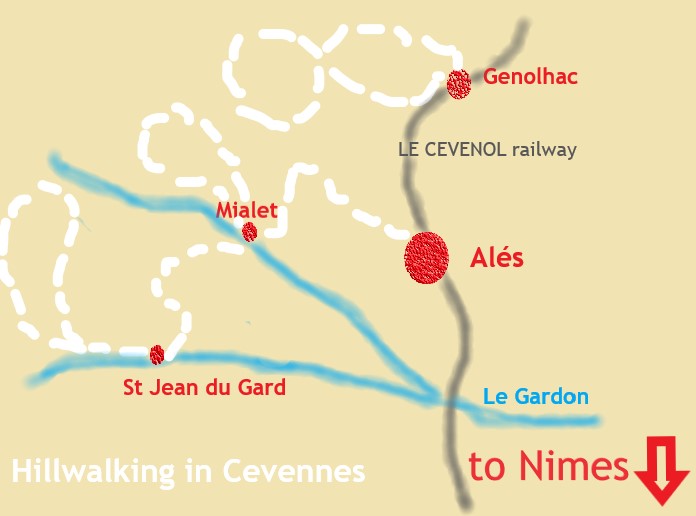 Hillwalking in Cevennes – Tour Itinerary
[Times, distances and elevations are approximate.]
Day 1: Arrival in Ales and hotel check-in. Then visit this modern market town, gateway to the Cevennes. Night in Ales.
Genolhac circular
[9½ miles-15kms, +/-750ms, 6 hrs with shorter option.]
Montclar Pass.
Short train ride to Génolhac on the 'line of one hundred tunnels' and a figure-eight hike in the heart of Hugeunot country. Zig-zag up an ancient Camisard escape trail to a picturesque plateau and pass. Then walk the second loop down to two Cevenol villages or search of more Huguenots' history as well as the ruins of Chastellas.
Second night in Alès.

Ales to Mialet
[11½ miles-18 kms, +520ms/-565ms,
6 hrs.]
Cevennes Panorama.
Short morning transfer to the Cevennes foothills. Your walk brings you outstanding views as you cross the mountain crest: eastwards over the entire garrigue as far as Mont Ventoux and beyond to the Alps; northwards to Mont Lozere, south-westwards to Mont Aigoual and southwards to Pic St Loup and the Mediterranean. You then head south and past a dolmen site before arriving at a key heritage site of Cevennes culture – Mas Soubeyran and The Musee du Desert – a shrine of tolerance.
Night near Mialet.
Mialet circular.
[9½ miles-15kms, +/-485ms, 5 hrs.]
La Fage.
Short transfer after breakfast. Great views continue today, with more hill-crest walking and an orientation table with spectacular views south westwards to Mount Aigoule. Descending into the valley, you see chestnut groves and a working farm before arriving at the Grotte des Camisards and the Pont des Camisards.
Second night near Mialet.

Mialet to St Jean du Gard.
[light option: 6 miles-9½ kms, + 160ms/-155ms, 4 hrs;
or
moderate option: 11½ miles -18 km, + 315ms/-310ms, 6 hrs]
Gardon du Mialet
Today you have two walk choices: walk only the morning, along the Gardon Valley and follow the GR 61 to St Jean, or head south along crete and past dolmen and grotto. And there's plenty to do in the afternoon: steam train to nearby Anduze, museum of Cevennes culture, castle, cafes and restaurants…not to mention the heated out-door swimming pool.
Night in St Jean du Gard.

St Jean du Gard circular.
[9½ miles-15kms, +/-485ms, 5 hrs.]
Corniche des Cevennes
Climb an ancient drovers' trail, walked by Robert Louis Stevenson in 1878, to a memorable 360 degree panorama.
Second night in St Jean du Gard.
Day 7: Departure day and end of your Hillwalking in Cevennes – Enjoy your breakfast and onward travel to Alès by either bus or taxi. Please ask us for details.
Further Reading
Read our articles on:
Other

Moderate

tours to consider in the area are…
Independent testimonials about The Enlightened Traveller can be read here:
Click to visit The French Hiker's Guide to Holidaying in the Hexagon and France self-guided walking, trails, trips, places & themes.