The Times recommends The Enlightened Traveller
The Times recommends The Enlightened Traveller as its first-choice tour operator for walking The Robert Louis Stevenson Trail in Cevennes, France. Yes, it's official and documented in a recent article entitled "35 great places to visit in France and where to stay" which was written by the very talented Andrew Eames and published on Friday August 13, 2021.
The Enlightened Traveller, aka Walking Holidays in France Ltd., is fifteen years old this year and has been walking the Stevenson Trail since 2008. So when a respected travel guru provides an independent testimonial about one of our favourite hiking tours, we are delighted to bring it to your attention.
Cevennes is a legendary place for walking – we call it 'Cevennes Heaven.' The history of Cevennes is akin to that of the world in microcosm: man struggling against his baser instincts, injustices as well as nature itself. Yet its hardy population has survived against the odds before and this has been repeated in the current pandemic – whilst other regions have seen its accommodation providers close, downsize, retire and restructure, Cevennes has battened down the hatches and seemingly survived intact.
When the legendary The Times recommends The Enlightened Traveller, it is cause for celebration. We reproduce below the segment of the article relevant to ourselves, as the article deals with thirty other worthwhile adventures in The Hexagon.
Moreover, we have chosen NOT to link through to the Times itself because even we had to take out a subscription to read it! Moreover, savvy webmasters will already be aware of the link-juice resulting from a one-way incoming link from such a giant of publishing.
However, for the record, the original article is available on the official site of The Times at: https://www.thetimes.co.uk/article/35-great-places-to-visit-in-france-and-where-to-stay-zcxhz7sr7
Happy reading, enjoy your visit to the Stevenson Trail page and please join us on one of France's classic walking tours.
© The Enlightened Traveller 2021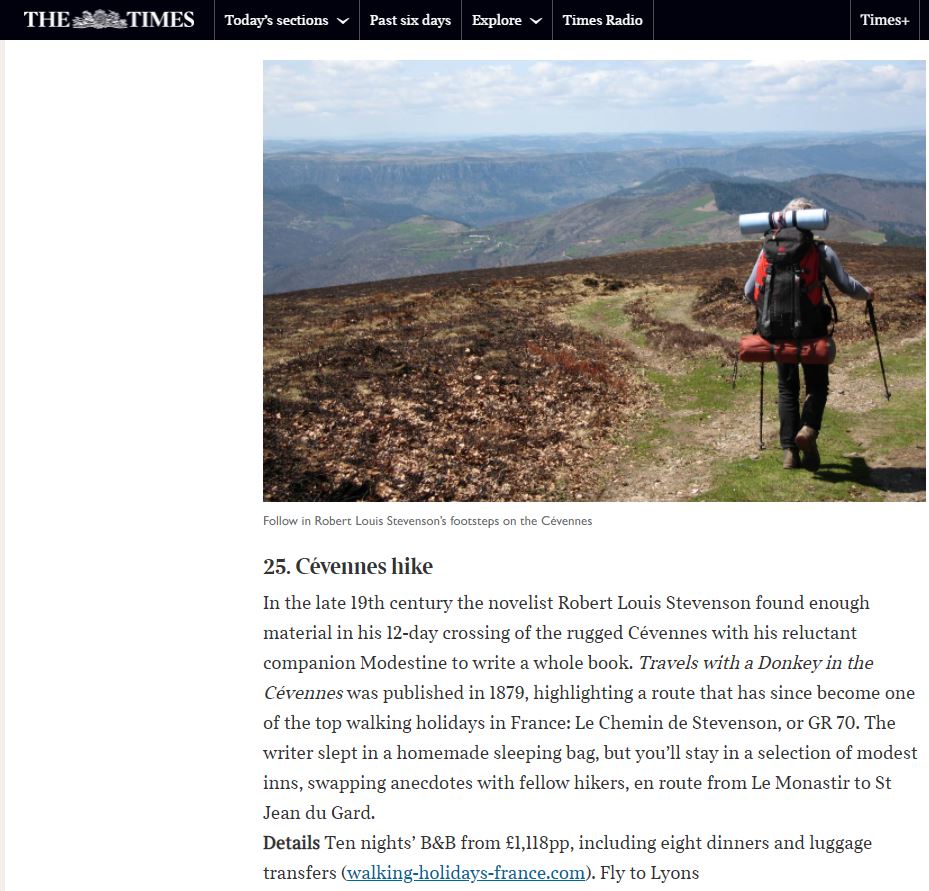 Further Reading:
Other testimonials can be read at:
Click to visit The French Hiker's Guide to Holidaying in the Hexagon and France self-guided walking, trips, trails, places & themes.