The Enlightened Traveller recommended by iNews.
iNews recommended The Enlightened Traveller on its on-line site, iNews.co.uk, on June 3, 2022.
An article in the travel section entitled, "Europe's 15 most satisfying and achievable walks for novices", by Sarah Baxter rated The Enlightened Traveller as the reference for walking the Robert Louis Stevenson Trail/RLS (GR70) in France.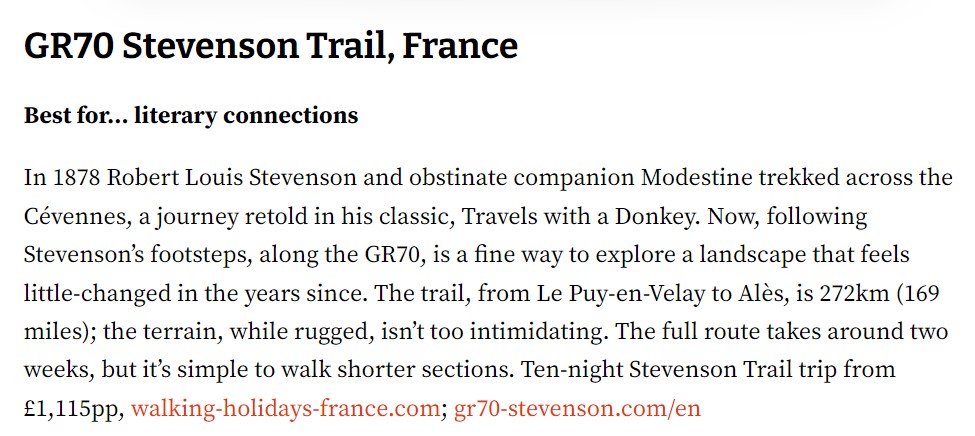 We could not agree with Sarah more, of course, and thank her for her diligent, digital journalism. Other must-walk tours in the fifteen Sarah rates that we offer are the Tour du Mont Blanc/TMB and the legendary Camino Frances – Le Puy to Conques section.
However, we doubt whether Sarah has actually walked any of the iconic tours listed, as anyone who has had the pleasure of walking these three French tours will never rate them as suitable for novices.
For example, we rate the 170km (105 miles) TMB circuit as challenging and offer you the chance to walk it in comfort over 12-nights/11 days, with the option to add a rest-day in the middle at Chamonix. Alternatively, for those with limited holiday time, you can choose to walk half one summer and the other half the next.
We have seen many a novice set off on this 'right of passage' only to watch them in agony after day three and abandoning shortly after. It is certainly NOT for the faint-hearted and requires a deal of preparation over a period of time that you feel comfortable with. Get up to speed and land with both feet firmly on the mountain pass rather than finding them swollen and wrapped in Compeed after a couple of days.
The Robert Louis Stevenson Trail (GR70) is a much more moderate animal, but longer than the TMB at 156 miles/252 kilometres. RL Stevenson stopped his trek at Saint Jean du Gard and our customers do the same – saving you the extra two days' walk to Alès that the local Tourist Board would have you walk, and why? For the pleasure (sic) of enjoying the Big Finish in the Pittsburgh of France? Yes, unless you're into Industrial Tourism, best give Alès a wide berth.
We offer The Robert Louis Stevenson Trail (GR70) in various guises from EXTRA (13-night) to Very Best of (4-night) versions to suit all tastes.
The Camino Frances has at least four variants and the most popular is without doubt the Via Podiensis or Le Puy Route. We offer the most scenic section of this pilgrimage, that starts in Le Puy en Velay and finishes in Conques twelve nights later. You can opt for a guest house-led trip or a hotel-led one.
Classified as moderate and less challenging than the RLS, the first two days are arguably the toughest, so some opt for a rest-day in Saugues before kicking on.
Needless to say, all three of these tours are very popular and the preferred, small-scale accommodations sell out quickly. Make sure you reserve before, say, the November before you walk in order to avoid disappointment. This is not sales talk, but a fact; especially after the two years of drought caused by Covid. The proverbial hiking tap is now turned full on, with enormous pent-up demand being experienced by all players in the marketplace.
© The Enlightened Traveller 2022
Further Reading:
Other testimonials can be read at:
Click to visit The French Hiker's Guide to Holidaying in the Hexagon and France self-guided walking, trips, trails, places & themes.