Hikes along the Loire takes you from Tours, the region's cultural capital, to Saumur, home to some of The Hexagon's finest wines. Visit Castles, Fontevraud Abbey, troglodyte dwellings and vineyards located along the GR3 trail."

ikes along the Loire

is a short walking tour that introduces you to the essence of the life and times of UNESCO's world heritage central Loire Valley. You delight in five days of gentle walking, along a variety of trails that comprise the region's quintessential hiking route, the GR3.
Hikes along the Loire starts in Tours, the capital of the department of Indre-et-Loire, considered the home of 'neutral' French pronunciation. It boasts a fine Musée des Beaux-Arts and one of the best river-side guinguettes in France – get there early for either lunch or dinner.
From the aptly-named 'Tours', you then stride out along the river to Villandry, with its impressive Renaissance chateau and unique 16th century gardens. Next in line is Azay-le-Rideau, with its picture-postcard village, chateau and gardens.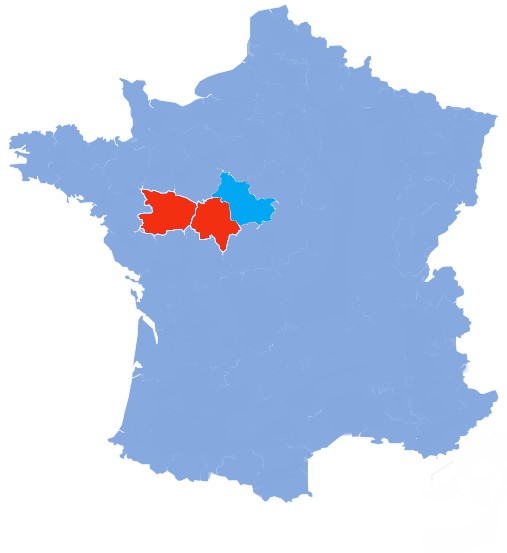 The walk onto Chinon is a sheer delight, as too the Chateau-Fort lying majestically above the right bank of the river Vienne.

Next we head in-land and visit Europe's largest monastic complex, Fontevraud-l'Abbaye, burial place of Richard the Lion Heart. Then re-join the Loire, pass the Château de Montsoreau (built in the Loire's riverbed) before striding out through troglodyte country to Saumur. Its flamboyant chateau is a real bijou.
Whilst enjoying your hikes along the Loire, you stay in the best three-star hotels along the way. Enjoy some of France's finest wines from the AOCs of Touraine and Saumur – Chinon, Cheverny, Vouvray and the distinctive dry rosés of The Loire.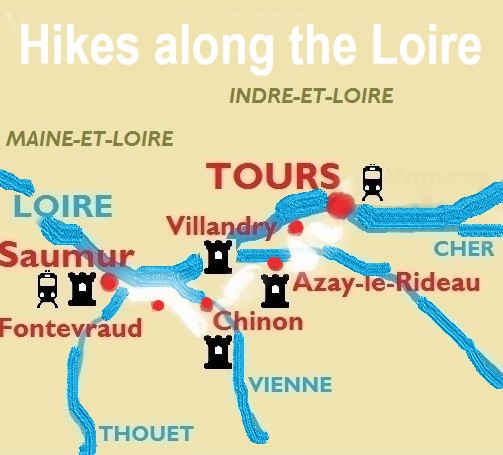 Our tour dossier, with its comprehensive coverage of the region's appellations, will help you make that informed choice as to how best to complement your evening meal.
Finally, the important issues of easy access and departure are conveniently catered for by the much-heralded and reliable SNCF.
Hikes along the Loire is a perfect, stand-alone introduction to the life and times of France's legendary river valley; or the ideal addition to our Taste of Loire hiking trip that whetted your appetite last time around.
£895.00 Pounds Sterling or €1075.00 Euros
[per person, shared double or twin-bedded room]
Option to add extra nights upon request.
6 nights hotel accommodation and all hotel taxes.
6 breakfasts & 3 dinners.
Luggage transfers and two morning transfers.
Hiking Insight Notes™ that empower & make orientation easy
1:50,000 scale maps – perfectly adequate for orientation in this low-relief region.
A comprehensive and themed vacation dossier featuring the chateaux and wines of La Loire.
Emergency telephone help-line service with native-English speaking backup from 8am to 8pm.
What's NOT Included
Lunches & drinks
Entrance fees into Chateaux, Abbeys, etc.
Personal expenses and any extra transfers
Hiking, personal and travel insurances
Travel to Ambroise and from Saumur
Single rooms – unless booked at single-person rate
Visit two Renaissance chateaux and two medieval castles/chateaux forts – optional fifth if adding extra night in Montsoreau;
Explore the magical 16th Century gardens of Villandry, the Abbey at Fontevraud [resting place of Richard the Lion Heart] and Tours, the region's most important city;
Get to know two of the Loire's tributaries – l'Indre and La Vienne;
Marvel at the Valley's troglodyte dwellings;
Immerse yourself in UNESCO's Garden of France and one of the Country's top wine-growing regions, showcasing arguably the very best of French dry rosé wines.
6-night, self-guided, hotel-to-hotel tour
Start any day, beg. mid-April to mid-October
Tour starts in Tours and finishes in Saumur – convenient access and departure by train
average 10 miles/16 kms per day.
We transport your luggage, you just carry a light day pack.
Excellent levels of character and comfort: 3-star standard hotels throughout, plus a sumptuous and centrally-located chambres d'hotes du charme in Tours;
Tour includes three diners for your convenience.
No evening meals included in Tours, Chinon and Saumur, where conveniently-located restaurants are plentiful.

Note: This is a very popular tourist area, attracting visitors from all over the world and throughout the season. Early booking is thus advised.
Tours SNCF station is 1½ to 2 hrs journey from Paris and 5 hrs from Lyon.
Saumur SNCF station is approx. 2½ hrs from Paris and 5 hrs from Lyon.

Please See:
https://www.sncf.com/en
or the TER Site here.
or https://www.rome2rio.com/
Maritime climate moderated by Continental influences. Warm, dry summers; mild and sunny spring & autumn
You walk through The Garden of France on a mix of trails, alongside river banks, through woods and forests, across farmland and alongside vines, with very modest elevation gains or losses.
Hikes along the Loire – Tour Itinerary

Day 1: Arrival in Tours by train and hotel check in. Early arrival recommended so as there's plenty to see: old quarter, cathedral, basilica, Musée de Beaux Arts – and we'll even recommend the best place for lunch/dinner. Night in Tours centre.

Tours to Villandry

[12 miles-19½ kms, approx. 4 hrs]

Savonnieres-sur-Cher

You walk beside the Petit Cher and the Cher on route to Savonnieres, where the traditional flat-bottomed river boats abound. Then climb the 100 steps [we make it 110] to a fine ridge and passageway to the ancient village of Villandry, with its magnificent castle and ornate 16th century gardens.

Night in Villandry.

Villandry to Azay

[8½ miles-13½ kms, approx. 3½ hrs walking].

Menhir Pierre aux Joncs

An easy-going half day's walk through the Vallee du Vau on route to the quaint village of Azay with its Renaissance chateau lapped by the waters of the river Inde.

Night in Azay-le-Rideau.

Azay to Chinon.

[7½ miles-12 kms, approx. 3 hrs walking].

Saint-Benoit-la-Foret

A short transfer after breakfast gets you to the start of the Route forestiere de Rabelais followed by the Allee Louis XI. The ledge walk from the outskirts of Chinon is worth savouring, which drops you conveniently at the front gates of Chinon's magnificent medieval castle overlooking La Vienne river. This bijou village is also blessed with its fine red wine.

Night in Chinon.

Chinon to Fontevraud-l'Abbaye

[8 miles/12½ kms, approx. 4½ hrs]

Plantagenets' rest

Hug the river Vienne for the first half of the trail to La Chaussee. Then kick out across the Vallee des Veaux and through the Fontevraud forest. Enter Maine-et-Loire, pass the Chapelle de Notre Dame de Pitie before arriving in sacré Fontevraud, resting place of two Plantagenet kings and queens of England, including Richard The Lionheart. Both Abbey and hotel are a treat.

Night in Fontevraud.

Fontevraud-l'Abbaye to Saumur

[12 miles-19½ kms, approx. 4½ to 5 hrs]

Terroir Troglodyte

A short transfer after breakfast takes you to a fine belvedere at the confluence of the Loire and Vienne rivers. You pass the Chateau de Montsoreau [made famous by Alexandre Dumas] and can visit a troglodyte wine estate before striding out across AOC Saumur-Champigny country. Plenty of fine belvederes await along the balcony route to Saumur, with its 'chateau d'amour' perched on a tuffeau slope.

Night in Saumur.

Note: option to split this last day in two so you can have time to visit Montsoreau chateau – please ask for details.


Day 7: Departure day – end of your Hikes along the Loire tour – Saumur has a gare SNCF, so onward travel by train is very convenient.


Another

short tour in light format

in the same region to consider…

Other short tours in light format in the south of France are…


Independent testimonials about The Enlightened Traveller can be read here:

[rwp-review id="0″]

Click to see our full range of Light walks in France