Pont du Gard Walking 2024
Pont du Gard walking is a tale of two canyons, taking you from the Gardon Gorge to the Gorge d'Alzon including a hike round France's greatest ancient monument, the Pont du Gard. And the trip is complemented by two 3-star hotels and one 4-star. "
ont du Gard Walking

starts in Nemauses or Nimes, Capital of ancient Provence, and culminates in Uzès, the First Duchy of France nestled in the enigmatic region of Uzège. You hike Gard Provençal, home of The Gardon River, the best weather in France, varied countryside, a rich historical heritage and home to fine, understated regional wines. You stay in superior accommodation with gourmet restaurants either on site or a short stroll away.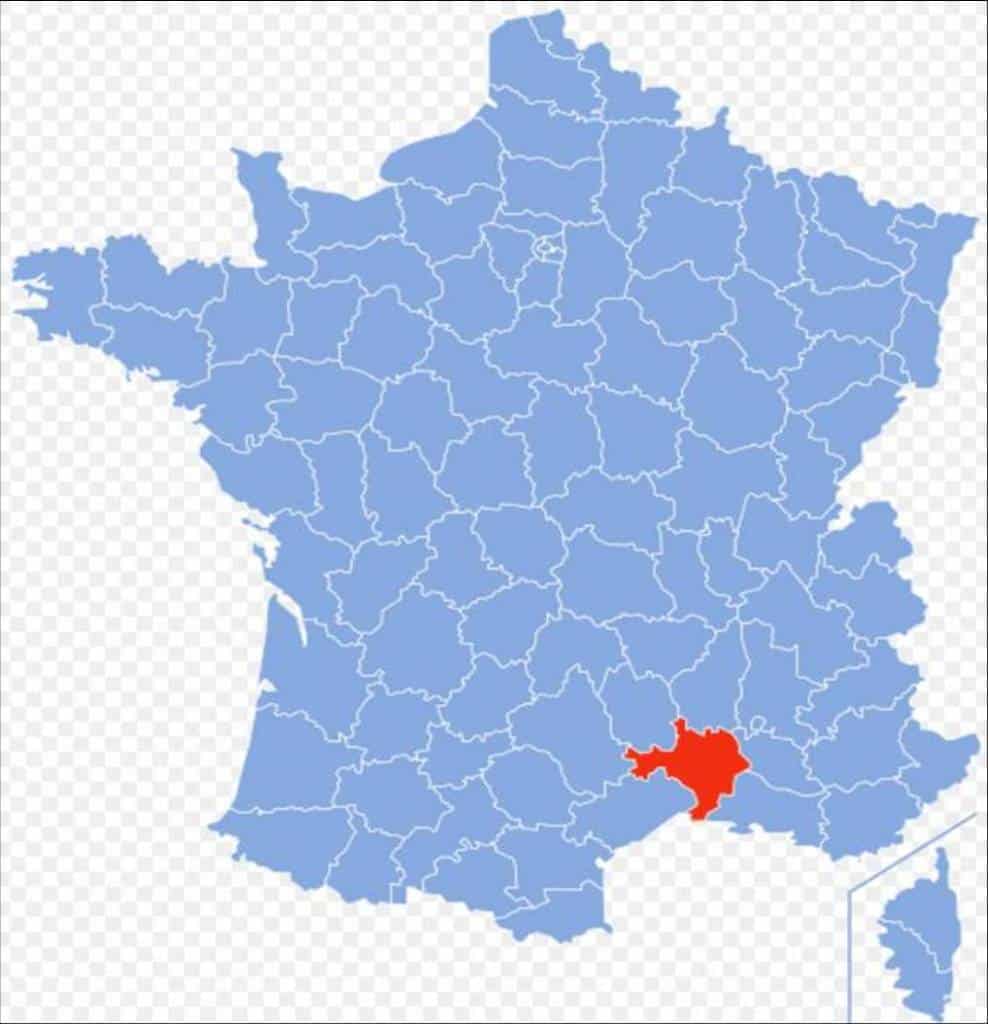 Oscillate between the fascinating uplands of the Mediterranean Garrigues and the feature-filled banks of the Alzon and Gardon rivers. It's light but invigorating hiking, with an abundance of avifauna, Mediterranean flora and local history and culture to get your teeth into. The Gardon has carved out a host of interesting features for you to savour en route, as it plays its game of 'now-you-see-me, now-you-don't' along its 'water' course; disappearing underground only to appear further downstream as if to signal its supremacy over nature.
You witness limestone topography that is the stuff of classic physical geography field trips. The first day's walking is an adventure indeed, immersing you from the off as you hit the ground running; the second encapsulates that creative tension between man and nature that gives birth to classic architecture – in this case, The Pont du Gard itself. Approach it from an angle that most never see, and various vantage points will deliver views that remain as lasting memories. The third day's hike is circular and short, providing fine views of Uzès as you walk in search of the source that once fed The Pont du Gard viaduct.
Pont du Gard Walking comprises two light and one moderate day's walking, the latter simply because of its length. Two options exist for this day: the High or the Low route. Whilst the former is lighter, the latter is strongly recommended as it is your one chance to savour walking the riverside limestone pavement. Moreover, if you time your arrival in Uzès for a Friday, you can take in the legendary Saturday-morning market, arguably Province's best, before your half-day circular walk in the afternoon.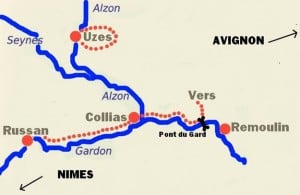 £640.00 Pounds Sterling or €765.00 Euros
[per person, shared double or twin-bedded room]
Certain dates in the 4-star Collias hotel are subject to a €35.00 euros/£30.00 GBP supplement per person per night, so best avoid Saturday stays in Colias. Please ask us for details.
What's Included
4 nights in superior accommodation – 3-star standard and above
4 breakfasts
Luggage transfers and two people transfers integral to the programme.
1:25,000 scale maps, excellent walking notes & dossier
7/7 Telephone back-up & support.
The magnificent Pont du Gard
The Gorges du Gardon and Gorges d'Alzon
Explore a Grotto [Outside nesting season]
Two nights in Uzès – First Duchy of France.
Roman Nimes – a night in the historic centre.
4-night, self-guided tour
Start any day from March to November
Start in Nimes, finish in Uzès
Best access: Nimes Gare SNCF
Fine accommodation.
We transport your luggage, you just carry a light day pack.
4 nights' B & B in superior accommodation – 3-star and above
Luggage and people transfers integral to the programme.
1:25,000 scale maps, excellent walking notes & dossier
7/7 Telephone back-up & support.
Best access is via Nimes SNCF station [4 hrs on TGV from Paris or Lille].
Other convenient options are via Lyon, Marseille or Montpellier airports, with onward train to Nimes.
British customers can fly by Ryan Air into Nimes airport.
Excellent accommodation standard throughout, with double or twin beds and en suite facilties.
Two 3-star hotels or equivalent character chambres d'hotes and one 4-star hotels with gourmet restaurant. All are centrally and conveniently-located
Two nights in Uzès
One night in Collias
One night in historic Nimes centre.
Hot, dry summers; mild & sunny winters
Undulating Mediterranean lowland and limestone canyons
Pont du Gard Walking – Tour Itinerary
Day 1: Arrival in Nimes by train (or direct flight from the UK or Brussels). Check in and enjoy our Urban Walk around this historic Roman cité. Night in a conveniently-located 3-star hotel in town centre.
Russan To Collias.
13 miles-20 kms
Majestic Meanderings
Collection from Nimes and transfer to Russan at the start of the Gorge. Wend your way above the gorge towards the magnificent Pont St Nicolas. Then discover a lost chapel and explore a memorable grotto with that head-lamp that you never thought you'd ever get to use. Then walk a magnificent pavement section of the valley bottom itself. Sacré balade!
Night in Collias in a superb 4-star hotel with award-winning gourmet restaurant.
Collias to Pont du Gard
11 kms-7.5 miles + transfer to Uzès.
Towards Pont du Gard
Grande finalés to the day's hiking don't come much grander than this – 49 ms in height and 275 m (300 yards) long. You have earned the right to walk its sacred stones and then follow a fascinating trail that unravels a few more of the mysteries that surround this marvel of architecture, human ingenuity and science.
Collection from nearby Vers and transfer to Uzès – First Duchy of France and your home for the next two nights.
Night in Uzès. Superior chambres d'hotes du Charme in town centre.

Gorge d'Alzon circular walk
5.5 miles – 8.5 kms.
To the Source
Enjoy a bucolic hike around the Uzès hinterland in search of the source of the waters that fed the Pont du Gard and supplied Roman Nimes with water.
Second night in Uzès.

Day 5: Departure day – Breakfast and onward journey. Bon voyage et a Bientôt!
Further Reading:
Read our articles on…
Independent testimonials about The Enlightened Traveller can be read here:
Click to see our full range of short walks in France