Trails of the French Garrigues
Immerse yourself in the aromas, flavours and tastes of the undulating Mediterranean hinterland; the perfect light-hiking break available all-year-round."
Trails of the French Garrigues is a delightful introduction to the life and times of one of southern France's most enduring of attractions: its Mediterranean lowland. It is a journey across undulating and picturesque terrain from Ales, at the foothills of the Cevennes mountains, to Moussac, a typical hill-top village along the Gardon Valley, half-way between 'Cevenol Ales' and Gallo-Roman Nimes.
Trails of the French Garrigues makes for one of those perfect short breaks that you dream of, and search Google for, every Monday morning. It is very much a hiker-friendly trip, ideal for lovers of light, bucolic walks in picturesque, Mediterranean settings. The accommodation is very much complementary as you experience 'la vrai pierre,' enjoy the culinary delights of the region's cuisine and savour its vastly-underated wines.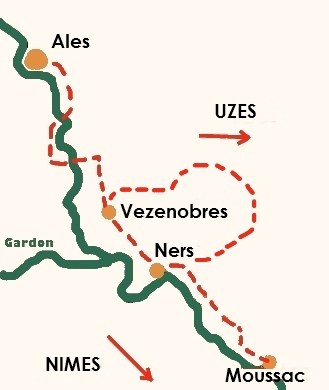 These hikes can be walked throughout the Four Seasons, but are particularly attractive to those from Northern climes who seek sunshine and clear skies in autumn and winter. Leave your crampons at home! Winters are particularly mild, so whilst the rest of Europe has its skis and snow boots on, you can walk the long and fine, sunshine-drenched autumn and winter afternoons in relatively-light clothing.
The history of The Garrigue is a fascinating one, with tales of medieval pilgrimages, religious conflict, war-time refuge and harsh economic cycles. It is an essentially human environment, and so perfect for short walks over long weekends either in your own perfect company, or perhaps with family and friends.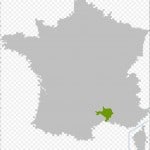 Trails of the French Garrigues acquaints you with picturesque and undulating lowland without muscle-wrenching ascents and knee-breaking descents. You hike a Roman trail that links a series of hill-top villages stretched out along the Gardon Valley.
€640.00 Euros or £545.00 Pounds Sterling
[per person in a shared double or twin-bedded room]
Note: Please contact us to check for the latest Sterling prices. Sterling prices are confirmed at the time of booking.
Discover Huguenots country
Explore a Roman trail linking hill-top villages
Fine character accommodation, Mediterranean cuisine & Costieres wines
Stay in Medieval Vezenobres
4-night, self-guided tour
Start any day, all year round
Tour starts and finishes in Alès
Best access: Nimes SNCF or airport [Ryan Air]; with Marseille or Montpellier as alternatives
Good accommodation standard.
We transport your luggage, you just carry a light day pack.
B&B: 4-nights in 2-star hotels or equivalent chambres d'hotes
Transfer to Ales at the tour's end¹
Luggage transfers & transport integral to tour
Maps, excellent walking notes & dossier
7/7 Telephone back-up & support.
¹ Return transfer collects you at 09.00 hrs and you can expect to be in Ales at 09.30 hrs or Nimes by 10.30 hrs. Please ask us for details and refrain from booking onward travel before you do.
Best access is via Nimes airport or SNCF/TGV station [4 hrs on TGV from Paris or Lille] with 40 min. onward journey to Ales – please ask for details.
Other convenient options are via Lyon or Montpellier airports, with onward TGV to Nimes – 60 and 30 minute journeys, respectively.
Alternative access is via Clermont-Ferrand airport or SNCF station [regional rail link with Paris], with onward journey on Le Cevenol to Ales in 4.5 hours – please ask for details.
Good level of character and comfort, with outdoor swimming pools where available.
Mix of 2-star standard hotels and chambres d'hotes.
One night in Ales
Two nights in Vezenobres
One night near Moussac
Hot, dry summers; mild & sunny winters
Undulating Mediterranean lowland punctuated by historic villages & hamlets and the Gardon River
Trails of the French Garrigues – Tour Itinerary
Day 1: Arrival in Alès a busy market-town unreliant on tourism and the gateway to Cevennes.
Alès to Vezenobres
7.5 miles-11 kms
Venerable Vezenobres
Bid farewell to the Cevennes foothills and stroll the banks of The Gardon. Connect with the Roman trail at St Hilaire and enjoy a bucolic saunter to the medieval masterpiece, fig capital and Regordane watering-hole.
Night in Vezenobres.

La Garrigue profonde.
9.5 miles-14.5 kms
Martignargues
A fine circular walk to the site of a famous Camisard victory and the chance to visit two fine villages en route amidst vine, capitelles and cactus.
Second night in Vezenobres.

Vezenobres to Moussac
8 miles-12 kms.
The Villages of The Regordane
The Roman trail laces together four fine villages and a remarkable fortified hamlet. Each oozes character and history as you enjoy the peaceful, scenic garrigues at its best. Late afternoon transfer to hotel.
Night near Moussac.

Day 5: Departure day – breakfast and transfer back to Ales¹. Bon retour et a la prochain!
¹ Return transfer collects you at 09.00 hrs and you can expect to be in Ales at 09.30 hrs or Nimes by mid-day. Please ask us for details and refrain from booking onward travel before you do.
Further Reading
Read our articles on:
Other

Short tours in light format

in the same region to consider…
Independent testimonials about The Enlightened Traveller can be read here:
Click to see our full range of short walks in France>