A combination of fine and gentle hikes across undulating Mediterranean hinterland, with superior accommodation. A dual-centre tour, you get to enjoy the splendours of Aigueze for three nights, with no need to pack up and move on each morning."

iking in Provence

finds you enjoying the delights of the magnificent Ardeche Gorge and the picturesque Ceze valley. It's light hiking along fine bucolic trails, with plenty to discover along the way.
Hiking in Provence starts off in Pont St Esprit, at the confluence of The Rhone and the Ardeche rivers. You move westwards to discover the fruits of the famous gorge before discovering what lies in between – the fabulous forest of Valbonne and the district they call Valcezard in western Provence. Little known and explored by outsiders, it is much loved by the local cognoscenti, and that includes ourselves.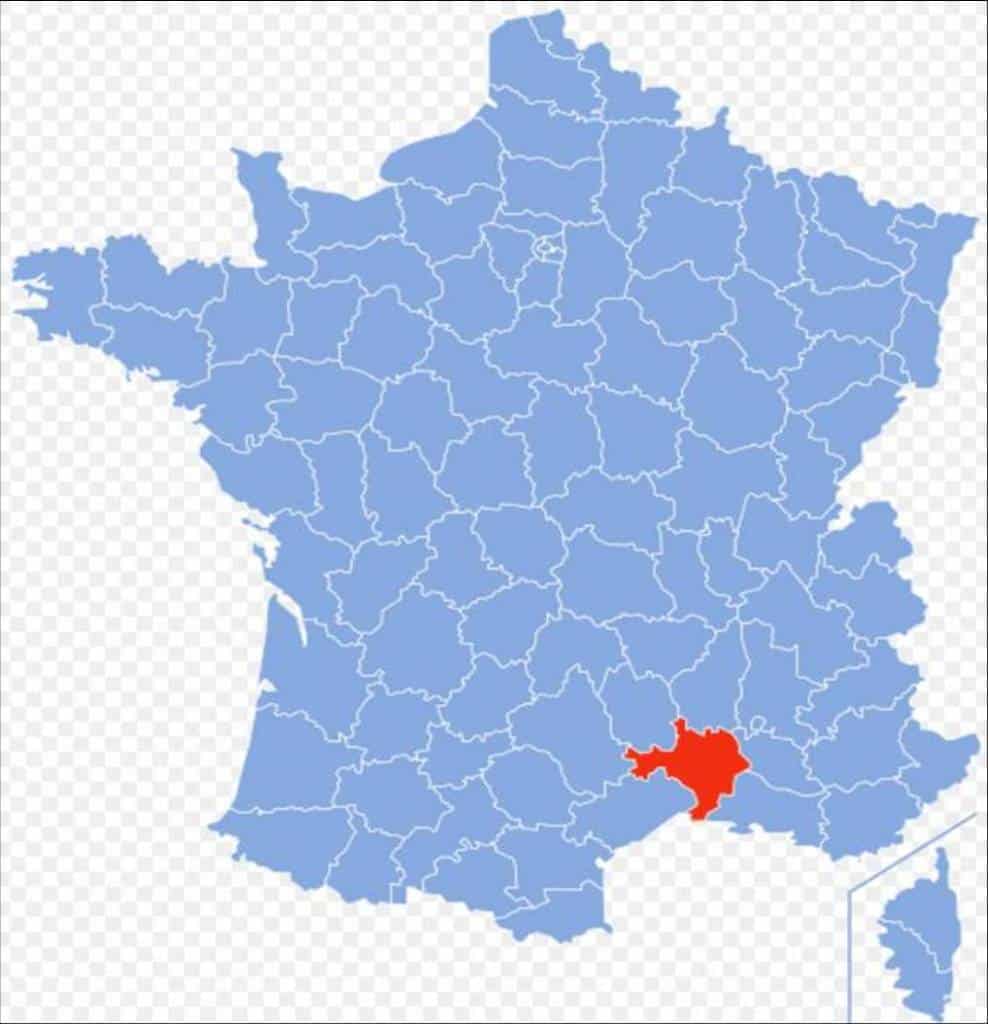 Built in the thirteen century, you will enjoy a visit to a magnificent Carthusian monastery. Your accommodation for the tour includes a range of charming, family-run 3-star standard hotels and guest houses, flaunting the stone facades and vaulted ceilings that are so much a part of the fabric of western Provence.
Hiking in Provence takes you to hamlets and villages that are either huddled in the bottom of the valley or perched up high on sun-parched limestone hills and gorge cliffs. Either way, you make their acquaintance as part of the ensemble of fascinating insights gained into the life and character of one of Provence's finest and most understated valleys. We include bed and breakfast so that you can enjoy the local culinary delights in a fashion that is tailored to the requirements of both your budget and diet.
£475.00 Pounds or €560.00 Euros
[per person in a shared double or twin-bedded room]
Note:
Please contact us to check for the latest Sterling prices. Sterling prices are confirmed at the time of booking.
Enjoy fine scenery and stunning gorges between Ardeche and the Cèze Valley
Escape the Provencal crowds
Hike Western Provence's best trails and most fascinating hill-top villages
The 13th century Chartreuse Carthusian monastery & the impressive Sautadet waterfalls.
Stay in superior countryside accommodation.
4-night, self-guided tour
Start any day, beg. April to end-September.
Tour starts in Pont St Esprit and finishes in Aigueze
Best access: Avignon or Nimes airports or SNCF stations
Superior accommodation.
average 9 miles/14.5 kms walking per day.
We transport your luggage, you just carry a light day pack.
4 nights B & B and all hotel taxes
Luggage & people transfers integral to the tour – see itinerary.
Hiking Insight Notes™ that empower & make orientation easy
1:25,000 scale maps & themed vacation dossier.
Emergency telephone help-line service with native-English speaking local backup.
Not included: remaining meals, entrances to any cultural events or arrival and departure transport.
Excellent levels of character and comfort, with outdoor swimming pools in Auigueze.
'3-star standard' hotel and residence.
Choice of restaurants to suit different budgets and tastes – information provided in dossier
One night in Pont St Esprit
Three nights in Aigueze
Nearest airport or SNCF station is Avignon [3.5 hrs on TGV from Paris or Lille] with onward journey to Pont St Esprit by bus or transfer – please ask for details.
Next-best access is via Nimes airport or SNCF station [4 hrs on TGV from Paris or Lille] with onward journey to Pont St Esprit by bus or transfer – please ask for details.
Alternative convenient options are via Lyon or Montpellier airports, with onward TGV to Avignon – 30 and 60 minute journeys, respectively.
Hot, dry summers; warm and sunny spring & autumn
Undulating Mediterranean lowland and Garrigues punctuated by historic villages & hamlets and the Ardeche and Ceze valleys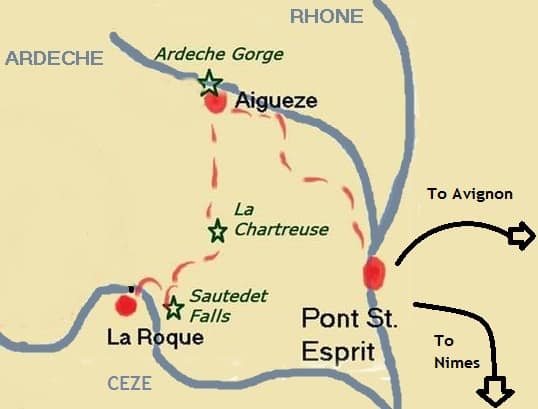 Hiking in Provence – Tour Itinerary.
Day 1: Arrival at Pont St Esprit and check in. Early arrivals can enjoy a short urban hike around this busy town located at the confluence of the Ardeche and Rhone rivers. Night in Pont St Esprit.
Pont St Esprit to Aigueze
[7.5 miles-11 kms, 4 hrs, +140 ms -85 ms]
The Ardeche Gorge
You start your week hiking The GR4 as it wends its way along the right bank of the Ardeche and up to the remarkable village of Aigueze, as if hewn out of the sides of the gorge itself.
Night in Aigueze.

Aigueze to Valbonne
[8 miles-13 kms, 4 hrs, +240 ms -125 ms]
The Forest of Valbonne
A charming bucolic hike as you meander through the Valbonne forest en route to the impressive site of the Carthusian monastery. Enjoy its majestic aura, take the free tour of the site, and perhaps a short botanical walk around its perimeter. We collect and transfer you back to Aigueze.
Second night in Aigueze.
Valbonne to La Roque
[8 miles-13 kms, 4 hrs, +100 ms -235 ms]
Across Martel Bridge
Transfer to La Chartreuse after breakfast. You discover the fascinating Sautadet 'waterfalls' en route to the imposing hilltop village of Roque. 'Flaneur' through its 'ruelles' and imbibe its rich ambiance. Late afternoon transfer back to Aigueze.
Third night in Aigueze.

Day 5: Departure day – breakfast and onward journey by taxi and/or bus to Pont St Esprit, Avignon or Nimes. Thanks for choosing to walk our Hiking in Provence trip. Bon retour et a la prochain!
Further Reading
Read our articles on:
Other

Short tours in light format

in the same region to consider…
Independent testimonials about The Enlightened Traveller can be read here:
Click to see our full range of short walks in France