Great Taste of Loire hiking 2023
Great Taste of Loire hiking comprises a short, total immersion in UNESCO'S 'Garden of France' with magnificent Renaissance chateaux complemented by the very best of family-run hotels. Easy access and departure is ensured by our friends at the SNCF."

reat Taste of Loire hiking
comprises a short, total immersion into life along the much-lauded Loire Valley in north-western France. France's longest river, you enjoy light walking through UNESCOS 'Garden of France' whilst marvelling at some of the Hexagon's finest architectural treasures.
Great Taste of Loire hiking commences in Blois and finishes in Chenonceau. You also spend a night in Chaumont and Amboise. In four days you get to visit four Renaissance chateaux plus the home of Leonardo da Vinci. Enjoy The Loire's unique and multi-faceted heritage – ornate gardens, classic Renaissance architecture and a resplendent viticulture.
You enjoy half-day walks that enable you to spend plenty of time visiting the castles and other manifestations of cultural heritage in your overnight resting place. Your day-time activities are complemented by the very best of accommodation at every step of the way. That means three, fine 3-star hotels and a fabulous 4-star. We include three evening meals and allow you to choose your own restaurant in the historic centre of Amboise, where options abound.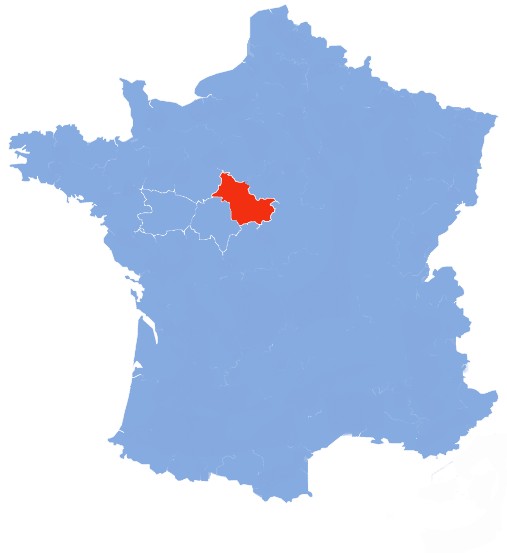 Your first two days walking from Blois to Amboise are along the former GR3 trail largely associated with the left (or southern) bank of La Loire. Waymarked in red and white flecks, and indicated intermittently as the GR655, this demarcates the Via Turonensis (or the Tours / Paris route), one of the four northern pilgrimage routes to Saint-Jacques-de-Compostelle in France. The most serene and oldest route, it was historically the most frequented.
Your third day's walking, from Amboise to Chenonceau, sees you following a Petite Randonée trail between the Loire and the Cher rivers. You get the chance to follow some of the legendary allées or historic linear trails along which the locals have walked since time immemorial.
Great Taste of Loire hiking empowers you to experiencing the unique heritage of the Loire Valley as very few others get to enjoy it – on foot, without a car or bike. Guaranteed to please, we then look forward to welcoming you back to Part Two of the Loire experience – Tours to Saumur.
Extra nights can be added along the way to suit.
£625.00 Pounds Sterling or €725.00 Euros
[per person, shared double or twin-bedded room]
4 nights hotel accommodation and all hotel taxes.
4 breakfasts and 3 dinners.
Luggage transfers and two morning transfers.
Hiking Insight Notes™ that empower & make orientation easy
1:50,000 scale maps – perfectly adequate for orientation in this low-relief region.
A comprehensive and themed vacation dossier featuring the chateaux and wines of La Loire.
Emergency telephone help-line service with native-English speaking backup from 8 'till late.
What's NOT Included:
Lunches & drinks
Entrance fees into Chateaux, monuments, etc.
Personal expenses and any extra transfers
Hiking, personal and travel insurances
Travel to Blois and from Chenonceau
Single rooms – unless booked at single-person rate
Note
: This is a very popular tourist area, attracting visitors from all over the world and throughout the season. Early booking is thus advised.
Visit four Renaissance chateaux and the home of Leonardo da Vinci;
Explore the magical ornate gardens of Chenonceau and Chaumont;
Get to know the Loire and one of its tributaries;
Enjoy the best accommodation available at every stage;
Immerse yourself in UNESCO's Garden of France, showcasing arguably the very best of French dry rosé wines.
4-night, self-guided, hotel-to-hotel tour
Start any day, beg. mid-April to mid-October
Tour starts in Blois and finishes in Chenonceau – convenient access and departure by train
average 9 miles/15 kms per day.
We transport your luggage, you just carry a light day pack.
Excellent levels of character and comfort;
Superior hotels: three 3-star and one 4-star.
Tour includes three diners for your convenience.
Two hotels feature out-door swimming pools – unheated.
Blois SNCF station is 1½ to 2 hrs journey from Paris and 5 hrs from Lyon.
Chenonceau SNCF station is approx. 2½ hrs from Paris and 5 hrs from Lyon.
Option to depart from Amboise SNCF if preferred. Requires a supplementary taxi transfer on departure morning from Chenonceau. Ask or details.

Please See:
https://www.sncf.com/en
or the TER Site here.
or https://www.rome2rio.com/
Maritime climate moderated by Continental influences. Warm, dry summers; mild and sunny spring & autumn
You walk through The Garden of France on a mix of trails, alongside river banks, through woods and forests, across farmland and alongside vines, with very modest elevation gains or losses.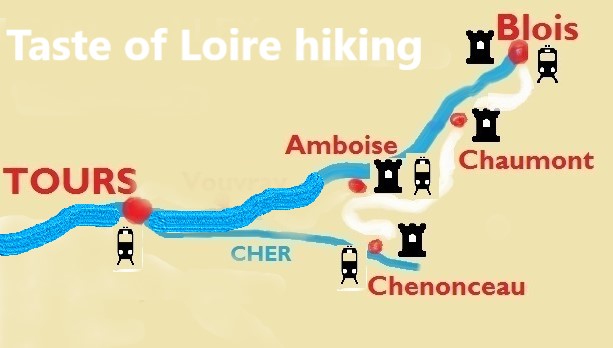 Great Taste of Loire hiking – Tour Itinerary

Day 1: Arrival in Blois by train and hotel check in. Early arrival recommended so as to maximize time in the Chateau Royal and enjoy a walk around the adjacent gardens – followed by a saunter around town and your first look at The Loire river. Night in Blois and dinner in your hotel.

Blois to Chaumont

[10½ miles-17 kms, 4½ hrs]

Chateau de Chaumont

You are collected from your hotel and transferred a short distance out of town for your first hike along The GR655 as it wends its way along the left bank of the Loire to Chaumont via the Beuvron tributary – not to mention your first experience of Loire Valley wood-walking.

Night in Chaumont-sur-Loire and dinner in your hotel.

Chaumont to Amboise

[10½ miles-17 kms, 4½ hrs].

Chateau Royal & Le Clos Lucé

A short transfer out of town and we climb to the giddy heights of 112 ms and enter the department of Indre-et-Loire before descending to l'Amasse, a small Loire tributary at Souvigny. Then its a mix of copse, wood and lost hamlets before arrival in Amboise. As well as the Chateau Royal and the Chapelle St Hubert, you can visit Le Clos Lucé – home of Leonardo da Vinci.

There is so much to see – why not stay an extra night?

Night in Amboise and dinner in a restaurant of your own choosing.

Amboise to Chenonceau

[8 miles-13 kms, 4 hours]

The Forest & Allées of Amboise

A charming, bucolic hike through the Amboise forest en route to arguably the quaintest chateau and gardens of the trip – with access secured via walking a series of the symmetrical allées, so common in these walking-oriented parts.

Night in Chenonceau and dinner in your hotel.

Day 5: Departure day – end of your Great Taste of Loire hiking tour – Chenonceau has a gare SNCF, so onward travel by train is very convenient. Amboise is an alternative, requiring an optional taxi.


Another

short tour in light format

in the same region to consider…

Other short tours in light format in the south of France are…


Independent testimonials about The Enlightened Traveller can be read here:

[rwp-review id="0″]

Click to see our full range of short walks in France