Walking Cevennes by Rail
£795.00 Pounds or €875.00 Euros
[per person, shared double or twin-bedded room]
Note: Please contact us to check for the latest Sterling prices. Sterling prices are confirmed at the time of booking.

Discover France's finest mountain railroad with its remarkable viaducts
Enjoy fine scenery from your seat and then walk it for yourself
Experience some of the Cevennes' and Lozere's best trails
Personalise two hikes to suit your needs on the day
Visit fascinating medieval villages and explore the banks of Lake Villefort
Walk the finest stretch of the Regordane Way and a section of the Robert Louis Stevenson Trail
7-night, self-guided light-to-moderate walking tour
Arrive any day of the week from mid-April to mid-October
Tour starts in Villefort and finishes in Langogne
Best access: Nimes airport [Ryan Air] or SNCF ot via Claremont-Ferrand
Good accommodation standard
Collection from and return to stations where hotel is more than 5 minutes walk from the station.
B&B: 7-nights in 2-star standard hotels
7 evening meals
All tickets on Le Cevenol train, starting in Villefort and finishing in Langogne
Collection from and return to Villefort station
Two people transfers
Maps, excellent walking notes & dossier
Emergency telephone back-up & support
Best access is via Nimes SNCF station [4 hrs on TGV from Paris or Lille] with onward journey to Villefort via Ales – please ask for details or see Tour Itinerary below.
Other convenient options are via Lyon or Montpellier airports, with onward TGV to Nimes – 60 and 30 minute journeys, respectively.
Alternative access is via Clermont-Ferrand airport or SNCF station [regional rail link with Paris], with onward journey on Le Cevenol to Villefort in 3½ hours – please ask for details.
Good level of character and comfort, all with en-suite facilities.
Three 2-star standard hotels.
Two nights in La Bastide
Two nights in Langogne
Three nights in Villefort.
Hot, dry summers; mild & sunny spring and autumn
Volcanic plateau, schist valleys, granit gorges; medieval villages & historic hamlets
A rail-hike tour: a sacré ensemble and 'low-carbon' holiday, Walking Cevennes by Rail features stimulating hiking laced together by short train-rides along the "line of 100 tunnels."
alking Cevennes by Rail

is for those who like walking and train travel – a rail-walk tour combining fine, light or moderate walking options in Ardeche and Lozere threaded together by short hops along Le Cévenol mountain railway line.
Enjoy the rides, delight in the changing landscape of Gevaudan and Eastern Cevennes and get a sense of what you are about to experience upon arrival at your next destination. When Walking Cevennes by Rail, you just check-in and walk!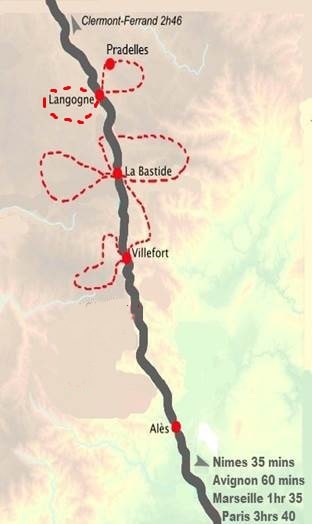 Built over a century-and-a-half ago to facilitate the transport of wine and coal to Paris, the line bears testimony to man's engineering ingenuity as it wends its way along a geological fault-line, through innumerable tunnels and across some breathtaking viaducts.
alking Cevennes by Rail
brings you comfortable accommodations at each programmed stop and memorable hiking trails that serve to bring to life the land linked together by the Cevennes train.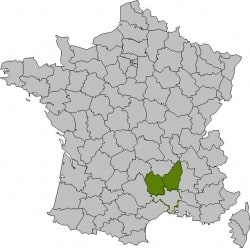 When Walking Cevennes by Rail, you have a choice of walk lengths available on two of the six days, so you can decide on the day whether to keep it gentle or opt for the moderate challenge.
Tour Itinerary – Walking Cevennes by Rail.
Day 1: Arrival in Villefort. Best access is via Nimes Gare SNCF. Then take The Cevenol train from Nimes via Alès. Alternative access is available on the same line from Paris southwards via Clermont-Ferrand.
Lake Villefort circular hikes
[Walk options from 7 kms-4½ miles, +/- 50ms, to 14 kms-9½ miles, +/- 170ms.]
The lost village of Bayard
Enjoy a hike round the lake in search of Bayard village with optional extensions to Castanet castle or Villefort via the Mont Lozere trail.
Second night on the banks of Lake Villefort.

La Bastide to Villefort
[16 kms-10 miles, +170 ms, -540 ms].
The Regordane Way.
Transfer to the SNCF station and hop off at La Bastide. You are met by our friendly local taxi chappie who drops you off at a strategic point on route; giving you more time to enjoy an unforgettable walk through French history, along hill crest and volcanic plateau to a medieval village on the Chaussezac gorge. Then descend to Lac Villefort.
Third night in Villefort.
Ardeche circular walks
[9 kms-6 miles, with optional extensions.]
Notre Dame de Neige Abbey
Transfer back to the station and a 15-minute train journey to La Bastide. Check in and hike to Notre Dame de Neige Abbey, celebrated for its liquor and where RL Stevenson stayed whilst hiking Cevennes in 1879.
Night in La Bastide.
La Bastide to Chasseradès.
[7.5 miles-12 kms, approx. 3.5 hrs, +330 ms –160 ms]
Stevenson Trail/GR70
Climb 300 ms to the Plateau de Chambonnet at 1361 ms alt. as you head west into Lozere along a section of the Stevenson Trail/GR70. Cross the Atlantic-Mediterranean watershed and head down valley to picture-postcard Chasseradès. Lunch in a local hotel, a walk around the village and we'll collect and return you to La Bastide.
Second night in La Bastide.
Langogne Circular.
[5¼ miles/8.5 Kms, +/- 55 ms, approx. 3 hours walking]
Lake Naussac
Short morning train ride to Langogne, check your luggage in and enjoy a gentle hike to the banks of Lake Naussac for lunch. Then you return via a historic road and walk the town's internal 'circulade' and inner sanctum.
Night in Langogne.
The Road to Pradelles.
[9.5 miles/16 Kms, +/- 370 ms, approx. 6 hours]
La Granit Cité
The tour ends with the chance to walk another section of the original Regordane Way on route to the fascinating medieval fortified town of Pradelles across the border in Auvergne. Then return back to your hotel along the 18th Century version of the trail.
Second night in Langogne.
Day 8: Departure day from Walking Cevennes by Rail – Breakfast followed by onward train: to Nimes via Ales arriving 12.45 or to Clermont, arriving 13.40¹.
¹ Train times are non-contractual and subject to change. Please check the options and times for your arrival and departure before booking.
Further Reading:
Independent testimonials about The Enlightened Traveller can be read here:
Walking Cevennes by Rail
Customer Score
4.5
(2 votes)
Pros
Enjoy the countryside from your carriage, then get to walk it yourself!
Optional walk lengths on two days, while two others can be shortened on demand
Industrial architecture at its best, with jaw-dropping viaducts
Cons
check-in your luggage and walk - suitcases with wheels de rigeur!
Vertigo sufferers are advised not to look out the windows!
Modern deisel trains with no bar!
Theme
The 'line of one hundred tunnels', not to mention some of Europe's most spectacular viaducts, gives you comfortable and eco-friendly access to the lost treasures of remote Lozere."
Click to see our full range of Light walks in France