£555.00 GBP or €645.00 Euros

[per person in a shared double or twin-bedded room]
Note:
Please contact us to check for the latest Sterling prices. Sterling prices are confirmed at the time of booking.
Discover France's finest mountain railroad with its remarkable viaducts
Enjoy fine scenery from your seat and then walk it for yourself
Experience some of the Ardeche's and Lozere's best trails
Personalise the hikes to suit your needs on the day
Visit fascinating medieval villages and explore the wonders of Lake Villefort
4-night, self-guided flexible light or moderate walking tour, where you choose the physical challenge to suit you
Arrive any day of the week from mid-April to mid-October
Tour starts in Villefort and finishes in Langogne
Best access: Claremont-Ferrand, Nimes or Paris by SNCF
Good accommodation standard
B&B: 4-nights in in three different 2-star hotels
4 dinners
All tickets on Le Cevenol train, starting in Villefort and finishing in Langogne
Collection from and return to stations en route where over 5 minutes walk away from hotel – viz., Villefort.
1:25,000 scale maps, excellent walking notes & dossier
Emergency telephone back-up & support
Best access is via Nimes airport or SNCF station [4 hrs on TGV from Paris or Lille] with onward journey to Villefort via Ales – please ask for details or see Tour Itinerary below.
Other convenient options are via Lyon or Montpellier airports, with onward TGV to Nimes – 60 and 30 minute journeys, respectively.
Alternative access is via Clermont-Ferrand airport or SNCF station [regional rail link with Paris], with onward journey on Le Cevenol to Villefort in 3.5 hours – please ask for details.
Good level of character and comfort, all with en-suite facilities.
2-star standard hotels.
One night in La Bastide
One night in Langogne
Two nights on the banks of Lake Villefort.
Hot, dry summers; mild & sunny spring and autumn
Volcanic plateau, schist valleys, granit gorges; medieval villages & historic hamlets
This is your chance to enjoy stimulating hikes laced together by short train-rides; a fascinating journey across valley and viaduct on the Cevennes mountain railway – the "line of 100 tunnels" – and flexible walks to suit your mood on the day."
rance on Foot and by Rail

is an eco-friendly walking holiday par excellence. A journey that sees you using the Cevennes mountain railway to get you into position to enjoy some fine hiking.
This green walking holiday features the one and only 'Cévenol': a diesel train linking Nîmes to Clermont-Ferrand. For those of you that enjoy walking, but want to get away from the car and transfers, there isn't a better way to do it than to enjoy a walking holiday by rail. Just check-in and walk!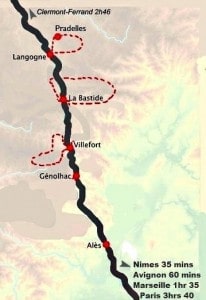 Built over a century-and-a-half ago to facilitate the transport of wine and coal to Paris, the line bears testimony to man's engineering ingenuity as it wends its way along a geological fault-line, through innumerable tunnels and across some breathtaking viaducts.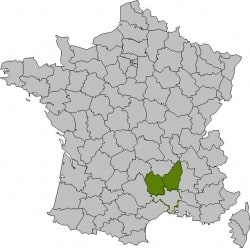 France on Foot and by Rail is a unique opportunity to walk France by train. It brings you comfortable accommodation at each programmed stop, and memorable hikes that help you gain insight into the history and culture of the territory traversed by the Cévenol. Choice of walk lengths are available on all three days, so you can decide when you wake up whether to keep it gentle or opt for the moderate challenge.
France on Foot and by Rail – Tour Itinerary

Day 1: Arrival in Villefort. Take The Cevenol from Nimes via Ales or travel from Paris via Clermont-Ferrand.

Lake Villefort circular hikes

Three options from 7 kms-4 miles.

The lost village of Bayard

Enjoy a hike round the lake in search of Bayard village with optional extensions to Castanet castle or Villefort via the Mont Lozere trail.

Second night in Villefort.


Ardeche circular walks

Three options from 9 kms-6 miles.

Notre Dame de Neige Abbey

15-minute train journey to La Bastide. Check in and hike to Notre Dame de Neige Abbey, celebrated for its liquor and where Robert Louis Stevenson stayed whilst hiking Cevennes in 1879.

Night in La Bastide.

Langogne circular walks

10 miles-15 kms or 5.5 miles-9 kms.

Pradelles or Lake Naussac

20-minute morning train to Langogne. Check in and enjoy an historic hike to the fascinating medieval fortified town of Pradelles or a gentler hike to the banks of Lake Naussac.

Night in Langogne.

Day 5: Departure day – Breakfast followed by transfer to SNCF station and onward train: to Nimes via Ales or to Clermont-Ferrand.

Further Reading
Read our articles on:

Other

Short tours in light format

in the same region to consider…

Independent testimonials about The Enlightened Traveller can be read here:

[rwp-review id="0″]

Click to see our full range of short walks in France