Great Taste of Mont Blanc
Great Taste of Mont Blanc – Franco-Swiss brings Europe's most talked-about hike within easy reach of the healthy and relatively-fit hiker. The section we have selected is arguably unrivalled, so you see the best sights available: Lac Champex or 'Little Canada,' the Col de Balme, as you cross the Franco-Swiss frontier and the 'Grand Balcon du Sud', surely the finest stretch of trail in Europe, with the most magnificent of views over the Mont Blanc Massif.
Your average five-and-a-half hours a day, so can go unhurried and marvel at the alpine ambiance, flora and fauna. Furthermore, if the weather forecast is adverse, you can get most of the walking done in the morning, and enjoy your destinations to the full
Great Taste of Mont Blanc – Franco-Swiss comprises luggage transfers and four comfortable hotels with double rooms and en suite facilities. There is also the option to stay in what might be your first mountain chalet-refuge. You've always secretly admired those who use them, haven't you? But don't worry – it would only be for one night, there are hot showers available, a restaurant and the bunk beds are conveniently arranged in alcoves of six to allow for greater privacy.
With our Great Taste of Mont Blanc we demystify the legendary Tour du Mont Blanc by sampling a section of it for yourself. See what all the fuss is about, realise it's well within your own capabilities and then come back next year for some more."


- Margot Shona of The Enlightened Traveller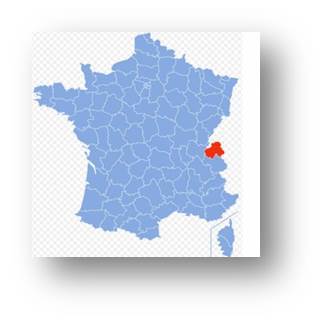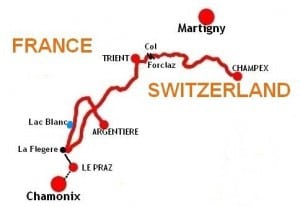 £625.00 Sterling or €730.00 Euros
[per person, shared double or twin bedded room]
Extra nights or night in refuge – please enquire
Note:
Please contact us to check for the latest Sterling prices. Sterling prices are confirmed at the time of booking.
Europe's 'must do' hiking experience.
Enjoy fabulous Alpine scenery in modest stages.
Stay in the best accommodation available – private rooms, no dormitories¹.
3-days of walking in two different countries.
Option to stay in a fine mountain refuge – requires extra night and carrying your over-night gear.
Bad weather transfers – conditions apply.*
We transfer your luggage from hotel to hotel.
¹ Unless opting for the extra night at Lac Blanc.
* Please ask us for details.
4-night, harder self-guided tour.
Start any day, mid-June to mid-September.
Tour starts in Champex, Switzerland and finishes in Les Praz de Chamonix, near Chamonix.
Best access: Geneva or Paris, with onward fast trains.
Welcoming hotels, averaging superior '2-star standard'.
4 nights B & B and all hotel taxes
2 evening meals – leaving you free to choose where to purchase lunch en route and dinner in both Argentiere and Les Praz/Chamonix – options are available and fully documented in tour dossier.
Luggage transfers throughout¹.
Hiking Insight Notes™ that empower & make orientation easy
1:25,000 scale maps & themed vacation dossier.
Emergency telephone help-line service with native-English speaking backup.
Notes:
¹ Max. weight and content conditions apply – please ask us for details.

How to get to Champex…
By Train – There is a high speed train/TGV direct from Paris to Geneva. Then change platforms for a TGV to Martigny and onward to Orsières (30 minutes) on the Saint-Bernard Express. Then take a short bus or ten-minute taxi ride.
By Air – Best access is via Geneva airport or Paris. Then fast train from Geneva to Martigny and onward to Orsières (30 minutes) on the Saint-Bernard Express. Then take a short bus or ten-minute taxi ride.
Family-run accommodation, carefully selected on the basis of superior facilities, location, service and welcome;
Three 3-star hotels and a welcoming one-star walkers' inn;
Private rooms throughout – no 'dortoirs'/dormitories.
Early booking is advised and en suite facilities the norm, but not guaranteed in the walkers' inn, where showers and toilets may be in the corridor.
If you particularly wish to experience a middle-mountain refuge, we know the best ones and are happy to build in such an overnight experience. Please ask us for details.
Warm, but short summers;
Alpine flora and fauna – ibex, bouquetins, marmots;
Classic alpine topography: jagged, ice-covered peaks and flat, glaciated valleys;
A fine and varied mix of undulating trail through alpine pasture and along broad ridge. Morning climbs and late-afternoon descents are the norm.
But why savour a Great Taste of Mont Blanc? To appreciate one of the finest hiking locations anywhere in Europe with just a few other shrewd overnighters. You'll value the peace and tranquility here just as you do the nights when nanny and granddad have the children. And if you are a nan or granddad, just enjoy it for what it is – a perfect mid-mountain lakeside getaway!
Great Taste of Mont Blanc – Franco-Swiss is designed to be enjoyable and without the 'slog factor'. You also get to finish near Chamonix, so you can say you've been there, and either visit the fine mineral museum or buy that t-shirt.
Great Taste of Mont Blanc – Franco-Swiss: Tour Itinerary
Times and ascents/descents are an approximation.
Day 1: Arrive in Champex, Switzerland and hotel check-in. "Little Canada" is best approached on the Saint-Bernard Express from Martigny via Geneva.
Champex to Col de la Forclaz
[9½ miles-16 kms, 5½ hrs, +720ms/-655ms]
Bovine
The views down the Upper Rhone Valley from Bovine are a treat and the descent to the Franco-Swiss border is absorbing.
Night in Col de la Forclaz.

Col de la Forclaz to Argentiere
[11 miles-18 kms, 5 hrs, +890ms/-1165ms]
Col de Balme
The climb to the Col de Balme is breathtaking and the views as you descend into France are as exceptional as they are expansive.
Night in Argentiere.

Argentiere to Les Praz de Chamonix via La Flegere
[7 miles-11 kms, 5½ hrs, +1100ms/-470ms]
Lac Blanc
Two options for the climb up to Lac Blanc: the GRP and the 'Grand Balcon du Sud' or the gentler climb via the TMB proper plus the ladders. Imagine you're the only one there before descending the rocky steps to La Flegere and the cable-car down to your celebration meal.
Night in Les Praz de Chamonix.

Day 5: Departure day and end of your Great Taste of Mont Blanc – Enjoy your breakfast and the 09.00 hr transfer to Ales. Bon retour et a la prochaine!
Further Reading
Read our article on:
Other

Short, Harder and Alpine

tours to consider are…
Independent testimonials about The Enlightened Traveller can be read here:
Click to see our full range of short walks in France