ont Blanc hiking tour – Southern Half

is the second half of our TMB extravaganza. Equipped with our unique walking notes, you set off from Chamonix [where you left off last year?] and continue your anti-clockwise tour around the Mont Blanc Massif route, closing the spiritual circle at Courmayeur, Italy, six days later.
Mont Blanc hiking tour – Southern Half helps you realise that rite of passage that you felt you just had to achieve, irrespective of your age, before you move onto the next goal on life's wish-list. Can I do it? Yes, you can! The TMB attracts all sorts of people and some have never been on a walking holiday in their lives. Such is the trail's magnetic attraction, some punters simply loose their common sense. You, of course, do not fit that mold.
However, should I do it after walking The Enlightened Traveller's northern TMB mini-Tour? Yes, we believe you should – unless, of course, you plan to walk the whole tour with us in one go. Why? Two reasons: firstly, it's more difficult ['challenging' as opposed to 'quite challenging']; secondly, it takes you into more remote and rugged areas, with the attendant dynamics. In fact, we recommend you read these tour details in conjunction with those contained in our [Courmayeur to Chamonix] TMB mini-tour.
No healthy and relatively-fit person should feel that the TMB is beyond them – it most certainly isn't. So long as your detailed arrangements are made by experts, and you're not having to worry about where to eat and sleep, nor navigational issues, the day's walking becomes sheer enjoyment – including the ascents and descents, which you have plenty of time to negotiate at your own pace."

- Margot Shona of The Enlightened Traveller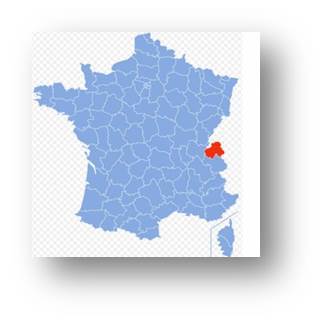 7-night price:
£1015.00 Pounds Sterling or €1180.00 Euros
[per person, based on sharing a double-, twin- or triple-bedded room]
Note: Please contact us to check for the latest Sterling prices. Sterling prices are confirmed at the time of booking.
Challenging, 7-night, TMB mini-tour.
Enjoy four days in France and two in Italy.
Stay in the best accommodation available and experience a night in a private room in refuge Elisabetta.
Start in vibrant Chamonix and finish in idyllic Courmayeur.
Walk the Balcon du Sud and the remoter southern section.
Bad weather transfers – conditions apply.*
We transfer your luggage from hotel to hotel.
* Please ask us for details.
Self-guided, 7-night, challenging trip, round the bottom half of the Mont Blanc route.
Luggage transfers from start to finish – one case up to 20 kgs per person.
Start any day from 25th June to 9 September.
Walk the classic route anti-clockwise for an enhanced experience
Average 6 to 6½ hours and 10½ miles/17 kms a day.
Tour starts in Chamonix [France ]and finishes in sumptuous Courmayeur, Italy [just 30 mins from Chamonix, France via the Mont Blanc tunnel].
Convenient access from France, Italy or Switzerland.
Carefully-selected accommodation of a high standard, with private rooms [no 'dortoirs'/dormitories] throughout and en suite facilities the norm – except for one auberge and the one refuge in which you stay.
7 nights B & B in '3-star and superior 2-star standard' hotels, one auberge and one middle-mountain refuge [private room] plus all hotel taxes
5 evening meals – leaving you free to choose where to purchase lunch en route and dinner in towns where options are available – fully documented in tour dossier.
Luggage transfers throughout¹.
Hiking Insight Notes™ that empower & make orientation easy
1:25,000 scale maps & themed vacation dossier.
Emergency telephone help-line service with native-English speaking backup.
Notes:
¹ one case up to 20 kgs max. weight.

Due to the popularity of Chamonix, the options for getting to the resort are plentiful. You spend your first night in Les Praz de Chamonix, one stop [5 minutes] on the train from Chamonix, so that you wake up right next to the cable car for the start of your hiking the next day. Spend your arrival day in Chamonix and sleep with the peace of mind that you are exactly where you want to be on the morning of Day Two.
By Road – frequent 'SAT' coaches take you from Geneva Airport or Northern Italy to Chamonix;
Road access is also possible via the Grand St. Bernard way above Martigny in Switzerland. The ValD'Aosta tunnel makes it very easy to reach the town from Aosta, Turin or Milan;
Courmayeur can also be reached by bus via daily services from the main cities of northern Italy Turin, Milan, Genoa.
By Train – The Mont Blanc Express: This SNCF railway line serves all villages from St Gervais-le Fayet to Martigny (Switzerland) via Servoz, Les Houches, Chamonix, Chamonix Les Praz, Argentière and Vallorcine. Our customers recommend RailEurope.com for research and ticketing.
By Air – Getting to Chamonix is relatively straightforward from the following major airports:
1. Geneva International Airport, with onward connections by train [hourly via Martigny] or bus [via the SAT bus company] or via airport transfer.
2. Lyon International Airport, with onward connections by train [via Annecy].
3. Charles de Gaulle with onward connections by train.
Family-run accommodation, carefully selected on the basis of superior facilities, location, service and welcome;
Private rooms throughout – no 'dortoirs'/dormitories.
We bring you:
• Praz de Chamonix- 3-star hotel
• Les Houches, 3-star hotel;
• Les Contamines, superior 2-star hotel;
• Chapieux, one-star walkers' inn;
• Val Veni, Refuge Elisabetta [private room without WC & bathroom] and
• Courmayeur, 3-star hotel.
Warm, but short summers;
Alpine flora and fauna – ibex, bouquetins, marmots;
Classic alpine topography: jagged, ice-covered peaks and flat, glaciated valleys;
A fine and varied mix of undulating trail through alpine pasture and along broad ridge. Morning climbs and late-afternoon descents are the norm.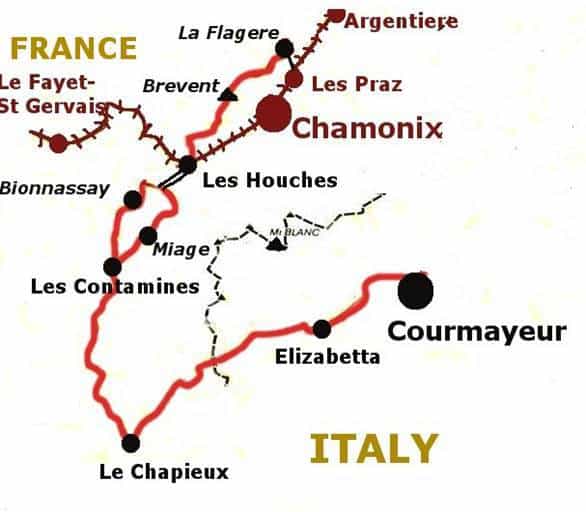 We have dissected this half of Le Tour into the most practicable stages possible. Once again, our aim is to get away from 'Les Crowds' by not starting in Les Houches. Moreover, we cut out the avoidable pain of the monotonous climb on tarmac and ski slope that characterizes the Les Houches to Col de Voza section [first thing on Day 3 and 4] and, instead, replace it with the 'telecabine' to Bellevue. This also allows you the luxury of delaying the choice until you are 'up there' between the all-weather Lower Route, or the fine weather Higher Route via Miage to Les Contamines – these two routes are extremely diverse and interesting in their own right, thus our decision to offer both options in this mini-trip. Although you would need to carry both notes!
The Les-Contamines-to-Les-Chapieux section is exhilarating, if long and challenging – the variants being uninviting and NOT all weather.
Mont Blanc hiking tour – Southern Half sees you enjoy an overnight stay in the Elisabetta refuge which, for most, will be the only refuge you ever get to stay in – so enjoy the simplicity of the rustic hut and its magical location in Vali Veni.
Mont Blanc hiking tour – Southern Half: Tour Itinerary
[Times and ascents/descents are an approximation.]
Day 1: Arrive in Chamonix Les Praz [France]

and hotel check-in. You are one stop from busy Chamonix, so can enjoy the town itself and sleep in peace and quiet just two minutes walk from the La Flagère cable car.
Les Praz to Les Houches
Click to view a video of the day's walking
[10 miles-16 kms, +650ms/–1525ms, 8 hrs]
Mont Blanc
Walk out the hotel, take the cable car up to La Flagère and get straight into the TMB action: le Balcon du Sud, the splendid col du Brevent, the magnificent panorama from Brevent itself and the descent to Les Houches via Le Merlet.
Night in Les Houches.
Les Houches to Les Contamines
No video is available for today's walking
Low or all-weather Route
[10 miles-16 kms, +90 ms/–640ms, 4 hrs]
Bionnassay
Avoid the knee-crunching and monotonous climb by taking the cable car up to Bellevue and, depending on the weather, and your mood, opting for the trail that suits you to Les Contamines – the High or the Low Route.
You will walk both, but in your order of preference.
Short bus ride to Le Fayet (regular service) and onward short hop on the Mont Blanc Railway back to Les Houches – see map.
Second night in Les Houches.
Les Houches to Les Contamines
Click to view a video of the day's walking
High Route
[11 miles-18 kms, +840ms/ –580ms, 5¾ hrs]
Refuge de Miage
Again take the cable car up to Bellevue and then follow your alternative trail to Les Contamines – the High or the Low Route.
Night in Les Contamines.
Les Contamines to Les Chapieux
Click to view a video of the day's walking
[11 miles-18 kms, +1320ms/–930ms, 7 hrs]
Col du Bonhomme
Follow the Bon Nant Torr past Notre Dames de la Gorge and two refuges en route to the Col du Bonhomme and Col de la Croix. Lunch in the refuge du Bonhomme is followed by the descent to Les Chapieux and your welcoming auberge.
Night in Les Chapieux.
Les Chapieux to Ref Elizabetta
Click to view a video of the day's walking
[9½ miles-15 kms, +1000ms/–260ms, 5 hrs]
Vallee des Glaciers
The Vallee des Glaciers is a joy to behold. Enjoy a quick drink at Les Mottets before climbing up to the Col de la Seigne and into Italy. The views are delightful as too is the descent into Lex Blanche.
Night in Elizabetta.
Refuge Elizabetta to Courmayeur
Click to view a video of the day's walking
[11 miles-18 kms, +460ms/–1580ms, 5 hrs]
Lex Blanche
Your final day takes you further down the Lex Blanche before ypu climb up past abandoned farmsteads overlooking the remains of the Miage Glacier. The balcony trail to the Col Checrouit makes for a fine end to this superb hiking trip.
Night in Courmayeur.
Day 8: Departure day – breakfast and onward journey by bus to Chamonix, Milan or Turin or transfer to Geneva – please ask us for details.
Further Reading
Read our article on:
Other

Alpine

tours to consider…
Independent testimonials about The Enlightened Traveller can be read here:
Click to see our full range of harder walks in France