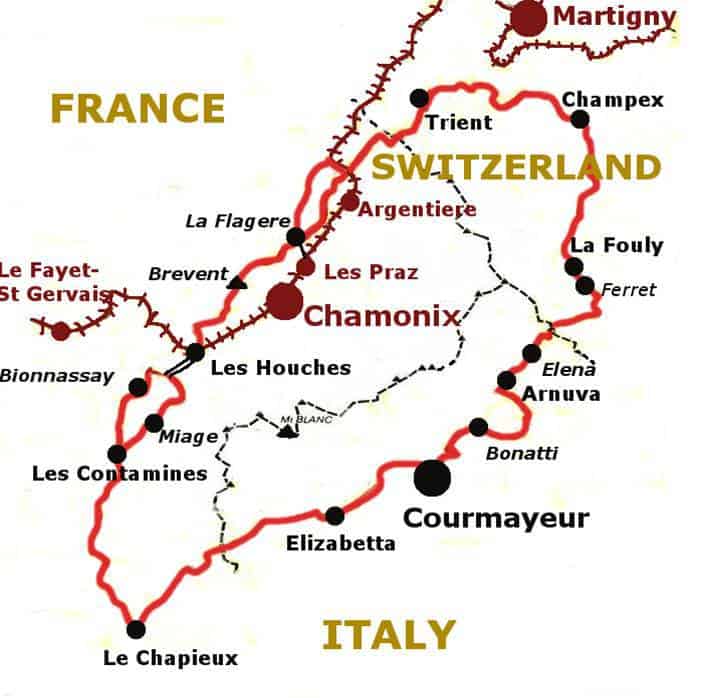 Whilst you can choose whether to start in Italy or France, our personal preference is to commence the tour in Courmayeur, Italy. The final two days, from Les Chapieux to Courmayeur, are then 'relatively leisurely' at five hours each. This allows you ample time to get the walking done quite early and enjoy your overnight destinations to the full. You can, however, merge these two days into a six-and-a-half hour final day and avoid the over-nighter in the refuge Elisabetta. However, you miss the final highlights and take a shuttle bus to Courmayeur instead – not available in September!
Some of the Tour du Mont Blanc variants are verging on the 'Are you nuts?' end of the novice-to-expert continuum. Fear not! We are delighted to bring you just two days when you can choose which route you take. The first gives vertigo sufferers the chance to avoid the ladders section of the main TMB route; whilst the second allows you to treat the Les Houches to Les Contamines stage as a relative 'rest day' or another challenge. Both 'tougher' options should be avoided in inclement weather.
We offer you two starting points for La Tour to suit your preferences. Courmayeur, Italy, is in pole position, just the other side of the Mont Blanc tunnel from Chamonix. The tunnel is only 14 kms long, with easy access from Chamonix by a regular bus service that takes 30 minutes. Chamonix in France is the alternative point du depart. Either way, you avoid the main rush of hikers who follow the pack and commence Le Tour in Les Houches.
Walking Tour du Mont Blanc in Comfort & Self-guided includes luggage transfers, most evening meals and requires no guide. You will meet many willing companions en route, but rest assured that our industry-leading walking notes empower you to hike this extraordinary trail in the company of your own choosing. Snow normally clears from the higher passes from mid-June and returns at any time after late-September. We are happy to take reservations from the last week in June. Book early, get the best accommodation reserved and look forward to one of life's memorable experiences.
Walking Tour du Mont Blanc in Comfort & Self-guided – Tour Itinerary
[Times and ascents/descents are an approximation.]
Day 1: Arrive in Courmayeur [Italy]

and hotel check-in. Courmayeur is a short coach-ride through the Mont Blanc tunnel from Chamonix, or you can approach from northern Italy or Geneva airport
Day 13: Departure day and end of your Walking Tour du Mont Blanc trip – breakfast and onward journey by bus to Chamonix, Milan or Turin or transfer to Geneva – Bon Voyage et à bientôt!
Click to see our full range of harder walks in France