Walking Mont Blanc [mini-TMB tour] 2021
alking Mont Blanc [mini-TMB tour] 2021

is your chance to enjoy the best half of "Le Tour Classique" in a one-week format – viz., half the effort, but most of the highlights from the Tour du Mont Blanc.

Our mini-tour has been especially conceived for those who don't feel the need to walk the whole of the circuit, or simply cannot walk for eleven days at a time due to physical or time constraints.
No healthy and relatively-fit person should feel that Walking Mont Blanc [mini-TMB tour] is beyond them – it most certainly isn't.

So long as you're not having to worry about where to eat and sleep, nor navigational issues, the day's walking becomes sheer enjoyment – and you've plenty of time, so can hike at your own pace."

- Maddie-Morganne of The Enlightened Traveller
Walking Mont Blanc [mini-TMB tour] 2021

brings you the highlights of one of Europe's most scenic walks. Moreover, we've dissected it into tasty, bite-size hiking morsels making it within the capabilities of most healthy and relatively-fit mortals.

The northern half is undoubtedly the better of the two based on the key criteria of scenic trails, comfortable accommodation and moderate challenges – it's up to you whether you return at some later date to complete the southern half of the hallowed circle!
When Walking Mont Blanc [mini-TMB tour], you enjoy the perfect harmony of two days walking in France, Italy and Switzerland. You average five hours of moderate-to-moderately-challenging walking per day, with options to personalise according to your interests and requirements. Get most of the walking done in the morning and enjoy your overnight destinations to the full.
2021"]
£1095.00 Pounds Sterling or €1295.00 Euros
[per person in a private double or twin-bedded room]
Note: Please contact us to check for the latest Sterling prices. Sterling prices are confirmed at the time of booking.

Europe's 'must do' hiking trail.
Enjoy fabulous Alpine scenery in modest stages.
Stay in the best accommodation available – private rooms, no dormitories.
6-days of walking in three different countries.
Option to stay in up to three fine mountain refuges – requires extra nights.
Bad weather transfers – conditions apply.*
We transfer your luggage from hotel to hotel.
* Please ask us for details.
7-night, harder self-guided tour.
Start any day, last week in June to mid-September.
Tour starts in Courmayeur, Italy and finishes in Les Praz de Chamonix, near Chamonix.
Best access: 30 mins bus from Chamonix, France and daily services from main cities in northern Italy.
Welcoming hotels, averaging superior '2-star standard'.
7 nights B & B in 'superior 2-star standard' hotels and auberges and all hotel taxes
5 evening meals – leaving you free to choose where to purchase lunch en route and dinner in towns – options are available and fully documented in tour dossier.
Luggage transfers throughout¹.
Hiking Insight Notes™ that empower & make orientation easy
1:25,000 scale maps & themed vacation dossier.
Emergency telephone help-line service with native-English speaking backup.
Notes:
¹ Max. weight and content conditions apply – please ask us for details.

Getting to Courmayeur
By Bus/Coach – Courmayeur is easily reached through the Mont Blanc tunnel from Chamonix in France, from where a regular bus service takes around 40 minutes.

– Due to the current COVID-19 restrictions between Italy and France, the service is unavailable at present (at Jan. 2021). However, it should be back and running shortly and definitely in the TMB summer season as it was last year.

Example timetables can be viewed here.

The service runs direct between the Gare SNCF in Chamonix and Courmayeur bus station. Tickets can be purchased on arrival in Chamonix from the SAT Mont Blanc kiosk located just outside the station – the eastern exit. On your departure from Courmayeur, you can buy tickets for onward bus travel (to Chamonix, France, or to Milan, Turin, etc) from the Courmayeur bus station or the Courmayeur Tourism Office – both of which are located a short walk away from your Courmayeur hotel.

Alternatively, tickets can be purchased on-line. Two companies were traditionally responsible for the service: SAT Mont Blanc (France) and SAVDA (Italy). As a result of a very recent merger of local Italian bus companies, Arriva has taken control on the Italian side. The relevant website has only just been launched and it is not clear as to how/where to purchase tickets on-site. We are awaiting news from them to update this page. They do however recommend doing so by downloading their App via Google Play or the Apple Store.

Current information can be found here.

Coach access is also possible via Arriva from Northern Italy. See here.

The French company SAT Mont Blanc runs a bus service to Chamonix from Geneva airport, which connects with the above-mentioned Chamonix-to-Courmayeur line. Details can be found by clicking here.

By Rail – Courmayeur does not have a train connection. However, travelling by train from Italy can be done as far as Aosta, from where a bus connection will take you to Courmayeur. Otherwise it requires a train to Chamonix (France) followed by bus to Courmayeur.

See also the new train connection by the Léman Express between Geneva Airport and the Saint Gervais Le Fayet train station, with onward train travel to Chamonix and bus to Courmayeur.

By Air – Geneva airport in Switzerland is the closest airport and there are excellent transfer services from Geneva airport to Courmayeur. For an example, see Aosta Express.

The most convenient Italian airport is Turin Caselle. Approximate travel times and distances from the major airports to Courmayeur are as follows:

Geneva – 118km / 1hr 30 minutes
Turin – 151km / 1hr 40 minutes
Milan Malpensa – 214km / 2hrs 20 minutes

By Car – Courmayeur is one of the easiest Italian (ski) resorts to drive to from the UK or via hire car.
Getting to Chamonix
For comprehensive details, please see:
Chamonix.com
or
Rome to Rio

Family-run accommodation, carefully selected on the basis of superior facilities, location, service and welcome;
Five 3-star hotels, one 2-star auberge and one welcoming walkers' inn;
Private rooms throughout – no 'dortoirs'/dormitories.
Early booking is advised and en suite facilities the norm and our aim.
However, this is arguably the world's most popular hiking trip and such facilities may not always be available and so cannot be a precondition for your booking.
If you particularly wish to experience a middle-mountain refuge, we know the best ones and are happy to build in such an overnight experience [comprising as many 'mod-cons' as possible, incl. private bedroom] that keeps you high up on the trail, and obviates the habitual late-afternoon descent and next-morning climb. Please ask us for details.
Warm, but short summers;
Alpine flora and fauna – ibex, bouquetins, marmots;
Classic alpine topography: jagged, ice-covered peaks and flat, glaciated valleys;
A fine and varied mix of undulating trail through alpine pasture and along broad ridge. Morning climbs and late-afternoon descents are the norm.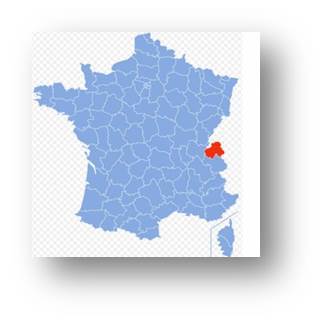 The Walking Mont Blanc tour commences in Courmeyeur, Italy, just the other side of the Mont Blanc tunnel from Chamonix. The tunnel is only 14 kilometres long, with easy access from Chamonix Gare SNCF by a regular bus service that takes approx. 40 minutes. Information on alternative access options from Italy or Geneva, Switzerland can be found in the right hand column of this page.
Furthermore, by starting in Courmeyeur, you avoid the main rush of hikers who follow the pack and commence Le Tour in the Chamonix Valley. The Big Finish is in Les Praz, just fifteen minutes' walk [or one stop on the train] from the cradle of popular alpinism, Chamonix. There's plenty to enjoy there that warrants an optional extra night's stay. Either way, it's a convenient location for your onward journey.
Walking Mont Blanc [mini-TMB tour] 2021 includes luggage transfers and requires no guide. You will meet many willing companions en route, but rest assured that our industry-leading walking notes will empower you to hike this extraordinary trail alone or in the company of your own choosing.
Snow clears from the higher passes from mid-June and returns at any time after late-September. Book early, get the best accommodation reserved and look forward to one of life's memorable experiences. Please ask us about the option of staying in one or two fine mountain refuges with private bedrooms. This would extend the tour by one night/day.
Walking Mont Blanc [mini-TMB tour] 2021 – Tour Itinerary
Times and ascents/descents are an approximation.
Day 1: Arrive in Courmayeur [Italy] and hotel check-in. Courmayeur is a short coach-ride through the Mont Blanc tunnel from Chamonix, or you can approach from northern Italy
Courmayeur to Arnuva
Click to view a Relive Video of the day's walking
[10 miles-16 kms, 6.00 hrs, +1025ms/-380ms]
Valle Ferret

Enjoy the morning's climb followed by the gentle, sub-alpine pastures of the picture-postcard Ferret Valley.
Night in Arnuva.
Arnuva to La Fouly
Click to view a Relive Video of the day's walking
[9 miles-14½ kms, 5 hrs, +865 ms/-1030 ms]
La frontiere Suisse
Climb up past Refuge Elena and enjoy the fine descent into Switzerland from the Grand Col de Ferret.
Night in La Fouly.
La Fouly to Champex

Click to view a Relive Video of the day's walking
[8½ miles/13½ kms, 4½ hrs, +385ms/-380 ms]
Little Canada
The morning river-hugging trail is a delight to behold and the afternoon climb to the banks of "Little Canada" a real gem.
Night in Champex.
Champex to Trient
Click to view a Relive Video of the day's walking
[10 miles-16 kms, 5½ hrs, +720ms/-655ms]
Bovine
The views down the Upper Rhone Valley from Bovine are a treat and the descent to the Franco-Swiss border is absorbing.
The video takers visited an off-piste belvedere before commencing the day's walk.
Night in Trient or Forclaz.
Trient or Forclaz to Argentiere
Click to view a Relive Video of the day's walking
[11 miles-18 kms, 5 hrs, +890ms/-1165ms]
Col de Balme
The climb to the Col de Balme is breathtaking and the views as you descend into France are as exceptional as they are expansive. The video takers stayed in a 4-star hotel on the southern outskirts of Argentière.
Night in Argentiere.
Argentiere to Les Praz de Chamonix via La Flegere
Click to view a Relive Video of the day's walking
[7 miles-11 kms, 5½ hrs, +1100ms/-470ms]
Lac Blanc
Two options for the climb up to Lac Blanc: the GRP and the 'Grand Balcon du Sud' or the gentler climb via the TMB proper plus the ladders. Imagine you're the only one there before descending the rocky steps to La Flegere and the cable-car down to your celebration meal.
The video takers opted for the main GR Ladders' route.
Night in Les Praz de Chamonix.
Day 8: Departure day – end of the Walking Mont Blanc tour – Enjoy your breakfast, Bon retour et a la prochaine!
Further Reading
Read our article on:
Other TMB tours to consider…
Independent testimonials about The Enlightened Traveller can be read here:
Customer Reviews
Customer Score
4.7
(4 votes)
Pros
Spectacular scenery - arguably the best of our harder-challenge tours
Complementary accommodation - the very best the TMB has to offer
Options on one day to suit you: the 'ladders section' or the variant.
Cons
The 'ladders section' is not for vertigo sufferers, but an alternative variant is available for you!
Not for the faint hearted - but certainly for the healthy who keep fit with regular walking
Most days involve morning ascents and afternoon descents - well worth the effort, but we help you avoid the worst/final descent via a cable car.
Theme
European hiking just doesn't come any better than this: three countries and six days of sumptuous scenery."
Click to see our full range of harder walks in France