Hiking Tarn Gorge trails
A light-to-moderate hiking extravaganza along the mythical banks and clifftops of the Tarn canyon."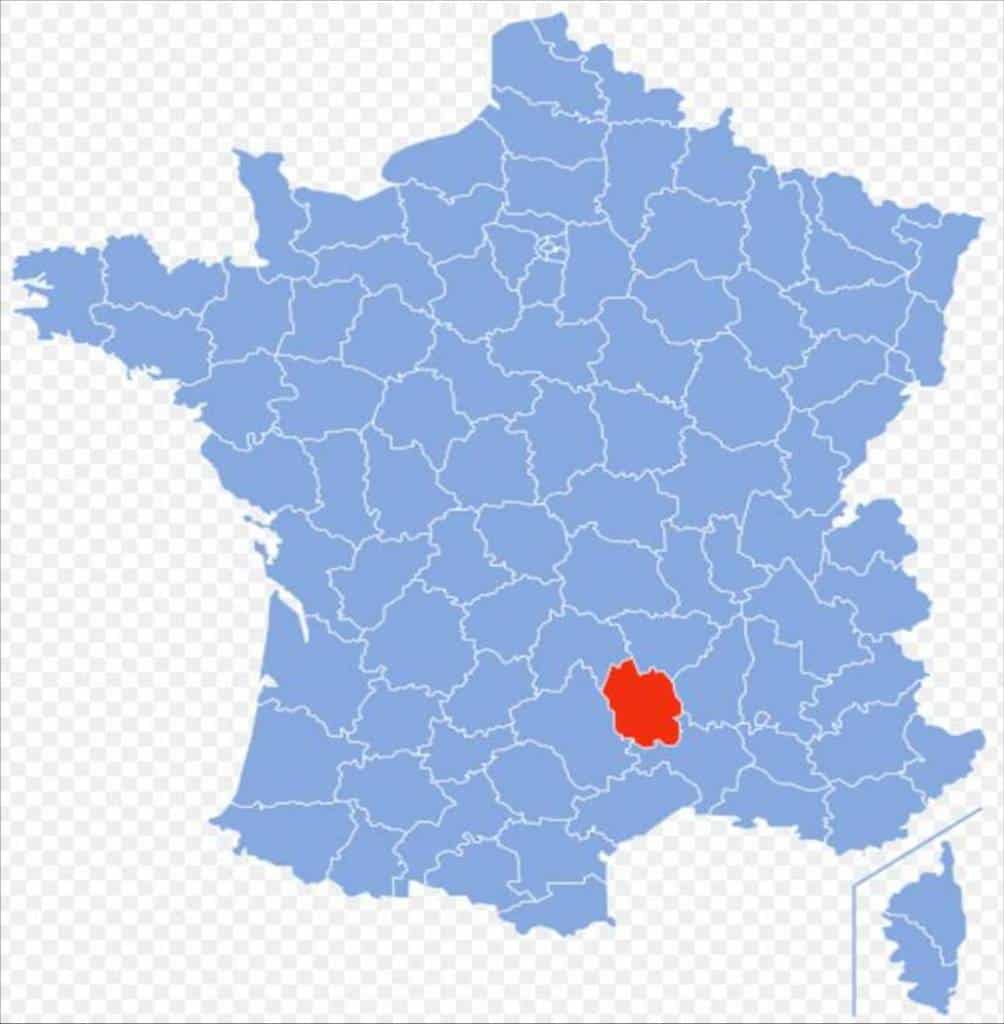 Hiking Tarn Gorge trails

offers the perfect short-term total immersion in one of France's superlative walking experiences – the mythical banks, ridges and trails of the Tarn canyon and adjacent Causses.
Hiking Tarn Gorge trails takes you in a clock-wise direction from Le Rozier, on the confluence of the Jonte and Tarn gorges, to the honey-pot village of Ste-Enimie. In between you hike a series of fabulous ridges that are guaranteed to enamour the most spoilt of hikers, with overnight stops in Les Vignes and La Malene.
Day Two is a moderate hike along the edge of Causse Sauveterre that will acquaint you with some of the Gorge's finest architectural manifestations [deserted troglodyte ruins] as well as its finest avifauna: griffin vultures.
Days Three and Four of Hiking Tarn Gorge trails provide a choice between leisurely walking along the ridges bordering the River Tarn, or more challenging [moderate] morning climbs up to the majestic Causse Mejean to enjoy the views, before an afternoon decent to your over-night watering hole. The choice is yours and you can make it on the day according to how to fitness and preferences. You also have plenty of time to enjoy an optional boat-ride down the Tarn itself at La Malene – see tour dossier for details. The accommodation is of an excellent standard, including a stay in a 17th century chateau with gourmet restaurant.
Hiking Tarn Gorge trails is the perfect, flexible short-hiking trip, featuring three days of sumptuous walking that are tailorable to suit you, keeping you fully in control of the overall experience.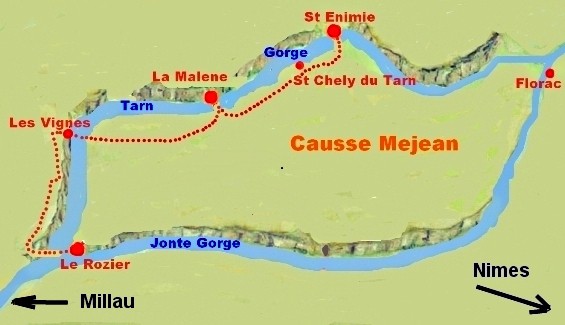 £570.00 Pounds Sterling or €630.00 Euros
[per person in a shared double or twin-bedded room]
What's Included
4-nights comfortable accommodation, including a chateau
4 breakfasts and 3 evening meals
3 picnic lunches
Luggage transfers throughout
Transfer from St Rome to Les Vignes
1: 25,000 scale Maps, excellent walking notes & dossier
7/7 Telephone back-up & support
Not included:
Dinner in La Malene chateau – gastronomic menu at your expense – and arrival and departure transfers – please ask us for details.

France's only inhabited gorge, with overnight stops in the fine villages of La Malène and Ste.-Enimie
The Tarn Gorge from above and below
Causses Méjean and Sauveterre limestone plateaux
Troglodyte settlements & hamlets only reachable by boat or hiking trail
Raptors, including Griffin vultures
4-night, self-guided tour
Start any day, early April to late October
Start in Le Rozier, finish in Ste-Enimie
Best access via Millau SNCF plus short bus or taxi ride
Good accommodation standard, including chateau stay
We transport your luggage, you just carry a light day pack.
4-nights B&B
3 evening meals
3 picnic lunches
Luggage transfers throughout¹
Transfer from St Rome to Les Vignes
1: 25,000 scale Maps, excellent walking notes & dossier
7/7 Telephone back-up & support
Not included:
Dinner in La Malene chateau – gastronomic menu at your expense; arrival and departure transfers – please ask us for details.
¹This covers one piece of luggage per person up to 13 kgs in weight. Supplements apply for overweight luggage and we accept no responsibility for lost valuables. We advise you not to bring computers and business-related equipment.
Option to have extra luggage stored and delivered to your last hotel for onward travel.
Chateau stay in La Malene
2-star standard hotel in Ste-Enimie
2-star hotel in Le Rozier
Welcoming guest house in Les Vignes
En-suite facilities throughout.
The best option to join this programme is via Millau SNCF railway station or bus station, from where a regular bus service takes you to Le Rozier in 35 minutes or by taxi in twenty five. Please ask us for details and download the tour pdf above for more details.

By Car – ask us about the free parking for your car for those who wish to drive to Le Rozier. We can get you returned there from Ste-Enimie by taxi.

The nearest airports are i) Montpellier, ii) Rodez, iii) Toulouse or iv) Nimes.
i) From Montpellier centre – a train to Millau takes approx. 3 hours, but the times are not very convenient. A coach takes two hours. Further details from: Rome to Rio
ii) From Rodez – a bus service links to Millau in under 2 hours.
iii) From Toulouse – fast train to Beziers and change for Millau.
iv) From Nimes centre – fast train to Montpellier, then i) above.
Those accessing from the UK and via Brussels can also opt for the high speed train/TGV, which will get you to Montpellier in around 4½ hours via Lille.
Best departure option is taxi transfer to Millau and onward train or bus – please ask us for details. Alternative is taxi to Florac and onward bus to Ales [not Sundays] followed by 40 minute train to Nimes.
Further details from:
SNCF site
Warm, dry summers; mild spring and autumn
Undulating limestone plateau, deeply incised canyons
Hiking Tarn Gorge trails – Tour Itinerary
Note: option to split Day Four into two shorter days, with an extra night in St-Chely. This is especially advisable if you want to take the more spectacular High Route on Day Four, enjoy a swim in the heated pool in St-Chely and have more time to enjoy Ste-Enimie. Please ask us for details.
Day 1: Arrive in Le Rozier – where the Tarn and the Jonte converge, and check into your fine hotel on the banks of Le Jonte. Night in Le Rozier.
Le Rozier to Les Vignes
[9 miles/15 kms, 5½hrs, +580 ms & -205 ms]
Causse Majeur
A day to remember. You cross the Tarn and climb through the woods to another fine ridge that leads to the day's first fascinating troglodyte ruins. No time to snooze lest the vultures mistake you for lunch! Further along you round the Cirque de St Marcellin before discovering its eponymous troglodyte chapel. Sacre Balade!
Night in Les Vignes.
Les Vignes to La Malène
[7 miles/12 kms, 4 hrs, +135 ms, -100 ms], or
[8 miles/13½ kms, 6 hrs, +500ms/-475ms]
Les Bateliers
The two options today have equal length but pose different levels of challenge. The light option takes you riverside past Cirque de Baumes and the fascinating lost hamlet of La Croze, whilst the moderate alternative two takes you back up to Causse Mejean. Then why not enjoy a one-hour boat trip down the river in the company of 'the boatmen of La Malène' or defer the delights until the next morning? A must!
Night in La Malène.
La Malène to Ste Enimie.
[9 miles/15 kms, 5 hrs, +180 ms, -120 ms], or
[15 miles/24½ kms, 8 hrs, +810ms/-650ms]
High road to Hauterives?
Two options again, with divergent challenges: the gentle and bucolic valley trail versus the Causse and more superb views from up high. All roads lead to an overnight stay to savour in Ste Enimie.
Night in Ste Enimie.
Day 5: Departure day: end of your Hiking Tarn Gorge trails tour – Breakfast, bon retour et à bientôt! Onward journey by taxi transfer – please ask us for options.
Further Reading
Read our articles on:
Other

Short tours

to consider in the same region…
Independent testimonials about The Enlightened Traveller can be read here:
Hiking Tarn Gorge trails
Customer Score
4.3
(2 votes)
Pros
Spectacular scenery, fine villages, troglodyte dwellings...
Choice of two levels of accommodation to suit your budget
Options on two days according to your preferences: so much more than just walking along a river bank!
Cons
No departure by public transport from Ste-Enimie, but several transfer options exist - ask for details
The best days involve morning ascents and afternoon descents - well worth the extra [moderate] effort!
This is vulture country - watch out for your sandwiches!
Theme
Enjoy exploring Les Causses Mejean & Sauveterre, with the opportunity to walk both limestone table-top and the deeply-incised canyon."
Click to see our full range of short walks in France