Fine walks in the Alps
Fine walks in the Alps features the easiest three days of walks in the Alps along the mythical Tour du Mont Blanc route. This is a mini-immersion tour for those who simply want to sample a segment of this world-famous hiking route without the endurance and sacrifice associated with completing the whole, or even half, of this magical alpine challenge.
Fine walks in the Alps brings you the best of the Italian and Swiss sections: the delights of the upland slopes of the Italian Val Ferret, plus the descent into Switzerland during which you traverse a multitude of alpine villages and hamlets on route the tour's Big Finish, the pristine shores of sumptuous Lake Champex affectionately known as 'little Canada.'
You have so much to gain for just a little bit of pain. Yes, there are two quite challenging climbs to commence the first two day's walking, but nothing that is beyond the capabilities of the average guy or gal who paces his/herself during ascents, while taking plenty of pauses to enjoy the fabulous sites that make the whole experience so worthwhile.
Even the fittest are pretending not to puff and pant! After these initial exertions, the remainder of the day comprises quite light-to-moderate walking across undulating alpine slopes – middle-mountain trails do not come much easier than this!
Three days of fine walks in the Alps along the Mont Blanc trail from Courmayeur in Italy to the banks of Lake Champex in Switzerland."


- Margot Shona of The Enlightened Traveller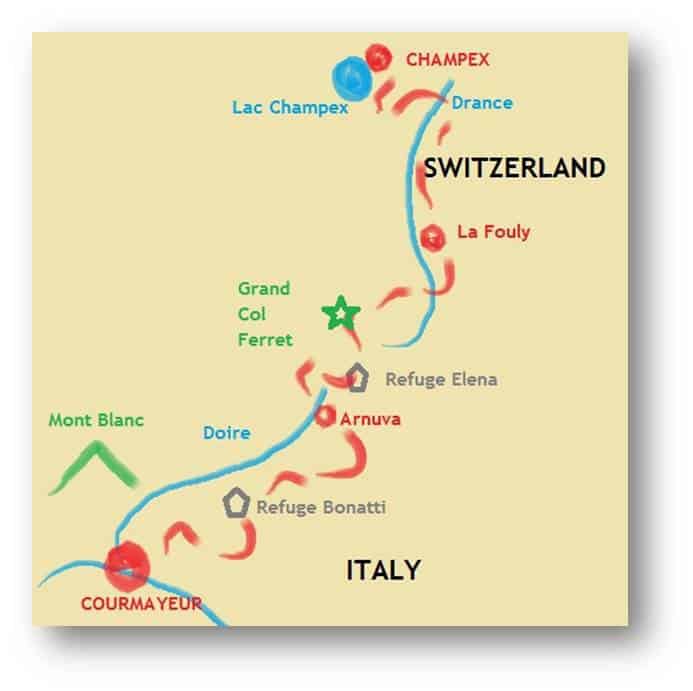 €730.00 Euros or £625.00 Pounds Sterling
[per person in a shared double or twin-bedded room]
Extra nights or night/s in refuge – please enquire
Note:
Please contact us to check for the latest Sterling prices. Sterling prices are confirmed at the time of booking.
Enjoy two nights in alpine Italy and two in Switzerland.
Start in idyllic Courmayeur, Italy, finish on the banks of Lac Champex in the Swiss Alps.
Stay in the best accommodation available – private rooms with en suite facilities – no dormitories.
Option to experience one or two nights in the best of alpine refuges, staying in private rooms.
Bad weather transfers – conditions apply.*
We transfer your luggage from hotel to hotel.
* Please ask us for details.
4-night, harder self-guided tour, averaging 5 hours and 9 miles/14½ kms a day.
Start any day, from mid-June to mid-September.
Tour starts in Courmayeur, Italy, and ends in Champex, Switzerland.
Best access: Milan or Turin by bus; Geneva or Paris, with onward fast trains, plus 40-min.coach-ride through the Mont Blanc Tunnel.
Luggage transfers throughout – up to 20 kgs per person.
Comfortable and welcoming hotels throughout.
4 nights B & B in 'superior 2-star standard' hotels and auberges and all hotel taxes
3 evening meals – leaving you free to choose where to purchase lunch en route and dinner in Courmayeur on arrival day – options are multifarious and documented in your tour dossier.
Luggage transfers throughout¹.
Hiking Insight Notes™ that empower & make orientation easy
1:25,000 scale maps & themed vacation dossier.
7/7 Emergency telephone help-line service with native-English speaking backup.
Notes:
¹ Max. weight and content conditions apply – please ask us for details.

How to get to Courmayeur…
By Road – Courmayeur is easily reached through the Mont Blanc tunnel from Chamonix in France, from where a regular bus service [eight per day in summer] takes around 30 minutes. Here's the link: http://www.savda.it/it/orari.php
By Road – Road access is possible via the Grand St. Bernard way above Martigny in Switzerland. The Val D'Aosta tunnel makes it very easy to reach the town from Aosta, Turin or Milan. Daily bus services run from the main cities of northern Italy (Turin, Milan, Genoa).
By Air – Best access is via Geneva airport or Paris. Then fast train from Geneva to Martigny and onward to Chamonix. Then by bus as above.
By Air – The nearest airports are Geneva, Turin's Caselle and Milan's Malpensa and Linate. Courmayeur is approximately an hour's drive from Turin and a little more from Milan. Geneva International Airport is 90 minutes away.

Departure from Champex…
Departure is best via bus or ten-minute taxi ride to Orsières train station. You can be in Martigny in 30 minutes on the Saint-Bernard Express, from where you take the fast train to Geneva for onward travel to Geneva airport or Paris.
Family-run accommodation, carefully selected on the basis of superior facilities, location, service and welcome;
Three fine 3-star hotels and one 'superior 2-star standard' auberge;
Private rooms throughout – no 'dortoirs'/dormitories.
Early booking is advised and en suite facilities the norm.
If you particularly wish to experience a middle-mountain refuge, we know the best ones and are happy to build in such an overnight experience. Please ask us for details.
Warm, but short summers;
Alpine flora and fauna – ibex, bouquetins, marmots;
Classic alpine topography: jagged, ice-covered peaks and flat, glaciated valleys;
A fine and varied mix of undulating trail through alpine pasture and along broad ridge. Morning climbs and late-afternoon descents are the norm – except for the third day.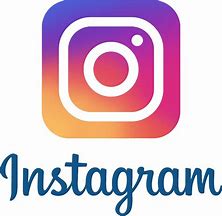 Your Fine walks in the Alps finish with one of the TMB's 'rest days' – a scenic saunter along the banks of the River Drance, with lunch at the village of Issert before commencing your short afternoon climb up to Lac Champex and one of the nicest 3-star hotels you will find anywhere in the Alps.
Fine walks in the Alps commences in Courmayeur, Italy, only 14 kms from Chamonix through the Mont Blanc tunnel, and finishes in Champex from where connections to Geneva are just a short distance away. So is Alpine Experience for you? Yes it is! A four-night immersion in the Italian-Swiss Alps with limited pain and simply so much to gain.
Note: please ask us about the option of staying in one or two fine mountain refuges with private bedrooms. Staying in one keeps the tour as a four-nighter, whilst staying in two involves an extra night and a supplement.
Fine walks in the Alps – Tour Itinerary

Times and ascents/descents are an approximation.
Day 1: Arrive in Courmayeur [Italy] and hotel check-in. Enjoy the peaceful nature of this delightful alpine town, so different from its counterpart the other end of the Mont Blanc Tunnel.
Courmayeur to Arnuva

[9½ miles-16 kms, 6 hrs, +1025ms/-380ms]]
Beyond Bonatti
Enjoy the morning's climb followed by  the gentle, sub-alpine pastures of the picture-postcard Ferret Valley.
Night in the Chalet Arnuva hotel.

Arnuva to La Fouly
[9 miles-14½ kms, 5 hrs, +865 ms/-1030 ms]
Over the border

Climb up past Refuge Elena and enjoy  the fine descent into Switzerland from the Grand Col.
Night in La Fouly.

 La Fouly to Champex
[8½ miles/13½ kms, 4½ hrs, +385ms/-380 ms]
Lake Champex
The morning river-hugging trail is a delight  to behold and the afternoon climb to the banks of "Little Canada" a real gem.
Night in Champex.

Day 5: Departure day – breakfast and onward journey. Bon retour et a la prochaine!

Further Reading
Read our article on:
Other

Short, Harder and Alpine

tours to consider are…
Independent testimonials about The Enlightened Traveller can be read here:
Customer Reviews
Customer Score
0
(0 votes)
Pros
Spectacular scenery - cross the frontier from Italy to Switzerland
Big finish on the banks of 'Little Canada' - Lac Champex.
The lightest 3-day segment of the TMB
Cons
The climb on the second day to the Swiss Frontier is NOT for the faint hearted - pace yourself, use your walking sticks and you'll be fine
Two days of morning ascents and afternoon descents - with a lighter third day that finishes with a climb to Champex Lac.
Theme
Our only tour that doesn't take place in France! Two countries, three days of sumptuous scenery and complementary accommodation."
Click to see our full range of short walks in France