Tarn Gorge Walks EXTRA is extra in two senses: extra comfort afforded by superior accommodation at every overnight stage of the tour, including a chateau stay; and extra convenience as access and departure transfers are included in the package, to facilitate your entry and exit to this remote part of south-central France."
arn Gorge Walks EXTRA is arguably France's most picturesque inn-to-inn hiking trip in the moderate challenge category – the independent customer reviews (click here and scroll to the foot of the page ) bear strong testimony to that. And don't think you simply follow the banks of a watercourse – far from it! Our enlightened travellers get to experience Les Gorges du Tarn in their wider geological milieu, comprising the contiguous limestone plateaux of Les Causses Méjean and Sauveterre, in addition to the equally-impressive Jonte Gorge. So escape the crowds and feast your eyes on some of Europe's most breath-taking scenery and rock formations.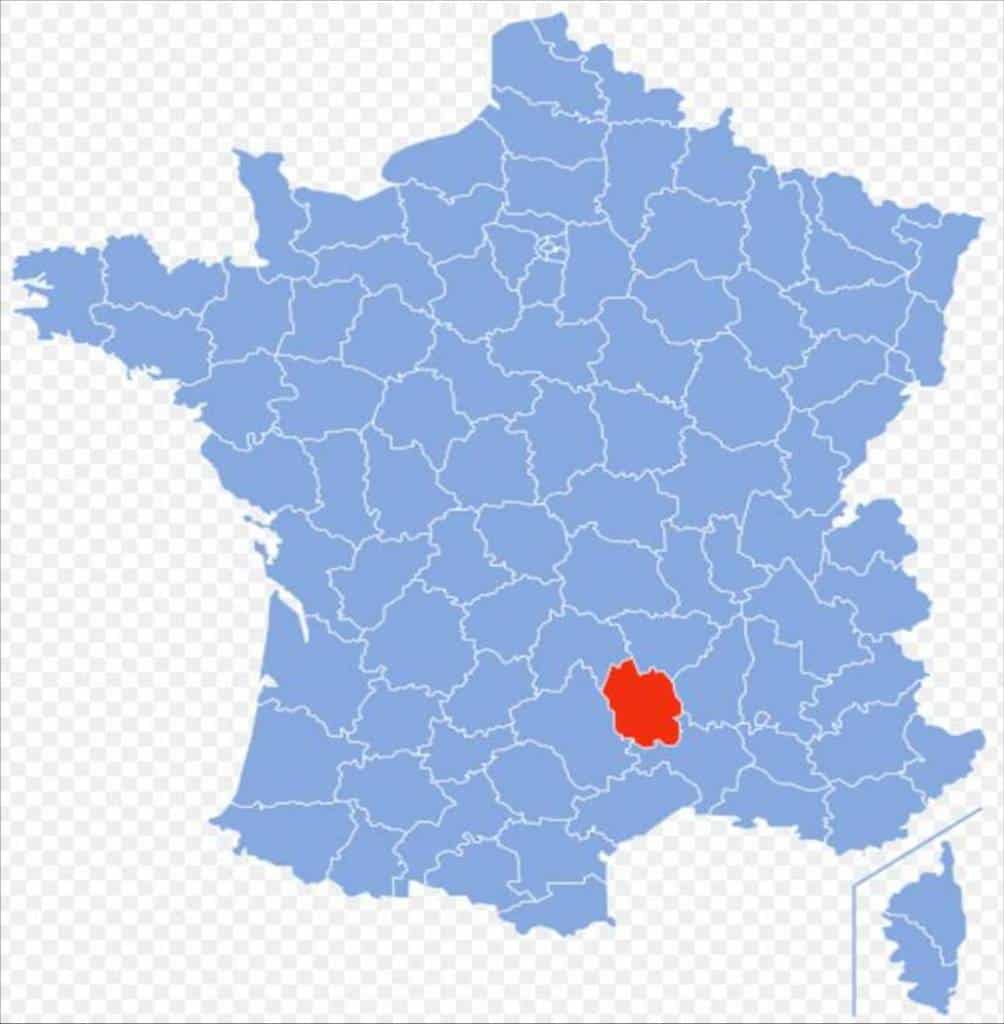 Tarn Gorge Walks EXTRA is also designed to indulge your human interest in earlier forms of civilisation and their attendant architecture. And we are not talking simply of dolmen, menhirs and ancient crosses – on one day alone you get to explore caves and a proto-historic village encompassing the Copper, Bronze and Iron Ages. Troglodyte settlements are also high on the cultural agenda.
And if that were not enough on its own, the flora is rich and varied, as you would expect from one of France's most protected National Parks. Moreover, if you are a latent ornithologist, then the avifauna on show is second to none – cue three species of raptor in general and the griffin vulture in particular. Enjoy the majestic site of them gliding from one side of the gorge to the other; and, if you take a midday nap, watch our for your sandwiches!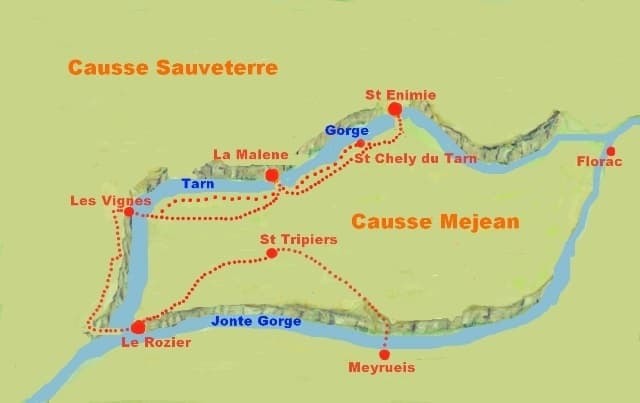 The Tarn and Jonte is France's only inhabited canyon. With Tarn Gorge Walks EXTRA, you get to stay in the best accommodation that these gorges have to offer, including four nights in three-star hotels, one of which has chateau status – be prepared for a high calorific evening in its gourmet restaurant!
Tarn Gorge Walks EXTRA's first three days are fixed, whilst the second half of the trip allows for options depending on how energetic (or not) you feel as you set off after breakfast – you choose between the high or the low route. The final day is a gentle stroll into the honey-pot village of Ste-Enimie, giving you plenty of time to explore its cobbled streets, boutiques, bars and restaurants that you have earned the right to visit.
If you are looking for some spectacular scenery in France's most remote region, then Tarn Gorge Walks EXTRA is for you – and our in-coming and out-going transfers make your access and departure a cake walk!
7-night tour
£1040.00 Pounds Sterling or €1165.00 Euros
[per person in a shared double or twin-bedded room]
Note:
Please contact us to check for the latest Sterling prices. Sterling prices are confirmed at the time of booking.
Tarn & Jonte Gorges
Causses Méjean and Sauveterre limestone plateau
Troglodyte & Proto-historic villages
Raptors, including Griffin vultures
Spectacular rock formations
Fast-track access & departure transfers included.
7-night, self-guided moderate tour, with light options on two days if preferred
Start any day, early April to late October
Start in Meyrueis, finish in Ste-Enimie
Includes Express Access and Departure transfers* via Alès near Nimes; with Millau the alternative option
Superior accommodation
We transport your luggage, you just carry a light day pack.
* Arrival and Departure transfers on a Sunday, National Holiday or outside normal working hours are subject to a 90 euro supplement each way.
7-nights B&B:
4 picnic lunches and 6 evening meals – leaving you free to choose what to select from the gourmet restaurant in La Malène.
Express Access and Departure transfers* via Alès, near Nimes; with Millau the alternative option
Luggage transfers throughout
1:25,000 scale map, excellent walking notes & comprehensive tour dossier
7/7 Telephone back-up & support from 8 'til late
* Arrival and Departure transfers on a Sunday, National Holiday or outside normal working hours are subject to a 100 euro supplement each way.
Superior accommodation:
An exclusive chateau stay, two nights in 3-star hotels, two 2-star hotels [offering superior-comfort], a countryside auberge and a charming guest house.
En-suite facilities throughout.
Express access via Nimes SNCF:
Train to Alès [40 minutes & not part of our package] followed by a 62-mile/100-km transfer to Meyrueis [90 minutes]. All group members must travel together and a supplement of 90.00 euros applies for after 18.00 hrs and Sunday/National Holiday transfers.
Express access via Millau SNCF or contiguous bus station:
transfer to Meyrueis from Millau [60 minutes]. All group members must travel together and a supplement of 65 euros applies for after 18.00 hrs and Sunday/National Holiday transfers.
The nearest airports are i) Montpellier, ii) Rodez or iii) Nimes.
Your departure transfer is included from Ste-Enimie to either Millau [60 mins] or Alès [90 minutes]. Millau is best for onward travel to Montpellier by bus [90 minutes] or train to Beziers, whereas Alès is best for those wishing to travel to Lyon or Paris.

Warm, dry summers; mild spring and autumn
Undulating limestone plateau, deeply incised canyons
Tarn Gorge Walks EXTRA – Tour Itinerary
[Times, elevations and distances are approximate]

Day 1: Arrive in Meyrueis via either Alès or Millau, from where you are collected. Transfer to your three-star hotel with outdoor pool. Night in Meyrueis.

Meyrueis to Saint-Pierre-des-Tripiers

[12 miles-19 kms, 6½ hrs, +595ms/-400ms]

Causse Celebre

The opening day sees you climb out of Meyrueis with fine views over the gorges de la Jonte. You get your first experience of walking the splendours of the expansive trails of Causse Mejean and visit some fine Caussenarde villages en route. A quick look at the Ecomuseum is de rigeur before striding out towards Saint-Pierre-des-Tripiers.

Night in Saint-Pierre-des-Tripiers.

Saint-Pierre-des-Tripiers to Le Rozier

[7½-12½ kms, 5hrs, +145ms/-620ms]

Balcon de Vertige

A real contrast today as you explore grottos and the remains of a pre-historic village before walking the fabulous 'balcon de vertige' and its colossal vase-shaped rock forms. Take your time and enjoy the splendid vistas. And it will take longer than the distance would lead you to believe!

Night in Le Rozier-Peyreleau.

Le Rozier to Les Vignes

[9 miles-14½ kms, 5½hrs, +580ms/-205ms]

Causse Majeur

A day to remember. You cross the Tarn and climb through the woods to another fine ridge that leads to the day's first fascinating troglodyte ruins. No time to snooze lest the vultures mistake you for lunch! Further along you round the Cirque de St Marcellin before discovering its eponymous troglodyte chapel. Sacre Balade!

Night in Les Vignes.

Les Vignes to La Malène

a) Light Route: 7½ miles-12 kms, 4½ hrs, +135ms/-100ms, or
b) Moderate Route: 8 miles/13½ kms, 6 hrs, +500ms/-475ms.]

Les Bateliers

The two options today have equal length but pose different levels of challenge. The light option takes you riverside past Cirque de Baumes and the fascinating lost hamlet of La Croze, whilst the moderate alternative two takes you back up to Causse Mejean. Then why not enjoy a one-hour boat trip down the river in the company of 'the boatmen of La Malène' or defer the delights until the next morning? A must!

Night in La Malène.

La Malène to St-Chely du Tarn

a) Light Route: 5½ miles-9 kms, 3 hrs, +60ms/-30ms, or
b) Moderate Route: 11½ miles / 18½ kms, 6 hrs, +690ms/-560 ms

High road to Hauterives?

Two options again, with the same diverse challenge: the gentle and bucolic valley trail versus the Causse and more some superb views from up high. All roads lead to an overnight stay to savour in St Chely, where a heated pool awaits you.

Night in St Chely du Tarn.

St-Chely to Ste-Enimie

[3½ miles 6 kms – 2 hrs, +120ms/-90ms, plus town ramble]

En route and inside St Enimie

A gentle and scenic stroll above the Tarn awaits you on this final day, en route to the picturesque village of St Enimie. We then recommend an afternoon walk to the cliff-side chapel and a ramble round the historic centre.

Night in Ste-Enimie

Day 8: Departure day – end of your Tarn Gorges walking tour – Breakfast, bon retour et à bientôt! Onward journey by transfer to either Millau or Alès is included in your tour fees.

Further Reading
Read our articles on:

Other

Moderate

tours to consider are…

Independent testimonials about The Enlightened Traveller can be read here:

Tarn Gorge Walks EXTRA

Customer Score

4.7

(2 votes)

Pros
Spectacular scenery - arguably the best of our moderate-challenge tours
Fast track access to, and departure from, this remote area via our free transfers from Ales (near Nimes) or Millau.
Options on two days according to your preferences: light or moderate
Cons
The 'Balcon de Vertige' is not for vertigo sufferers, but an alternative variant exists
The best days involve morning ascents and afternoon descents - well worth the extra effort!
This is vulture country - watch out for your sandwiches!
Theme
Enjoy discovering part of the Cevennes National Park and the opportunity to walk both limestone table-top and the deeply-incised canyons of both the Tarn and the Jonte."
Click to see our full range of moderate walks in France