Walk St Giles Way: the first part of Medieval Christendom's fourth-most-important pilgrimage route. Depart from Le Puy in Haute Loire and walk due south to Portes Castle near Alès, the gateway to Cevennes. We were the first tour operator to offer this trip, so purchase from the trail experts."
Giles Way – Part One
brings you the first section of the Hexagon's own, forgotten pilgrimage trail. It was recently resuscitated after a lifetime's research by one Frenchman, Marcel Girault. The trail is a distance of around 95 miles or 152 kms, offering seven days of excellent hiking from Le Puy-en-Velay to Alès and traversing the Massif Central and Eastern Cevennes.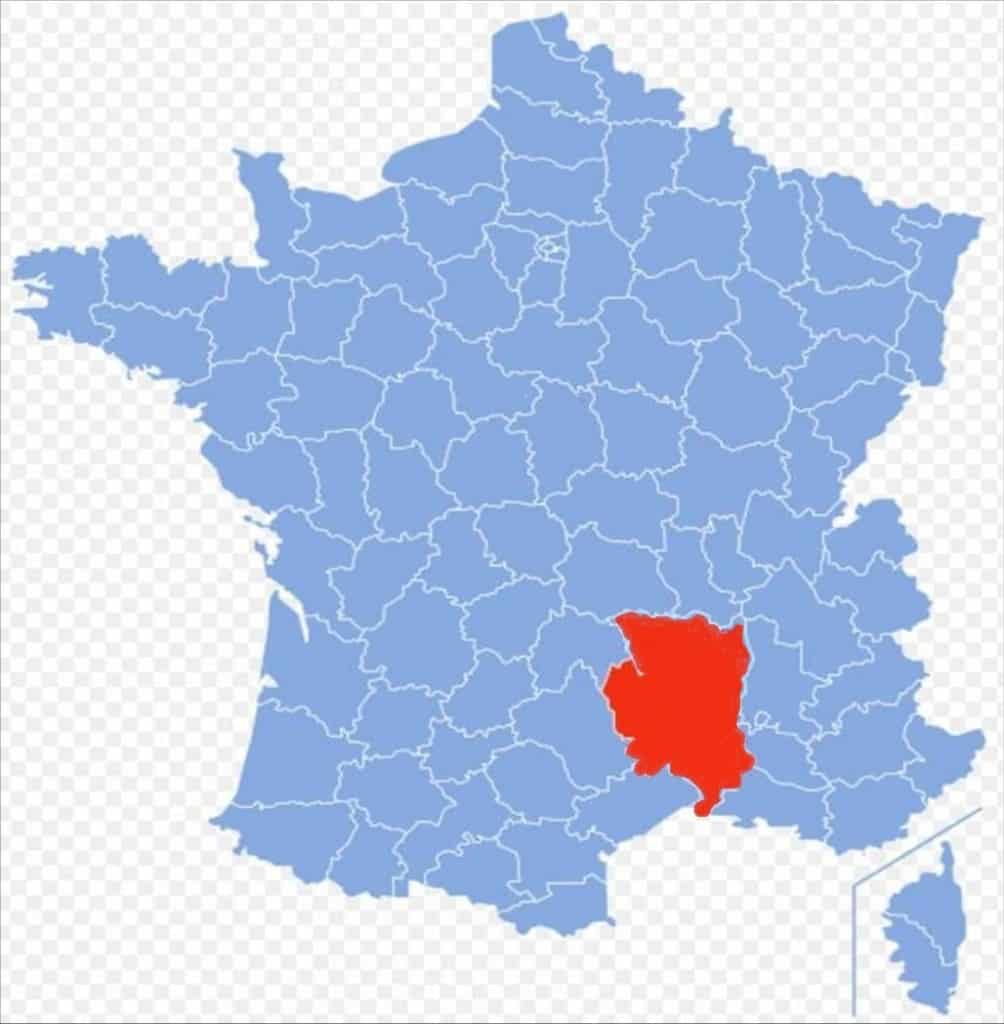 This is a well-balanced, moderate walking holiday comprising countryside walking and historical discovery. More precisely, a four-day trek across undulating volcanic upland followed by three days of descent into the valleys of the eastern Cevennes.
St Giles Way – Part One delights you with ever-changing scenery and flora as you traverse the ancient region of Velay. Then follow the natural geological fault-line separating Gévaudan from Vivarais, and descend via lake Villefort into the valleys to the east of Mont Lozère. The villages en route are full of character and complemented by welcoming accommodation. The first sight of olive groves and vines historically signalled arrival in the Mediterranean lowlands.
Note: Apart from the initial section, and a few stretches thereafter, the trail from Portes to Alès has largely been destroyed over the years. What remains does not lend itself to the 'big finish' that we like to incorporate into our hiking tours. We have omitted it from our tour format, opting instead for a transfer from Portes to Alès on departure morning.
£935.00 Pounds Sterling or €1040.00 Euros
[per person, shared double or twin-bedded room]
Note:
Please contact us to check for the latest Sterling prices. Sterling prices are confirmed at the time of booking.
Discover a unique medieval pilgrimage with the English-speaking experts on the trail
Enjoy ever-changing flora, from sub-alpine to Mediterranean
Traverse fascinating linear settlements and villages
Visit numerous historic buildings, incl. castles, chapels and churches
Walk volcanic plateau, impressive gorge, schist valley and Lake Villefort en route to the Garrigues
7-night, self-guided moderate tour
Start any day, early April to mid-October
Start in Le Puy en Velay, finish in Portes, north of Ales
Average 2-star accommodation standard
We transport your luggage, you just carry a light day pack.
7-nights Bed and Breakfast
6 evening meals – leaving you free to choose where to eat dinner in Le Puy on arrival, where a multitude of options exist, incl. your hotel
We transport your luggage throughout¹
Transfer from Portes to Alès at the end of the tour
1: 25,000 scale maps, excellent walking notes & dossier
Telephone back-up & support.
Notes:
¹ This allows you to take one piece of luggage per person up to 15 kgs in weight. Supplements apply for overweight luggage.
A mix of welcoming hotels, guest houses and auberges
Five 2-star hotels, one 3-star and one chambre d'hotes du charme
En-suite facilities throughout.
Nearest airport or SNCF station is Lyon [3 hrs on TGV from Paris or Lille] with onward train journey to Le Puy via St Etienne.
Next-best access is via Nimes or Montpellier airports, with onward TGV to Lyon – 30 and 60 minute journeys, respectively.
Alternative convenient option is via Clermont-Ferrand airport, with onward regional train to Le Puy via St Etienne.
Departure by train to Nimes [70 mins.] and onward TGV train north or south, or fly from Nimes airport to London Luton by RyanAir[UK].

Warm, dry summers; mild spring and autumn
Undulating volcanic plateau, incised gorge & geological fault-line, schist valleys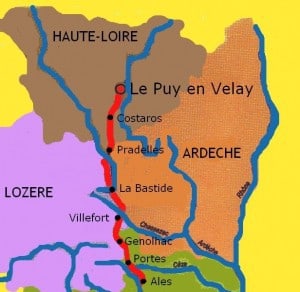 St Giles Way – Part One: Tour Itinerary
Times, elevations and distances are approximate
Day 1: Arrive in Le Puy-en-Velay – well worth a day in itself to explore the origins of this pilgrimage. Night in Le Puy.
Le Puy to Costaros
13 miles-19.5 kms, 6 hrs, +430ms
Chemin Saint-Gilles
Climb 260 metres to L'Estrade, take lunch in Chassilhac and enjoy the puy-littered countryside of the volcanic platueau. The easy-going afternoon takes you to Chadernac castle, from where you descend to Costeros. Collection and transfer to nearby hotel.
Night near Costaros.
Costaros to Pradelles
11.5 miles-17 kms, 5 hrs, +140 ms/-80ms
Pont des Anglais
Return to Costaros. The black ash volcanic trails are replaced by terra cotta, as you cross gently from Auverge into Lozere and Knights' Templar country, over the 'Pont des Anglais' and onward to the granite charms of medieval Pradelles.
Night in Pradelles.
Pradelles to La Bastide
15½ miles-25 kms, +185ms/-525 ms, 7 hrs
Luc Castle
You follow the forgotten medieval route par excellence through lost villages to Luc for lunch. Then stride out along the Allier river to La Bastide.
Night in La Bastide.
La Bastide to Villefort
10½ miles-16 Kms, 5½ hrs, +175ms/-540ms
Garde Guerin
An unforgettable walk along hill crest and across the Chaussezac gorge to a classic medieval village and Lake Villefort.
Night in Villefort.
Villefort to Genolhac
11 miles-15 kms, 5 hrs, +280 ms/-400 ms
Ethereal L'Estrade
Visit a cliff top chapel, subject of its own pilgrimage, before you enter Le Gard via a fine trail through the villages at the foot of Mont Lozere, with their unique Romanesque churches, before arriving in charming Genolhac.
Night in Genolhac.
Genholac to Portes
9 miles-13 kms, 4 hrs, +180ms/-270ms
The Ship in Cevennes
Walk through the fine countryside of the Cevennes' most famous writer, J-P Chabrol, over Pont de Rastel and past the château de Montjoie en route to Portes Castle.
Night near Portes.
Day 8: Departure day – Breakfast and transfer to Alès Gare SNCF. Bon retour et à bientôt. Please return next year for Part Two of this fine trail! Short onward journey by train to Nimes and Hign Speed options beyond.
Further Reading
Read our articles on:
Other

Moderate

tours to consider in the area are…
Independent testimonials about The Enlightened Traveller can be read here:
Click to see customer feedback on our Stevenson/RLS trail tours here
Click to see our full range of moderate walks in France