Best of walking Auvergne
A superb opportunity to enjoy the best of walking Auvergne's volcanic uplands with some complementary and convivial accommodation."
est of walking Auvergne

takes you to the Cantal volcano, Europe's largest, measuring more than 40 miles across. At its height, it would have reached about 9000 feet. Subsequent glacial erosion has created a panoramic upland area, with its peaks (or puys as they are known locally) ranging from 4000 to 6000 feet. This is a hikers' paradise of enchanting summits, upland moors and U-shaped valleys.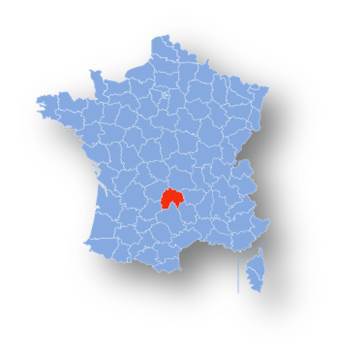 This is one of our harder short tours, with three days of quite challenging ascents and descents, two of which are relatively long. Day One can be shortened by using the cable car to avoid the initial ascent – open from June to September 15; and Day Three – the 'sacré balade circulaire' that takes in the heavenly trilogy of Bréche de Rolland, Puy Chavaroche and Puy Mary – can be shortened on request by 5 kms [please reserve this transfer at time of booking at extra cost].
Best of walking Auvergne sees you exploring unspoiled countryside, where pylons or overhead power cables are a rarity and the scenery a stunning verdant upland that is never rugged and always rolling. For your convenience, all meals are included, which showcase fine local cuisine. Your hiking tour starts and finishes in the fine Cantalian town of Murat – we collect you after breakfast on Day One and return you there on departure day. What lies between is a joy to behold!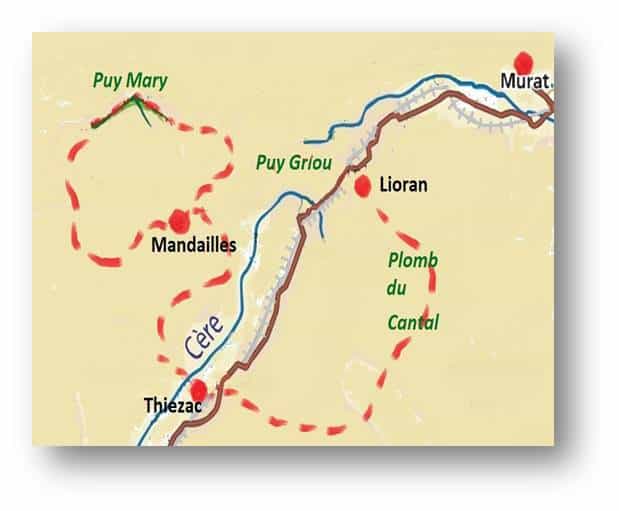 £610.00 Pounds Sterling or €740.00 Euros
[per person in a shared double or twin-bedded room]
Cantal's inactive volcanic uplands.
A sumptuous ancient Roman trail.
Fine Cantal villages & The Cère & Jordan glacial valleys.
Puy Mary (5848′), Plomb du Cantal (6084′), Bréche de Rolland and Puy Chavaroche.
Three fine hotels.
4-night, self-guided, harder walking tour
Arrive any day of the week from mid-May to mid-October
Tour starts and finishes in Murat
Multiple access options – airports & SNCF
Very comfortable & welcoming, walker-oriented accommodation
We transport your luggage, you just carry a light day pack
4-nights B&B.
4 evening meals.
3 packed lunches.
Taxi transfer from Murat to Lioran and from Mandailles back to Murat.
Hotel to hotel luggage transfers from start to finish.
1:25,000 maps, excellent walking notes & dossier
Telephone back-up & support.
Not included: cable car.
Access by train:
1. From Paris via Claremont-Ferrand to Arvant. Change train at Arvant for Murat [3 stops] or ask us to collect you from Arvant by car.
2. From Lyon via St Etienne and Le Puy to St Georges d'Aurac, from where we can collect you by car.
3. From Nimes on Le Cevenol mountain railway to Arvant. Then see 1 above.
4. From Montpellier/Beziers to Neussargues. Change train at Neussargues for Murat [1 stop] or ask us to collect you from Neussargues by car.
5. From Toulouse, train to Brive-le-Gaillard, where you change for Murat.
6. From Rodez, train to St Denis-pres-Martel, where you change for Murat; or Severac-le-Chateau, where you change for Neussargues. Then see 4 above.
Click here for a map of the French central railway system.
Access by Plane:
Nearest small airports are Claremont-Ferrand, Rodez, Montpellier & Nimes.
Nearest international airports are Lyon, Paris CDG and Toulouse.
Access by Car:
Ask us about the options for parking in Murat – car is left at owner's risk.
Welcoming, comfortable, family-run hotels await you in each of the three locations in which you stay.
Good level of character and comfort, with en-suite facilities.
Three nights in 3-star hotels, and one night in a 2-star hotel
Carefully-selected hiker-friendly accommodation.
Diners showcasing regional specialities.
Warm summers; mild spring and autumn
Conical-shaped volcanic upland, wide ridges, moorland and glaciated valleys
Best of walking Auvergne – Tour Itinerary.
Day 1: Arrival in picturesque Murat and hotel check-in. This is a fine market town with a Maison de la Faune, plenty of bars and restaurants and a worthwhile village walk. Night in Murat.
Lioran to Thiézac
15 miles-22½ kms, +750 ms alt. & very gradual 1000 m descent; shorter option, is 10.5 miles /16 kms with no ascent.
Roman GR400
Collection from Murat and transfer to Lioran after breakfast. Climb to Plomb du Cantal and walk a remarkable Roman trail along ridge and over upland moor. Option to take the cable car to Plomb du Cantal [open 15th June to 15th September and costing 7 Euros p/p – not incl.], which reduces the day's challenge from quite challenging to moderate, cutting the day's walking by 2½ hrs and almost all the ascent.
Night in Thiézac.
Thiézac to Mandailles
8 miles-13 kms, 5 hrs, +750m/-600m
Chemin de Croix
Climb out of the the Cère valley and enjoy some fine countryside towards Puy de la Poche and l'Elanceze and an impressive belvedere over the Cantalian Massif.
Night in Mandailles.
Puy Mary Circular
12½ miles-20 kms, 7 hrs +/-1000 m
Sacred Trilogy
The piece de resistance and arguably the top-three features of the Cantal Massif. The Puy Mary experience is accessed via the Bréche de Rolland and you pay homage to Puy Chavaroche on the return trail. Une sacré balade! Morning transfer option shaves 5 kms off the distance – book in advance!
Second night in Mandailles.

Day 5: Departure day – Morning transfer back to Murat. Bon retour et a la prochaine!
Further Reading
Read our article on:
Other

Short and Harder

tours to consider in the same region are…
Independent testimonials about The Enlightened Traveller can be read here:
Best of walking Auvergne
Customer Score
4.7
(2 votes)
Pros
Drool at the spectacular scenery of these verdant volcanic uplands
Walk a sublime Roman trail and several 'puy' including the emblematic Puy Mary
Enjoy some of France's best cuisine, cheeses and the traditional 'punti'.
Cons
The season starts quite late [third week in May] due to snow - but you can walk until mid-October
The cable-car from Super Lioran up to Plomb du Cantal only runs from 15 June to 15 September
Not-so-super Lioran - so you stay in a nearby popular mountain auberge with traditional log fire.
Theme
A fascinating journey around the Cantalian Uplands and its most memorable sites whilst staying in some fine, welcoming accommodation."
Click to see our full range of short walks in France