Best of Stevenson Trail brings you the highlights of the Robert Louis Stevenson trail France – that's 85 miles/140 kms of RL Stevenson's epic walk spread over six sumptuous days.
So what do you miss? Some arguably monotonous forestry sections, around a day's walking on tarmac and the 'Mimente Valley railway' section. If you are keen NOT to miss this last section, we can easily add an extra night in Cassagnas.
We had a wonderful week walking the Best of Stevenson Trail! Thank you for arranging the unbroken sunshine in addition to everything else. It was, as a totality, quite, quite excellent. Thank you."


- An SMS at the end of their tour by Mr & Mrs Scott of London.
Best of Stevenson Trail delivers the finest sections along one of France's top-ten hiking experiences. Furthermore, it is complemented by the most welcoming accommodation the trail has to offer.
Walk the most challenging and aesthetically pleasing sections of the literary masterpiece, from Le Monastier to Pradelles and from La Bastide to Florac. It's all the highs without the lows as you enjoy the delights of the Upper Loire Valley, Mont Lozère and the grand finalé, the 'chemin des crêtes'.
Best of Stevenson Trail sees you averaging 12½ miles/20 kms per day, so well within the capacity of most healthy adults. The first day's walking can be split into two on demand to break you in gently – especially after a long-haul flight.
The longest day, the last, is arguably the finest of the whole Robert Louis Stevenson trail experience – and we recommend a short cut that shaves off the monotonous final 4 kilometres.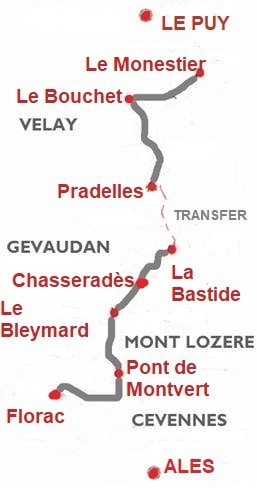 £955.00 Pounds Sterling or €1120.00 Euros
[Per person in a shared double or twin-bedded room]
Please avoid arrivals on a Thursday or Sunday.

A 'world's top travel adventure' by Forbes Traveler- who recommend The Enlightened Traveller – see 'yellow highlighted' link below.
Our tour is recommended by The Times: click here.
Enjoy sub-alpine to Mediterranean flora and volcanic plateau to schist valley topography.
Hike the best of the Cevennes' hill-crests and Mont Lozère – 5573 ft/1699 m.
Visit fascinating and historic villages en route.
7-night, moderate, self-guided tour
Start any day from mid-April to mid-October.
Start in Le Puy-en-Velay and finish in Florac.
Best access: Lyon airport or SNCF, with onward train to Le Puy via St Etienne.
Welcoming mix of '2-star standard' hotels, inns and auberges.
We transport your luggage, you just carry a light day pack.
7 nights B & B in '2-star standard' hotels and auberges and all hotel taxes
6 evening meals – leaving you free to choose where to dine out in le Puy – options abound.
Luggage transfers¹ and transport integral to the programme, incl. transfers from Le Puy to Le Monastier and Pradelles to La Bastide.
Hiking Insight Notes™ that empower & make orientation easy
1:50,000 scale maps & themed vacation dossier.
7/7 Emergency telephone help-line service with native-English speaking backup.

Notes:
¹ You are entitled to take one piece of luggage per person weighing up to 15 kgs. Supplements are payable for extra or overweight luggage.

Note: we are able to arrange for your excess luggage to be securely stored for the duration of your tour and delivered to the final hotel before your departure. Please ask us for further details of this service if it is of interest to you.

Not included:
Remaining meals and all drinks and extras;
personal expenses;
entrances into any optional cultural visits and venues;
hiking, personal and travel insurances;
travel to Le Puy and from Florac.

Nearest airport or SNCF station is Lyon [3 hrs on TGV from Paris or Lille] with onward train journey to Le Puy via St Etienne.
Next-best access is via Nimes or Montpellier airports, with onward TGV to Lyon – 30 and 60 minute journeys, respectively.
Alternative convenient option is via Clermont-Ferrand airport, with onward regional train to Le Puy via St Etienne.
Departure from Florac is by bus [70 mins, but not on a Sunday] or taxi transfer to Ales [60 mins], followed by onward train to Nimes [40 mins]. Please ask for details.
We can get you transfered from Florac back to Le Puy via our luggage transporter on departure day, where you would arrive at either 12:30 or 17:30. Please ask for details.
A mix of comfortable, family-run,'2-star standard' hotels or equivalent chambres d'hotes, inns and auberges.
En-suite facilities.
Evening meals follow a fixed menu format for all half-board guests and do not include drinks. Most hotel menus provide a meat or fish dish, plus a vegetarian option. Chambres d'hotes and auberges tend to function around one common meal of which all guests partake. Vegetarians enjoy an alternative dish. All showcase 'produits du terroirs' typical of the regions through which you walk.
Warm summers; mild and sunny spring & autumn
Enjoy sub-alpine to Mediterranean flora and volcanic plateau to schist valley topography.
Cross four 'natural' historical regions – Velay, Gevaudan, Mont Lozere & Cevennes.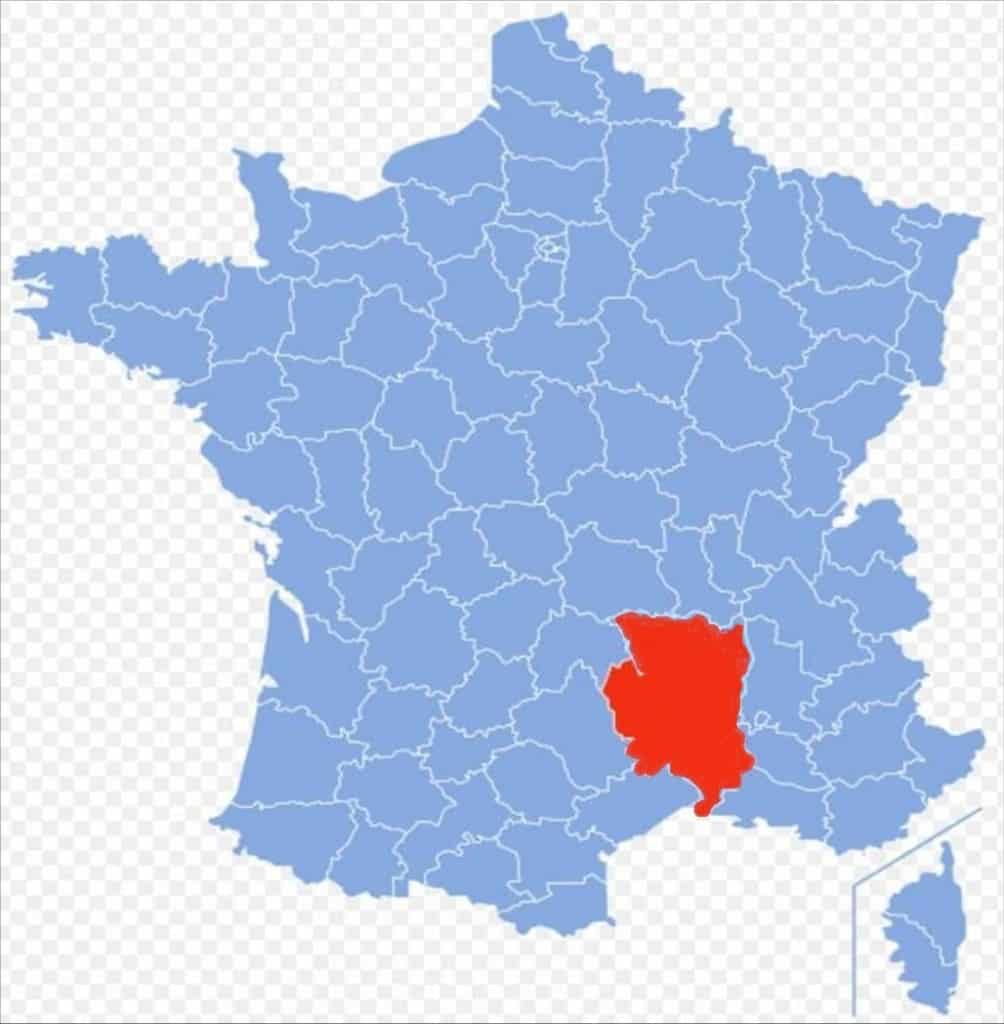 Best of Stevenson Trail – Tour Itinerary
[Times, distances and elevations are approximate.]
Day 1: Arrival in Le Puy en Velay and hotel check-in. The town merits a day's stay in itself, so get there early! Night in Le Puy.
Le Puy to Le Bouchet
[13 miles-21 kms, 6.5 hrs,
+460 ms -175 ms]
Across Haute Loire
Taxi transfer (20 kms) to Le Monastier and the start of the trail. After a short descent into the Loire Valley, you climb over 400 metres, through charming hamlets and across volcanic plateau before arriving at Stevenson's first overnight stop.
Night in Le Bouchet St Nicolas.

Le Bouchet St Nicolas to Pradelles
or Langogne
[12 miles-19 kms, 5 hrs, +285 ms -375 ms]
Granite Cité
Mostly gentle climbs and descents today. You traverse numerous hamlets spread out across the volcanic plateau en route to the 'City of the High Prairies.' Or push on for two more hours and descend to Langogne.
Night in Pradelles or Langogne – ask for details.

La Bastide to Chasseradès.
[7.5 miles-12 kms, approx. 3.5 hrs,
+330 ms – 160 ms]
Over the Watershed
A 30-min. taxi transfer to La Bastide is followed by a climb to the Atlantic–Mediterranean watershed. Then head down valley to picturesque Chasseradès.
Night in Chasseradès.

Chasseradès to Le Bleymard.
[10.25 miles-16.5 kms, 5.5 hrs,
+280 ms -390 ms]
Source of The Lot
Climb into Goulet Forest and enjoy your first great views of Cevennes. Then follow the River Lot from near its source to Les Alpiers and onto Bleymard.
Night in Bleymard.

Le Bleymard to Pont de Montvert.
[11 miles-18 kms, approx. 6.5 hrs,
+630 ms -824 ms].
Mont Lozere
A memorable ascent to Mont Lozere, and the highest point in south-central France, Le Pic de Finiels (1699 ms). Then it's a steep descent followed by a gentle hike to Le Pont de Montvert and into Camisard Country.
Night in or near Pont de Montvert.
Pont de Montvert to Florac.
[15.5 miles-25 km, approx. 7 hrs,
+545 ms -875 ms.
Signal du Bouges
The longest day is blessed with memorable views over the blue waves of Cevennes hills. Walk the mountain crest, crossing from Mediterranean to Alpine flora and back along the watershed.
Night in Florac.
Day 8: Departure day – Enjoy your breakfast and onward travel to Alès by bus. Optional return transfer to Le Puy – please ask us for details.
Further Reading
Read our articles on:
Other

Moderate

Stevenson formats to consider…
An alternative Cévennes trail:
Independent testimonials about walking the Stevenson Way with The Enlightened Traveller can be read here:
Best of Stevenson Trail 2024
Customer Score
4.8
(4 votes)
Pros
The 'best of' a modern literary classic through deepest rural France
Avoid the half day on tarmac associated with the full tour
Good choice of trail for summer - average altitude is 900 to 1000 metres (3000+ feet).
Cons
One long day - but the fine views make you forget it!
The most popular times to walk the trail are May & September - book early!
One long day - but the fine views make you forget it!
The Cevennes' heat in July and August - opt for the shorter days of the 12-nighter!
One bus a day from Florac to Ales on departure, for onward travel to Nimes. No buses on Sunday, but taxis available if pre-booked.
Theme
All the highlights across three historic regions, each with its own architecture, cuisine, flora and topography."
Click to see customer feedback on our Stevenson/RLS trail tours here
Click to see our full range of moderate walks in France