Walking France's Garrigue
A fine, bucolic Roman trail through France's scenic Mediterranean hinterlands en route to Gallo-Roman Nemausus – that's the essence of Walking France's Garrigue."
alking France's Garrigue

sees you walking in one of the most enigmatic, yet distinctive, regions in which man has chosen to settle. In the Mediterranean Garrigues and the hinterland of Nimes, you can literally smell that you are in the south of France. Plant-life is especially adapted to the hot, dry climate and radiates perfumed oils – Artemisia, Lavender, Rosemary, Sage and Wild Thyme.
Walking France's Garrigue is a hiking extravaganza across undulating lowland. Experience, smell and taste the difference!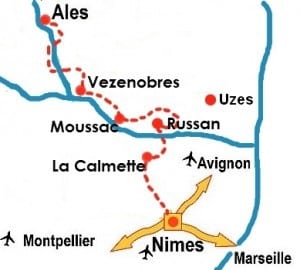 The walking holiday affords many insights:
I. Garrigues summers are hot and dry. Moreover, the climate is particularly amenable to hiking outside the main season, when most holiday-makers are at work. Spring comes early and autumns are usually Indian; so whilst the rest of Europe is freezing, you can walk these trails in relatively-light clothing.
II. The terrain is undulating lowland, perfect for those who enjoy a good walk without challenging ascents and descents. You rarely get above 200 metres, but the walking is anything but flat as you hike a series of hill-top villages stretched out along the Gardon Valley.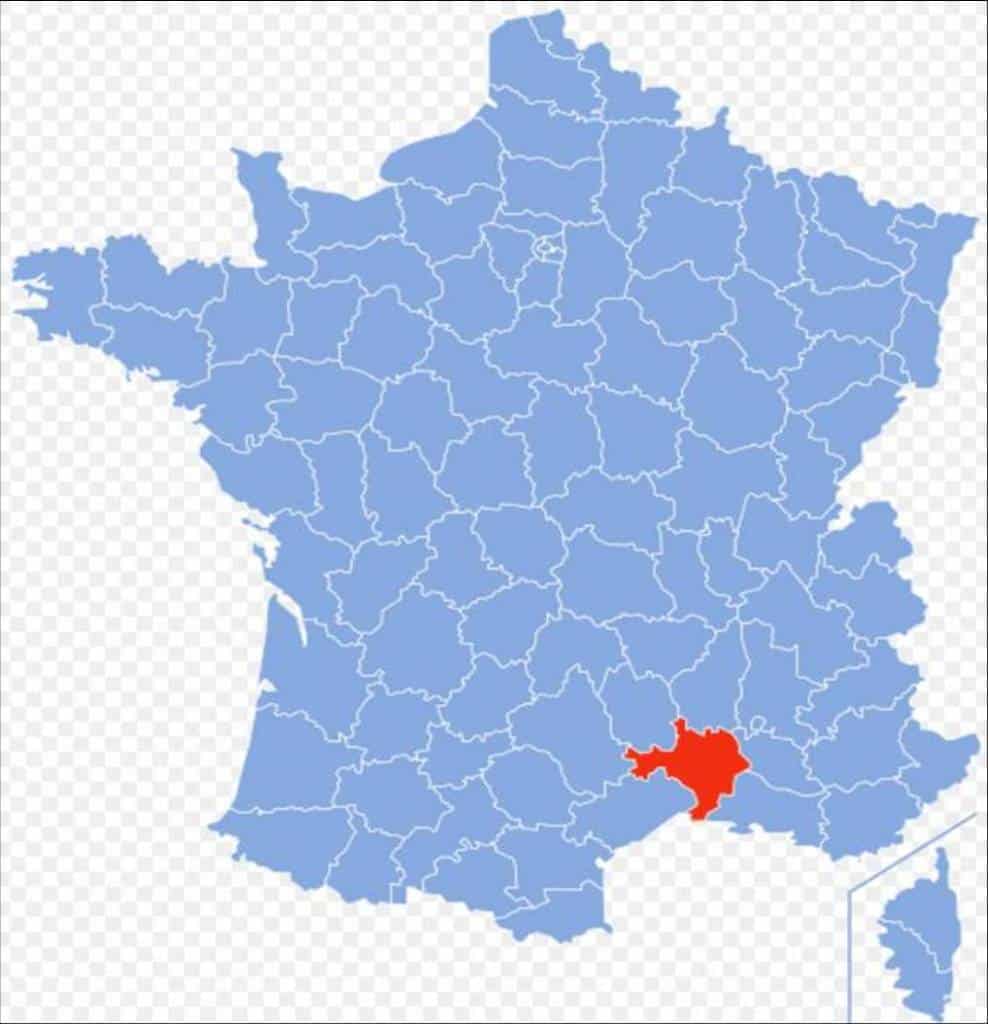 III. This is Huguenots territory and some of France's oldest Protestant churches (temples) are to be found here. Now under the tutelage of the French state, many can recount tales of fascinating Camisard battles lost and won. The St-Giles Way passed along The Gardon Valley en route to the Promise Land.
IV. It is an intensely human environment. In contrast to many of the walking holidays in France we offer that provide access to remote parts of France, the Garrigues remains a quintessentially human environment. The landscape of the Languedoc Garrigues is agricultural-led, dominated by vines and olives.
Walking France's Garrigue takes you across undulating lowland from Alès to Nimes, the Gallo-Roman capital of southern France, on a trail perfect for afficionados of horticulture, Mediterranean food and healthy living. If you like to enjoy the fruits of the countryside, whilst remaining intimately attached to civilization, this trip is tailor-made for you!
£820.00 Pounds Sterling & €910.00 Euros
[per person, shared double or twin-bedded room]
B&B: 6-nights in 2 or 3-star hotels or equivalent chambres d'hotes
Four evening meals – leaving you free to choose in Alès and Nimes where options abound
Luggage transfers & people transport integral to tour – see itinerary
Maps, excellent walking notes & dossier
7/7 Telephone back-up & support.
Access Roman Nimes via a unique trail
Discover Huguenots country
Enjoy a taste of the Cevennes foothills
Explore a Roman trail linking hill-top villages
Fine character accommodation, Mediterranean cuisine & Costieres wines
Stay in Medieval Vezenobrès
6-night, self-guided and light tour
Start any day, April to mid-October
Tour starts in Alès, finishes in Nimes
Best access: Nimes airport [Ryan Air] or SNCF
Good accommodation standard.
We transport your luggage, you just carry a light day pack.
Best access is via Nimes airport or SNCF/TGV station [4 hrs on TGV from Paris or Lille] with 40 min. onward journey to Ales – please ask for details.
Other convenient options are via Lyon or Montpellier airports, with onward TGV to Nimes – 60 and 30 minute journeys, respectively. Marseille is another possibility.
Alternative access is via Clermont-Ferrand airport or SNCF station [regional rail link with Paris], with onward journey on Le Cevenol to Ales in 4.5 hours – please ask for details.
Good level of character and comfort, with outdoor swimming pools on three stop-overs – May to September.
Mix of 2- and 3-star standard hotels plus charming chambres d'hotes.
One night in Ales – 3-star hotel
Two nights in Vezenobres 3-star hotel with swimming pool
One night in Russan – chambre d'hotes
One night in La Calmette – chambre d'hotes
One night in Nimes centre – 3-star hotel.
Hot, dry summers; mild & sunny winters
Undulating Mediterranean lowland punctuated by historic villages & hamlets and the Gardon River
Walking France's Garrigue – Tour Itinerary
Day 1: Arrival in Alès a busy market-town unreliant on tourism and gateway to Cevennes – 3* hotel in town centre.
Alès to Vezenobres
[4 hrs, 7½ miles-11 kms, +105ms/-140ms]
Venerable Vezenobres
Bid farewell to the Cevennes foothills and stroll the banks of The Gardon. Connect with the Roman trail at St Hilaire and enjoy a bucolic saunter to the medieval masterpiece, fig capital and Regordane watering-hole.
Night in Vezenobres

Vezenobres to Moussac
[4 hrs, 7½ miles-11 kms, +60 ms/-85 ms].
The Villages of The Regordane
The Roman trail laces together four fine villages and a remarkable fortified hamlet. Each oozes character and history as you enjoy the peaceful, scenic garrigues at its best. Late afternoon transfer back to hotel.
Second night in Vezenobres

Moussac to Russan
[5 hrs, 10½ miles-17 kms, + 55ms/-60 ms].
Gardonnenque & Garrigues
Short, after-breakfast transfer to rejoin the trail. You enjoy a leisurely walk across the scenic Gardonnenque followed by a gentle climb into the dry, limestone Garrigues. Then descend to pictureque Russan perched at the beginning of the Gorges du Gardon.
Night in Russan

Russan to La Calmette
[4 hrs, 7½ miles-11 kms, +/-130 ms.]
Sacred Circulade
You trail undulates to Roman Dions and its 'Devil's punchbowl' before La Calmette with its ancient 'circulade,' or rare inner sanctum.
Night in La Calmette

La Calmette to Nimes
[10½ miles-16 kms, +85ms/-130ms,
5½ hrs.]
The Road to Nemausus
Stride out across bucolic hillocks on a rustic trail to some fine, ornate woods en route to the Roman Tour Magna and the splendours of Les Jardins de la Fontaines.
Night in 3* hotel in the historic centre of Nimes

Day 7: Departure day – by train. Bon retour et a la prochain!
Further Reading
Our article on:
Other

Light

tours to consider are…
Independent testimonials about The Enlightened Traveller can be read here:
Click to see our full range of Light walks in France