Walking Provence-West is the perfect mix of light walking [with one moderate day] and serious cultural insight. Enjoy the fruits of five years' research and the very best that Western Provence has to offer compacted into six, gloriously-indulgent days."

alking Provence-West

gets you acquainted with a part of Provence that is delightfully under-trodden. Whilst most visitors enjoy a mix of village rambling and touring by car, we bring you the opportunity to enjoy some of the best walking Provence has to offer.
Mass tourism has thankfully ignored this part of Provence for which we are eternally grateful. Our love for this area led us to research its hiking trails over a five-year period with the aim of incorporating its most splendid sites into a relatively-light and easy-going multi-centre walking tour. With Walking Provence-West, you benefit from not having to move on to a different hotel every night. We have laced together western Provence's most remarkable landscapes and geological features so you can enjoy them during six days of discovery on foot. You average nine miles-14½ kms a day, over undulating, bucolic terrain with ascents and descents that are within the capabilities of the vast majority of social hikers.
As part of Walking Provence-West, you visit seven fascinating and under-explored Provençal villages, including the Venice of Provence; three impressive limestone gorges and some fabulous falls; and on the megalithic trail, you see both dolmen and the tallest menhir in the south of France. Built in the 13th century, you will also enjoy a visit to a fine thirteen century Carthusian monastery.
Your accommodation for the Walking Provence-West tour complements perfectly the exceptional scenery: four charming, family-run accommodations comprising two fine hotels, one of which overlooks the Ardeche gorge; a gite/glamping paradise and a chambres d'hotes du charme. Three flaunt the stone facades and vaulted ceilings that are so much a part of the fabric of western Provence. Your Aiguèze and Goudargues stays (four nights) feature open-air swimming pools, whilst bicycles can be borrowed in Aiguèze.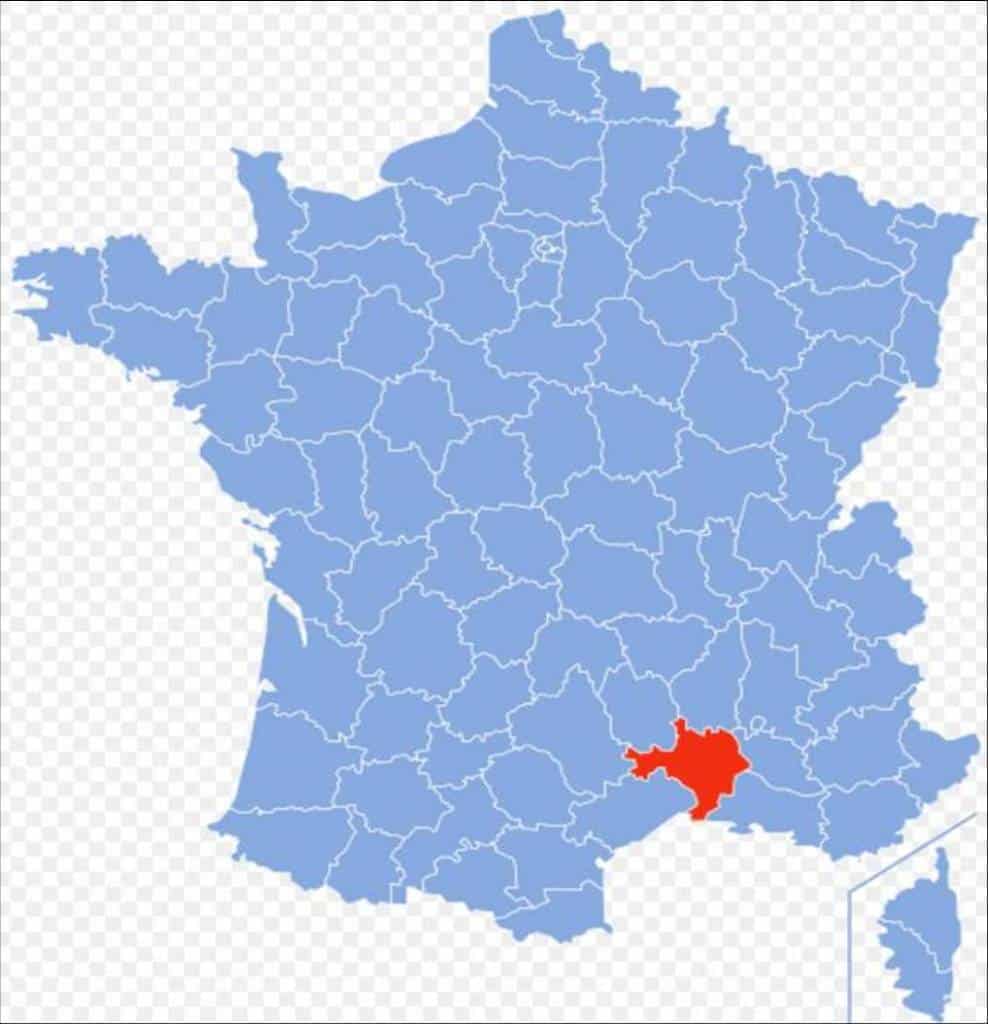 Walking Provence-West allows you to enjoy the culinary delights of Provence in a fashion that is tailored to the requirements of both your budget and diet. We include bed and breakfast and four picnic lunches for your convenience, whilst the options for dinner are such that you decide where to eat out.
Finally, you get to spend your last two nights of the Walking Provence-West tour in vibrant Uzès, First Duchy of France – and why not time your trip to coincide with Provence's number one Saturday market, a must for those end-of-tour souvenirs?
7-night tour:
£990.00 Pounds Sterling or €1195.00 Euros
[per person, shared double or twin-bedded room]
What's Included
7 nights comfortable Provenςal accommodation and all hotel taxes.
7 breakfasts, 2 evening meals and 4 picnic lunches. Local options exist for dinner in Pont St Esprit, Aigueze and Uzès.
Luggage transported and six people transfers integral to the programme – see itinerary below.
Hiking Insight Notes™ that empower & make orientation easy
1:25,000 scale maps & themed vacation dossier.
Emergency telephone help-line service with native-English speaking support from 8 'till late.
Discover Megalithic Man's footprint – dolmens, grotto and southern France's tallest menhir
Enjoy fine scenery and stunning gorges bewteen Ardeche and the Cèze Valley
Escape the crowds
Hike Western Provence's best trails and most fascinating hill-top villages
Stay in superior 3-star standard accommodation.
multi-centre tour – you do not move on to a different hotel every night
7-night, self-guided, multi-centre tour – you do not move on to a different hotel every night
Start any day, beg. April to end of June and September.
Tour starts in Pont St Esprit and finishes in Uzès
Best access: Avignon or Nimes airports or Avignon SNCF
Superior standard accommodation.
average 9 miles/14.5 kms per day.
We transport your luggage, you just carry a light day pack.
Excellent levels of character and comfort throughout.
Mix of '3-star standard' hotels/residences, a gite/glamping* experience and a chambres d'hotes du Charme.
Choice of restaurants on five nights to suit different budgets and tastes – information provided in dossier.
One night in Pont St Esprit.
Two nights in Aigueze with out-door pool**.
Two nights near Goudargues with out-door pool or two in La Roque (for couples only).
Two nights in Uzès.

* Your preference will likely be for the gite accommodation. However, the alternative is a 'Luxury Tent' – glamping, not camping. The 'Luxury Tents' are designed, decorated and furnished in the style of a hotel room.
** Option to stay 4 nights in Aigueze with corresponding transfers.
Nearest airport or SNCF station is Avignon [3.5 hrs on TGV from Paris or Lille] with onward journey to Pont St Esprit by bus or transfer – please ask for details.
Next-best access is via Nimes SNCF station [4 hrs on TGV from Paris or Lille] with onward journey to Pont St Esprit by bus or transfer – please ask for details.
Departure from Uzès is via bus or taxi transfer to Nimes.
Hot, dry summers; warm and sunny spring & autumn
Undulating Mediterranean lowland and Garrigues punctuated by historic villages & hamlets and the Ardèche and Ceze valleys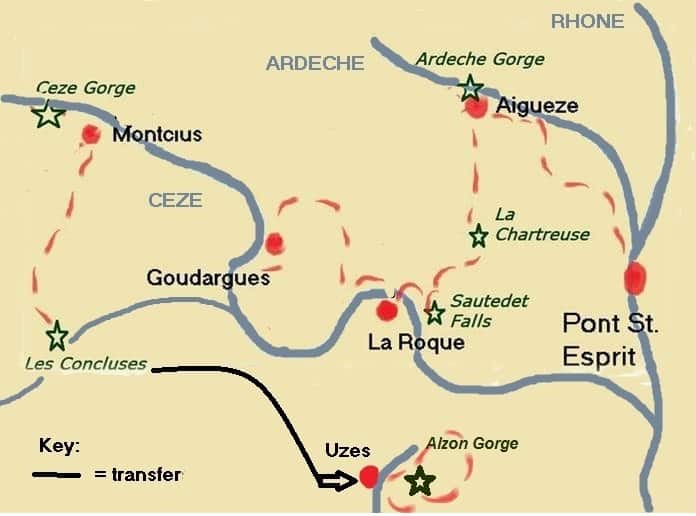 Walking Provence-West – Tour Itinerary

Day 1: Arrival at Pont St Esprit and check in. Early arrivals can enjoy a short urban hike around this busy town located at the confluence of the Ardèche and Rhone rivers. Night in Pont St Esprit.

Pont St Esprit to Aigueze

[7½ miles-11 kms, 4 hrs, +140 ms -85 ms]

The Ardèche Gorge

You start your week hiking The GR4 as it wends its way along the right bank of the Ardeche and up to the remarkable village of Aigueze, as if hewn out of the sides of the gorge itself.

First night in Aigueze.


Aigueze to Valbonne

[8 miles-13 kms, 4 hrs, +240 ms -125 ms]

The Forest of Valbonne

A charming bucolic hike as you meander through the Valbonne forest en route to the impressive site of the Carthusian monastery. Enjoy its majestic aura, take the tour of the site (fees not included), and perhaps a short and free botanical walk around its perimeter.

Collection late afternoon and transfer back to Aigueze. Second night in Aigueze.

Valbonne to La Roque

[8½ miles-13½ kms, 4 hrs, +100 ms -235 ms]

Across Martel Bridge

After-breakfast transfer back to Valbonne. You discover the fascinating Sautadet 'waterfalls' en route to the imposing hilltop village of La Roque sur Ceze. 'Flaneur' through its 'ruelles' and imbibe its rich ambiance.

Late afternoon transfer and night near Goudargues
(option to stay in La Roque for couples only).

Roque-sur-Ceze to Goudargues

[8½ miles-14 kms, 4 hrs, +160 ms -160 ms]

Ceze Valley Panorama

After-breakfast transfer back to Le Roque. A memorable sweeping tour of two of the valley's finest villages, juxtaposed in contrasting fashion on either side of the Ceze. A feudal castle, an outstanding view over the lower Ceze Valley and a tree-lined canal are just some of the day's highlights. Late afternoon collection and short transfer.

Second night near Goudargues
(or option to stay in La Roque for couples only).

Montclus to Les Concluses

[11 miles-16½ kms, approx. 6 hrs, +440 ms -375 ms]

Megalithic Man and Les Concluses

Transfer to Montclus after breakfast. You set off in search of dolmen and well-hidden menhir, despite its six-metre-high stature. The walking is scenic and the day's highlight is a descent into the depths of the Aiguillon gorge to its gateway and superbly-potholed limestone channel. Your collection point is nearby for your onward transfert to Uzès.

First night in Uzès.


Uzès circular walk.

[5½ miles-8½ kms, approx. 3 hrs walking, +/-165 ms].

Le Gorge d'Alzon


Enjoy a bucolic trail through the Garrigues, past water-mill, castle and the relative heights of the Alzon Gorge, with fine views over the Uzes skyline en route to the source of the Eure that fed the Roman Pont du Gard.

Second night in Uzès.

Day 8: Departure day – Bus or taxi to either Avignon or Nimes. Bon retour et a la prochain!

Other

Light

tours to consider are…

Independent testimonials about The Enlightened Traveller can be read here:

[rwp-review id="0″]

Click to see our full range of Light walks in France