Walking in Cantal takes you to the heart of one of France's unsung regions – Auvergne. However, for the French cognoscenti, walking in Cantal belongs in the top ten of France's 'plus beaux trekkings.' And you get to enjoy it in real comfort"
alking in Cantal

takes you to the Auvergne region and heart of the Massif Central. You walk Europe's largest extinct volcano and its enchanting summits, ridges and valleys. A real walkers' paradise. In the process you climb the region's highest peaks or 'puys', the original 'chimneys' of the volcano. These include Plomb du Cantal (at 6084 feet/1855 metres) and the emblematic Puy Mary.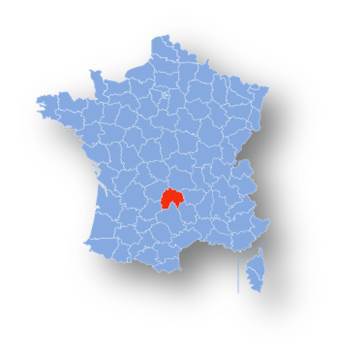 Walking in Cantal is a reasonably-challenging tour based on ascents and descents, not distances walked. There are one or two moderate days to reduce the challenge of the whole tour to within the capabilities of all fit individuals who walk regularly. The final day is half-a-day's walking. And Day 3, so long as you opt for the cable car (open between 15th June and 15th September)
is downhill all the way along a legendary roman trail.
For your convenience, Walking in Cantal starts and finishes in the fine Cantalian town of Murat. You walk a variant of The Way of St James [via Averna] to get into position. Once onto the volcano, you walk stretches of the ubiquitous GR400. By the end of the week, having closed the heavenly circle, you will feel an eternal bond with the extraordinary beauty of Cantal. And you are guaranteed to recognize from a distance each and every Puy with which you have had the privilege of becoming acquainted.
Walking in Cantal is a liberating experience. It may not help your French language skills. Nevertheless, it should re-fresh your knowledge of physical geography that you considered mere book-learning first time around. Moreover, you get to reflect on the spectacular scenery from the comfortable surroundings of your fine and welcoming accommodations. Not to forget feasting on the region's culinary delights such as alligot, pounti and the renowned Bleu d'Auvergne and Cantal cheeses. Four packed lunches complete the culinary package.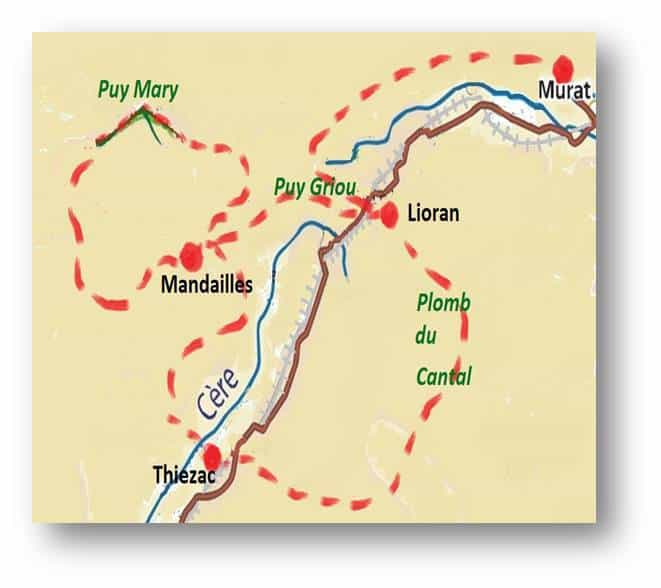 £790.00 Pounds Sterling or €925.00 Euros
[per person, shared double or twin-bedded room]
6 nights bed and breakfast in a comfortable and welcoming mix of 3 & 2-star hotels, plus a chambres d'hotes du charme and a fine mountain auberge.
4 evening meals, leaving you free to dine out according to your own taste and budget in Murat, where options abound.
Four Cantalian picnic lunches.
All luggage and taxi transfers starting from and finishing back in Murat.
1:25,000 maps, excellent walking notes & dossier
7/7 emergency telephone back-up & support in native English, from 8 'til late.
Cantal's inactive volcanic uplands.
A scenic Compostella variant – Via Averna.
A sumptuous ancient Roman trail.
Fine Cantal villages & glacial valleys.
Five peaks over 5000′ [1500 ms], incl. Puy Mary (5848′) & Plomb du Cantal (6084′).
Four nights in 3-star hotels, plus a 2-star hotel and an auberge/guest house.
6-night, self-guided harder walking tour, with one or two more moderate days
Arrive any day of the week from mid-May to mid-October
Tour starts and finishes in Murat
Multiple access options – airports & SNCF
Good accommodation standard
We transport your luggage, you just carry a light day pack
Access by train to Murat:
1a. Via Claremont-Ferrand: a regular and direct train service to Murat takes approx. 90 minutes.
1b. Claremont-Ferrand can be reached from Lyon direct in 2½ hours, or from Paris direct in 3½ hours.

Alternative strategies are:

2. From Toulouse, train to Brive-le-Gaillard, where you change for Murat.
3. From Rodez, train to St Denis-pres-Martel, where you change for Murat.

See https://loco2.com/ for planning and ticketing.
Access by Plane:
Fly to Claremont-Ferrand, with
international flights from Amsterdam, Brussels,
Geneva and Milan, and internal flights from
most major French airports.
Fly to Lyon, Paris CDG, Rodez or Toulouse.
Access by Road:
Ask us about the options for parking in Murat – car is left at owner's risk.
Good level of character and comfort, all with en-suite facilities.
Two nights in a 3-star hotel, two in a fine chambres d'hotes du charme, one night in a 2-star hotel, plus one in a welcoming mountain auberge.
Carefully-selected hiker-friendly accommodation.
Diners showcasing regional specialities.
Four Cantalian picnic lunches.
Warm summers; mild spring and autumn
Conical-shaped volcanic upland, wide ridges, moorland and glaciated valleys
Walking in Cantal – Tour Itinerary
[times, elevations and distances are an approximation.]
Day 1: Arrival in picturesque Murat by car or train and hotel check-in. Car parking is available. This is a fine market town with a Maison de la Faune, plenty of bars and restaurants and a worthwhile village walk. Night in Murat.
Murat to Super Lioran
9½ miles-15 kms, 6½ hrs, +750 ms/-400ms
Via Arverna
Climb to Murat's pilgrimage shrine along a variant of the Compostella Trail en route to Cantal's volcanic uplands, incl., 'Eagle's Beak Rock' and the Teton du Venus, at 1700 ms and 1669 ms respectively before your descent to Lioran.
Night in Lioran.

Lioran to Thiézac
[12 miles-19½ kms, 7½ hrs, +585 m/-1000m.]
Roman GR400
Either climb Plomb du Cantal [570 ms ascent in 2 hrs] or opt for the cable car [open 15th June to 15th September and costing 15 Euros p/p – not incl.]. Then walk a remarkable Roman trail along ridge and over upland moor.
Night in a 2-star hotel in Thiézac.
Thiézac to Mandailles
8 miles-13 kms, 5 hrs, +750ms/-600ms
Chemin de Croix
Climb out of the the Cère valley and enjoy some fine countryside towards Puy de la Poche and l'Elanceze and an impressive belvedere over the Cantalian Massif.
Night in a 3-star hotel in Mandailles.
Puy Mary Circular
12½ miles-20 kms, 7 hrs +/-1000ms
Sacred Trilogy
The piece de resistance and exquisite day's hiking comprises arguably the top-three features of the Cantal Massif. Morning transfer option shaves 5 kms off the distance – book in advance!
Second night in a 3-star hotel in Mandailles.
Mandailles to Lioran
7 miles-11 kms, 4½ hrs, +765ms/-500 ms
Puy Griou
Puy Griou is one of the most endearing of the region's volcanic cones. Today you get to see it and climb it before your final descent back to 'Super' Lioran. Collection from Lioran and enjoy the last evening back in the fine Cantalian town of Murat, where you can choose where to dine out – options abound!
Night in a 3-star hotel in Murat.
Day 7: Departure day – Onward travel by car or train from Murat. Bon retour et a la prochaine!
Further Reading
Read our article on:
Other

Harder

tours to consider…
Independent testimonials about The Enlightened Traveller can be read here:
Walking in Cantal Gr400
Customer Score
4.8
(5 votes)
Pros
Drool at the spectacular scenery of these verdant volcanic uplands
Walk a sublime Roman trail and several 'puy' including the emblematic Puy Mary
Enjoy some of France's best cuisine, cheeses and the traditional 'punti'.
Cons
The season starts quite late [third week in May] due to snow - but you can walk until mid-October
The cable-car from Super Lioran up to Plomb du Cantal only runs from 15 June to 15 September
Not-so-super Lioran - so you stay in a nearby popular mountain auberge with traditional log fire.
Theme
A fascinating journey around the Cantalian Uplands, taking in all the main and memorable sites whilst staying in some fine, welcoming accommodation."
Click to see our full range of harder walks in France