Few walking holidays will give you such a sense of escape from modernity, into a world of alternative farming and lifestyles as Walking Cèzarenque."
alking Cèzarenque

is a moderate walking tour in the area in and around the Upper Cèze Valley. Nestled between the eastern flank of the Cevennes and Ardèche, this beautiful countryside is both unspoiled and under-explored.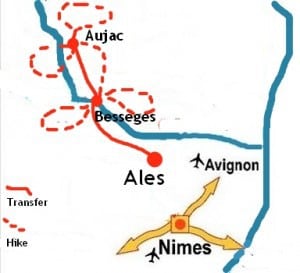 Late sixties hippies built alternative lifestyles here amidst a movement to re-populate rural villages. Their products are on sale in many of the Valley's markets. The second generation has installed solar-powered, wooden eco-dwellings, yet many homesteads, whether stone or wooden, are still bereft of running water. The river water, however, is some of the purest in France, to which the crayfish bear testimony.
When Walking Cèzarenque, you learn that alternative farming is well implanted – and you have the opportunity to visit one of the few surviving chestnut-drying houses [La Clede] still functioning in France, an organic farm and an organic wine grower of Clinton-based wine – a grape variety still considered 'dangerous', outlawed commercially since the 1930s and limited to 'consomation familialle.' Visits by arrangement. The imposing Cheylard castle is never far away, keeping a watchful eye over your perambulations from its hilltop vantage point.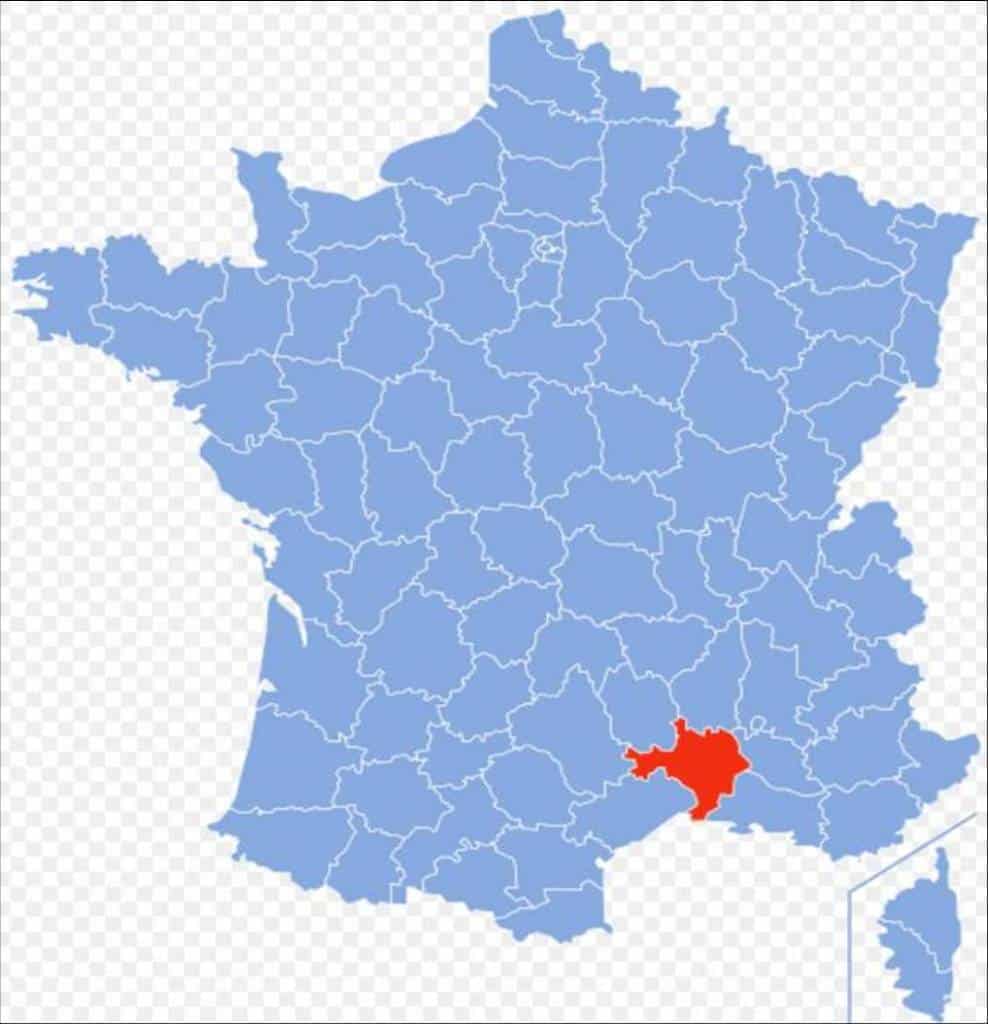 Walking Cèzarenque commences with a 75-minute transfer to Aujac, which gets you immediately high up, away from modernity and straight into the trip's unique ambiance.
Your walker's inn is a 'French-fries-free-zone' of meticulously-prepared fresh dishes showcasing local 'produits du terroir.' Two fine walks later you hike a fabulous hill-crest trail down to Bessèges, where two more moderate, but equally fascinating, walks are to be enjoyed. We then transfer you back to Alès and civilization in the knowledge that this land of ancient drovers' trails and hidden hamlets that characterizes the Forgotten Valley will remain long in the memory.
€825.00 Euros or £710.00 Pounds Sterling

[per person, shared double or twin-bedded room]

6-nights accommodation
4 evening meals and 3 picnic lunches in Aujac – leaving you free to choose where and what to eat in Besseges on two nights
Luggage transfers & transport integral to tour – see itinerary for details
Maps, excellent walking notes & dossier
Telephone back-up & support.

Arrivals in Ales after 18.00 hrs are subject to a transfer supplement – please ask for details.
Walk back [or forward?] in time to a land where nature is unspoiled and tradition valued
Discover flourishing alternative farming and lifestyles, pure waters and a remarkable dam
Enjoy fine, remote and under-discovered trails and a sense of true escape
Explore a Castle, Clede, Clinton [American grape] wine producer and organic farm – optional and subject to availability
Welcoming and character accommodation and a walkers' inn renowned for its freshly-cooked and vegetarian cuisine
6-night, self-guided tour featuring four circular hikes and one inn-to-inn walk.
Dual-centre tour, so you do not change hotels each night.
Three days are rated as posing a moderate challenge, with two harder days.
Commence any Thursday, Friday or Saturday from early March to mid-November or any day in July or August.
Tour starts and finishes in Alès, with pre and post-tour transfers
Best access: Nimes airport [Ryan Air] or SNCF
Three nights in a family-run, town centre hotel and three nights in welcoming, council-run walkers' inn
We transport your luggage, you just carry a light day pack.
Best access is via Nimes airport or SNCF station [4 hrs on TGV from Paris or Lille] with 40 min. onward journey to Ales – please ask for details.
Other convenient options are via Lyon or Montpellier airports, with onward TGV to Nimes – 60 and 30 minute journeys, respectively.
Alternative access is via Clermont-Ferrand airport or SNCF station [regional rail link with Paris], with onward journey on Le Cevenol to Ales in 4.5 hours – please ask for details.
A local government run walkers' inn in Aujac – en suite shower and wash basin.
family-run, town centre hotel in Besseges
Three nights in both Besseges and Aujac
Warm, sunny and dry summers; moderate sunny winters
Undulating upland and valley topography, with fine hill crests, crystal waters and isolated hamlets
Walking Cèzarenque – Tour Itinerary
Day 1: Arrival in Alès before 18.00 hrs – a busy market-town unreliant on tourism and gateway to Cevennes followed by transfer to Aujac.
Bonnevaux & back
[9 miles-13 kms, 5 hrs, +570ms/-315ms]
La Cham Bonnevaux
Transfer to Aujac and a fabulous ancient drovers' trail. Enjoy the views before plunging into a pine forest, descending to a lost hamlet and then to the village of Bonnevaux itself. La Clede is on the way down.
Second night in Aujac.
Aujaguet
[9.5 miles-14 kms, 5 hrs, +425ms/-435ms]
Senechas Dam
A fine walk across impressive dam, over bridges, past a water mill, into the water itself (optional swim), through two contrasting villages, an organic farm and illicit Clinton-grape vines – and all under the watchful gaze of Cheylard castle.
Third night in Aujac.
Bordezac
[10 miles-16 kms, 5½ hrs, +380ms/-710ms]
Best till last
This route follows the watershed as you descend 700 metres to Bordezac and back to Besseges along the Cevenol and Upper Ceze Valley Grande Routes de Pays.
Night in Besseges.

Tour de Castillon
[9 miles-14 kms, 5½ hrs, +/-450 ms]
No running water
Morning tour briefing and 40 min. transfer to near Besseges. This opening walk takes you into the world of re-populated hamlets, meticulously preserved, where cars are rightly undervalued.
Second night in Besseges.

Le Ronc Rouge
[6½ miles-10 kms, 5 hrs, +/-290 ms]
La Vie Gardoise
'Pays Cevenol,' at its best in microcosm – dolmen, capitelle, grotto, a twelfth century chapel and more recent remains of the industrial revolution – plus outstanding to boot over the Ceze Valley.
Third night in Besseges.
Day 7: Departure day – Breakfast and transfer to Ales. Bon retour et a la prochain!
Further Reading
Read our articles on:
Other

Moderate

tours to consider in the same region are…
Independent testimonials about The Enlightened Traveller can be read here:
Click to see our full range of moderate walks in France